MLB.com Columnist
Richard Justice
Gordon fitting in nicely with Marlins
Speedy second baseman can be catalyst for Miami's offense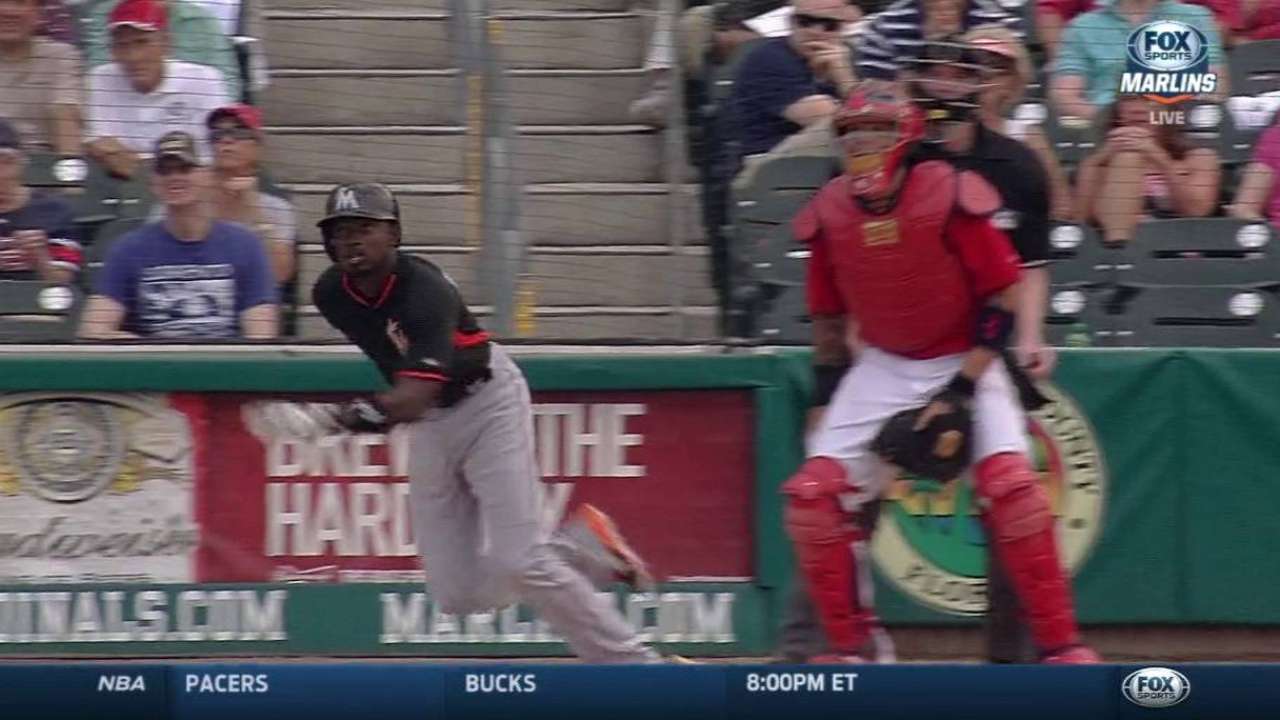 JUPITER, Fla. -- Dee Gordon is sitting in front of his locker after having another one of those games in which he made the Miami Marlins look really smart for adding him to the top of their lineup. He could pass for the happiest man on the planet.
"It has just been amazing," Gordon said. "I'm still trying to gather it all in."
Gordon led off Tuesday's exhibition game against the Cardinals with a single and promptly attempted to steal second. He ended up there anyway on an infield grounder and prevented a likely double play. Gordon then sprinted home when Giancarlo Stanton lined a single to center.
Yep, that's how the Marlins have it all drawn up for 2015.
"We're looking forward to turning him loose and letting him go out and have some fun and help us win some ballgames," manager Mike Redmond said of Gordon.
Indeed, that has been the plan from the beginning. Miami is about to begin a season of optimism and expectation after an offseason in which the team signed one of the game's best players, Stanton, to a 13-year contract extension. The Marlins then proceeded to put what might be a playoff-worthy team around him.
President of baseball operations Michael Hill added Gordon to the lineup in front of Stanton and then got first baseman Michael Morse and third baseman Martin Prado to hit behind him.
Gordon could be an electrifying presence after leading the National League in steals and triples last season and scoring 92 runs for the Dodgers. It was Gordon's first season as a full-time player, and the Dodgers didn't give him the freedom the Marlins intend to give him.
And Gordon is appreciative of that fact.
"Yes, sometimes I was held back," he said. "I'm happy for that, because they helped show me my limitations. I think I know my limitations better and know what I can and can't do and what I need to do to help the team."
Now, Gordon will have the green light.
Period.
"I haven't had this much freedom," he said, "and I'm looking forward it. The good thing about these guys in here is that everybody goes about their business professionally and everybody's ready to play for each other. That's one thing that's going to help us a lot."
Gordon led the NL in bunt hits last season and has spent hours this spring working with third-base coach Brett Butler, once one of the best bunters in the game. Miami would be thrilled if Gordon improved on his .326 on-base percentage, but when the team weighs the speed, defense and the 176 hits, the Marlins believe he could be part of a dynamic offense.
Stanton is excited, too, saying that Gordon "can change the whole aspect of the game. When he's on first, they're going to be worried about him. I think it's going to be a great fit."
When Gordon was asked if Stanton was comfortable with him running at any point in the count, he smiled.
"I just need to get to second before he hits," Gordon said. "Get there before he hits and make [No. 2 hitter Christian Yelich's] job easier, really make everybody's job easier."
Gordon and Yelich both bring a dimension of speed to the top two spots in the lineup, and the guys after that -- Stanton, Morse, Prado, etc. -- have power.
"We've got a lot of different ways to score runs, and that's what you want in a lineup," Yelich said. "If a couple of guys go deep one day, that's great. Some days, we may have to steal some bases and manufacture some runs. We've kind of seen that throughout the spring. I know it's a small sample size and all that, but so far, what we've seen has been exciting."
Stanton signed the contract extension only after hearing the Marlins lay out a plan for getting better in 2015. He knew he could have gotten big money from almost anywhere and didn't want to be a big-ticket player on a bad team.
Soon after that, Miami went to work, and this spring has been a matter of the Marlins' new players getting to know one another. Redmond said Gordon has fit in nicely.
"He's a great kid, fun to be around," Redmond said. "His personality is just fun. He brings it every day. He loves to compete. He's very coachable. I think the beauty of the Marlins for him is that he's going to be able to be himself and play the game he knows how to play."
Richard Justice is a columnist for MLB.com. Read his blog, Justice4U. This story was not subject to the approval of Major League Baseball or its clubs.