MLB.com Columnist
Megan Zahneis
Father-son bond leads to Brantley's success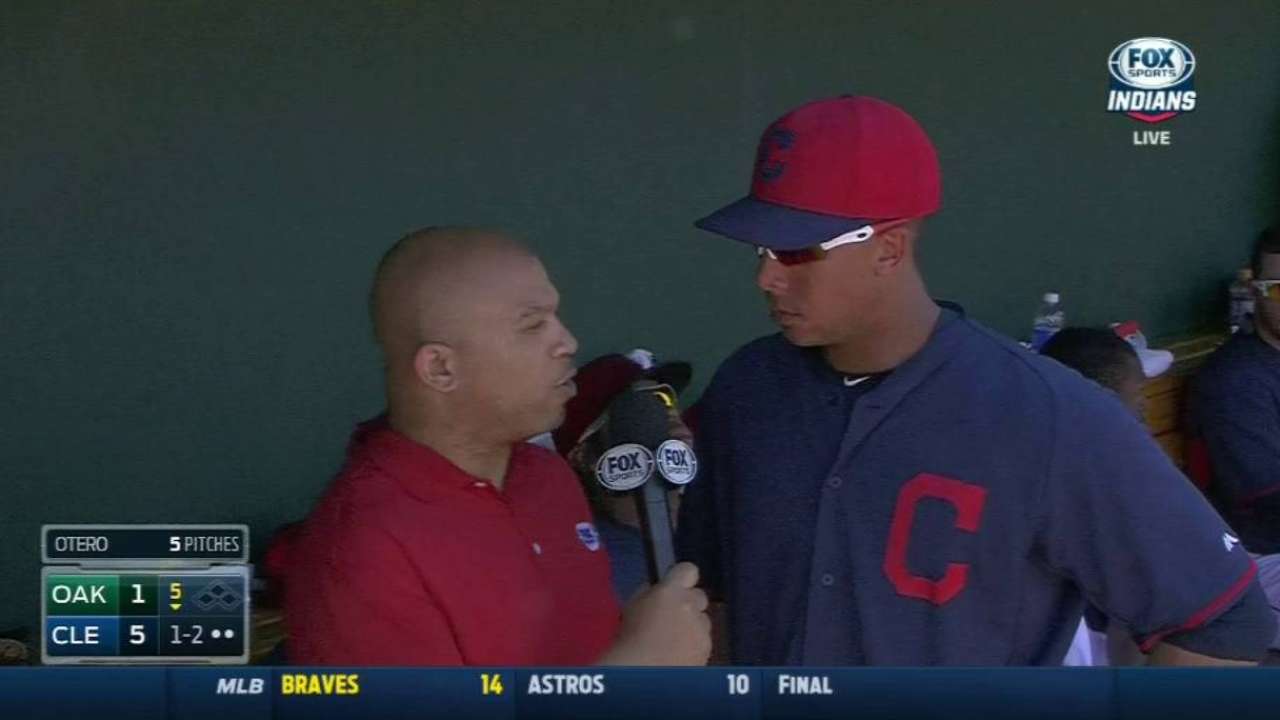 Appropriately enough, father and son were together when the call came.
You can almost picture Michael Brantley's cell phone ringing and the 27-year-old fishing it out of his pocket.
Then come the words: "Congratulations, you're a Silver Slugger."
After ending the call, Brantley turns around and there, as always, is his father, Michael Charles Brantley Sr., better known as "Mickey", the former MLB outfielder and hitting coach.
Michael tells Mickey the news.
Then comes Mickey's memorable comeback, delivered with a chuckle and, presumably, more than a hint of pride: "What did you think was going to happen?"
"I said, 'I don't know'. I really didn't," the younger Brantley said as he shook his head on a recent morning in Indians Spring Training camp.
Perhaps he should've known. After all, he did lead all qualifying American League outfielders in batting average, doubles and hits while also becoming the first player in Indians history to put together 20 homers, 20 steals, 40 doubles and 200 hits in a single season.
But that's Brantley, through and through: Humble and always unassuming.
A lot of that mentality comes from good ol' Dad. And considering the fact that Mickey Brantley led the Mariners in hitting with a .302 average as a rookie in 1987, it's easy to see where the genes are coming from.
From an early age, Michael, who was born in May of that 1987 rookie year, has been around the game of baseball.
"It's a huge advantage," Michael said. "Having your father as an ex-major league hitting coach, it's just easy, somebody to talk to. He watches every game, so he gives me feedback on the good things I did that game or the bad things I did that game. So it's always either positive criticism or negative criticism that we're going to turn positive by just talking with one another.
"[I] can call up and say, 'How'd my stance look?' Or 'Should I have swung at the 2-1 pitch on my third at-bat?' And he knows exactly what I'm talking about. It's fun to me to have a father that wants to work with me so well and can work with me so well."
Suffice it to say Michael learned the trade well. Yet after the breakout season that saw him finish third in AL MVP voting, Brantley won't be resting on his laurels.
"I still want to work just as hard, even harder. I want to get better," Michael said. "What I did last year, I want to take into this year and build off it. Capitalize [on], maybe, some mistakes that I made or some pitches that I took or maybe a swing that I got into a little bit of a rut. Everything that I do, I try to take a little bit from it, keep building off it and keep moving forward."
No matter where 2015 takes him, Michael Brantley knows his dad is only a phone call away, waiting with a word of advice.
What did you think was going to happen?
Megan Zahneis is a reporter for MLB.com. This story was not subject to the approval of Major League Baseball or its clubs.