Gillick sees Phillies rebuild on schedule
GM sat down with MLB.com for Q&A, touches on key issues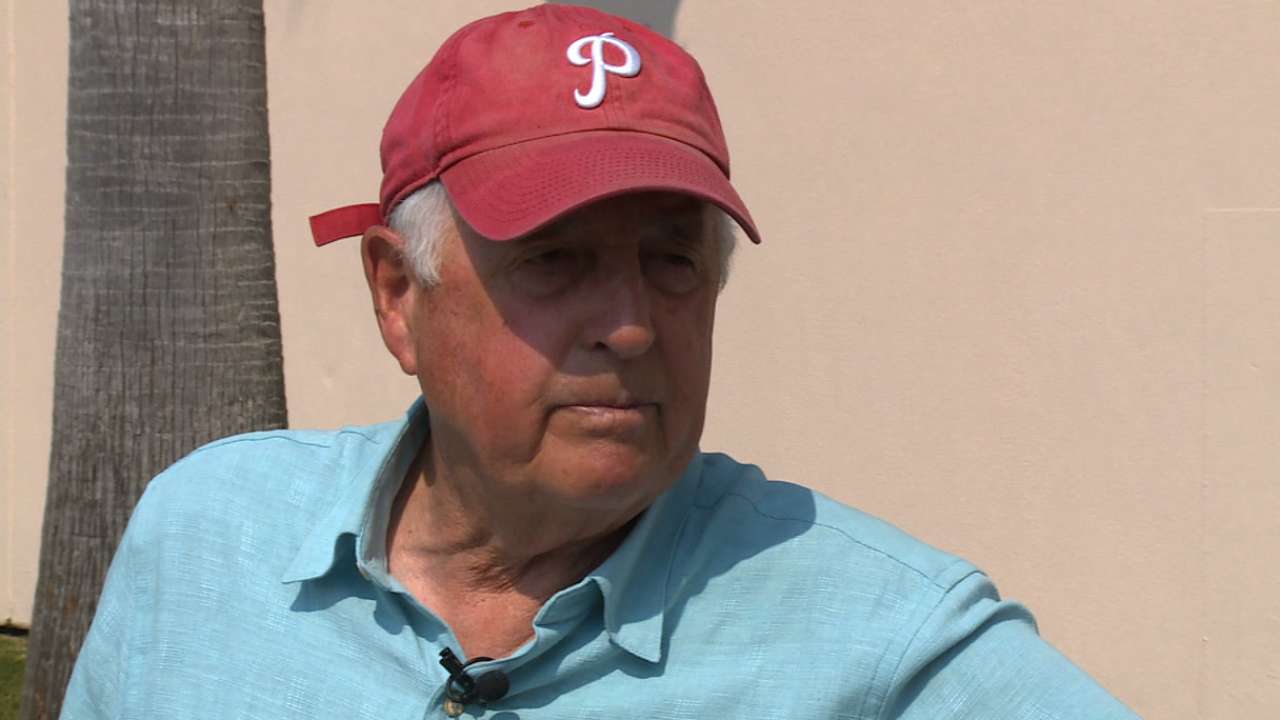 CLEARWATER, Fla. -- Phillies president Pat Gillick has been on the job since August, and in that time the organization has made a seismic shift philosophically and the team is rebuilding. Gillick recently spoke with MLB.com about the rebuilding process and more. Here are some highlights:
Question: From what you've seen this spring, is the rebuild further away than you anticipated, closer or still in that 2017-18 window?
Gillick: I think it's probably somewhere in that window. We've had some good acquisitions, I think. Some of the trades that Ruben [Amaro Jr.] made over the winter have brought us some good pitching talent. We were fortunate enough to pick up two or three other people along the way. We don't know if it's going to work out, but we've picked up [Andy] Oliver, [Odubel] Herrera and [Elvis] Araujo in addition to the players we acquired in the [Jimmy] Rollins and [Marlon] Byrd deals. They all look like they're going to be in Phillies uniforms at some point.
Question: You have new amateur scouting director, Johnny Almaraz. Will there be a philosophy change in future Drafts?
Gillick: Not saying that our former director didn't like players, but our new scouting director likes players. People might not understand that, but sometimes you look at a player and you can talk about his minuses or you can talk about his plusses. Our new scouting director, he talks about players' plusses. He wants to concentrate on what this player can do, not on what he cannot do. So I think it's a little bit of a different approach.
Question: Does that mean more baseball players and fewer high-ceiling athletes?
Gillick: To some extent. We're still looking for high-ceiling guys and athletes, but it's the right round to take him in. So consequently there might be a different philosophy about where to take the high-ceiling guys. You might take someone that's a little closer, a little better baseball player, a little earlier than you normally would and there might be a high-ceiling guy available in the second or third round.
Question: Do you like the way you have handled the Cole Hamels situation? Everybody on the outside says you should pull the trigger, etc.
Gillick: Any of our players on our roster, as we've said before, if it will improve the ballclub, we'll listen on anyone. But some of the more valuable pieces that we do have … I mean, we haven't heard the things that make us jump up and down and say, 'Hey, we want to do this. Let's go. Let's grab this deal and run with it.' We haven't gotten one of those deals yet.
Question: Before Spring Training you thought interest might pick up once teams got a better feel for their weaknesses. Have you seen that?
Gillick: Well, I do. I think there are some teams out there that I think could use some of our players. Maybe they haven't come to the reality or haven't come to the gut check that they need them, but maybe we'll have to wait to get into the season. We're not in a situation where we have to get rid of players. Our owners have always spent money, so this is not an emergency situation. If it's the right baseball deal we'll think about it, evaluate it and we'll jump on it if we like it.
Question: I'm sure other teams think you're going to bend eventually and give up Hamels for what they want to give up.
Gillick: People have talked that Ruben is looking for too much in his deals. I don't think it's true at all. I'm in the meetings. I know what he's talking about. I think what he's trying to do is be fair and reasonable with the different teams in regards to all our players. But at the same time, we have some players that have received interest and we can't give them away.
Question: How confident are you that you will get what you consider fair value for those players?
Gillick: I think at some point we will. I really do.
Question: Ruben's contract expires at the end of the season. Will you address it before the end of the season?
Gillick: I think it's something that could go through the end of the season. At this point I don't think it's going to be addressed. I think it would probably be at the end of the season.
Question: You've maintained your support for him throughout. Does that still hold true?
Gillick: Absolutely. Absolutely. As I've said, we're in this together. He has to make the ultimate decision. He's the point guy. He's the one that gets all the heat, but we've all had a hand in making these decisions. So consequently, I think we all share responsibility.
Todd Zolecki is a reporter for MLB.com. Read his Phillies blog The Zo Zone. Follow him on Twitter. This story was not subject to the approval of Major League Baseball or its clubs.