Banister sets tone, earns respect from Rangers
Manager takes firm but even-keeled approach in first year leading club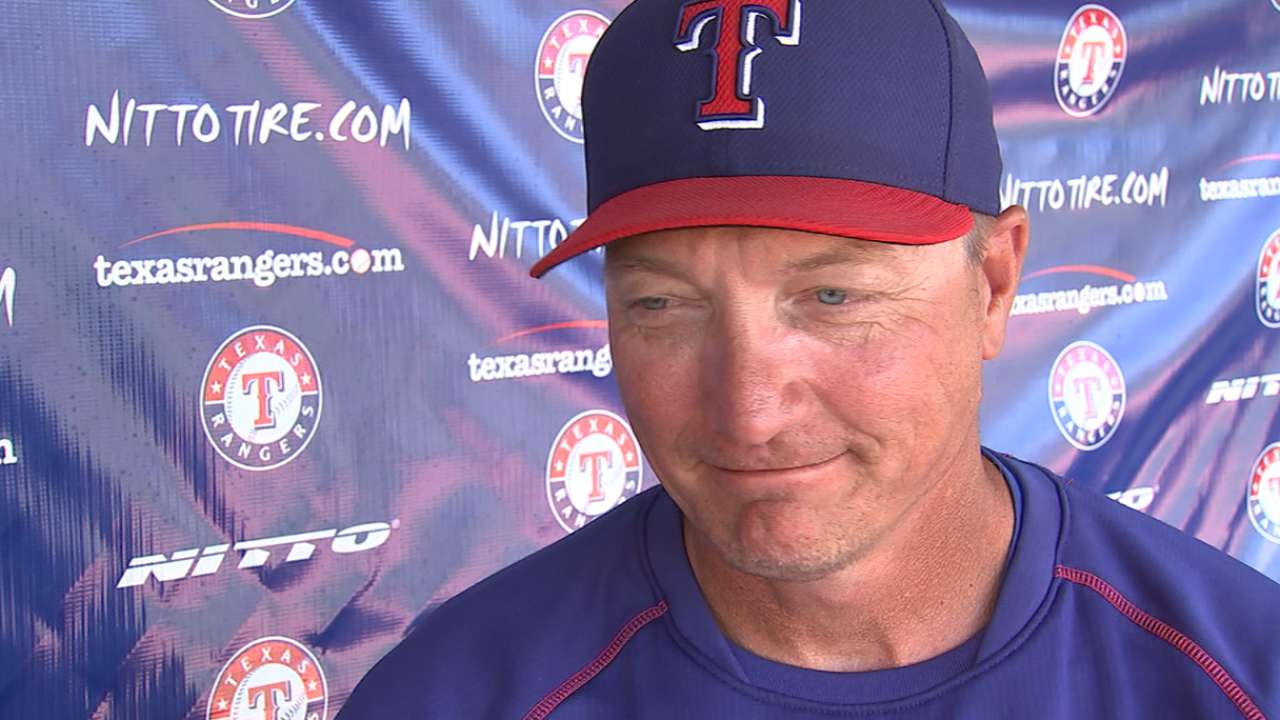 SURPRISE, Ariz. -- Rangers manager Jeff Banister was asked if he had any opinion on how the Cubs were handling power phenom Kris Bryant. Banister wasn't about to go there.
"Out of respect to another organization, I am going to defer on that," Banister said.
The answer reflects Banister's style and how he handled his first Spring Training with the Rangers.
The new manager did not come rushing into Surprise ready to recast the Rangers in his own image or reinvent a game he has been a part of all his life. Banister was respectful of the organization's past, he was relatively low-key but quite firm in what he wanted from his players and he was not outwardly distressed by anything unexpected thrown at him. He spoke often of things like intent, conviction and respect.
Banister moved slowly around the practice field, never in any hurry, speaking slowly in a deep Texas accent with his bright blue eyes staring directly at the other person. He can talk baseball for hours but won't be pushed into revealing decisions that haven't been made or disclosed to the players first. He led with the direct message about what was expected from his players but also let his coaching staff do most of the work.
His style was receptive to the audience.
"He communicates with everybody," third baseman Adrian Beltre said. "You can see he has energy and passion. He understands what needs to get done in Spring Training. He communicates what he wants done but he is open to suggestions. In my opinion, this spring went really well."
"He has been doing a great job," shortstop Elvis Andrus said. "The communication between the players and the manager has been amazing. He knows who needs to play and who needs to get a day off. So far everything has been going smooth. He is genuine. What you see is what you get. If you go out and play hard, he'll have your back every day."
The video has much more from the manager, but here are his thoughts on a few subjects concerning his first Spring Training:
On what has pleased him most this spring:
"Coming into camp, we talked about identity, we talked about culture, we talked about the brand of baseball we were going to set out to play," Banister said. "What has made me the most happy is we had a group of players who were open and willing and capable of putting that into play, you see that on any given day. You see how much of a grind it is in Spring Training. We challenged them to show up, and they've shown up. They have been engaging, they have maintained an energy level that has been pleasing to watch."
On anything that may have surprised him:
"What has surprised me is the quality of prospect players we have in our organization," Banister said. "I walk back there to the back fields and you see bodies and the athletes, who they are and what they are. The overall depth, that to me I guess I shouldn't be surprised but it is fun to look at."
On any areas where the Rangers need to get better:
"All areas," Banister said. "That will always be my belief. To be an elite organization, you should try to set the gold standard on everything you do. Don't compare yourself to what other clubs are doing. Have a gold standard, reach for the gold standard, and strive to get to that gold standard."
T.R. Sullivan is a reporter for MLB.com. Read his blog, Postcards from Elysian Fields, and follow him on Twitter @Sullivan_Ranger. This story was not subject to the approval of Major League Baseball or its clubs.