McClendon ejected after benches are warned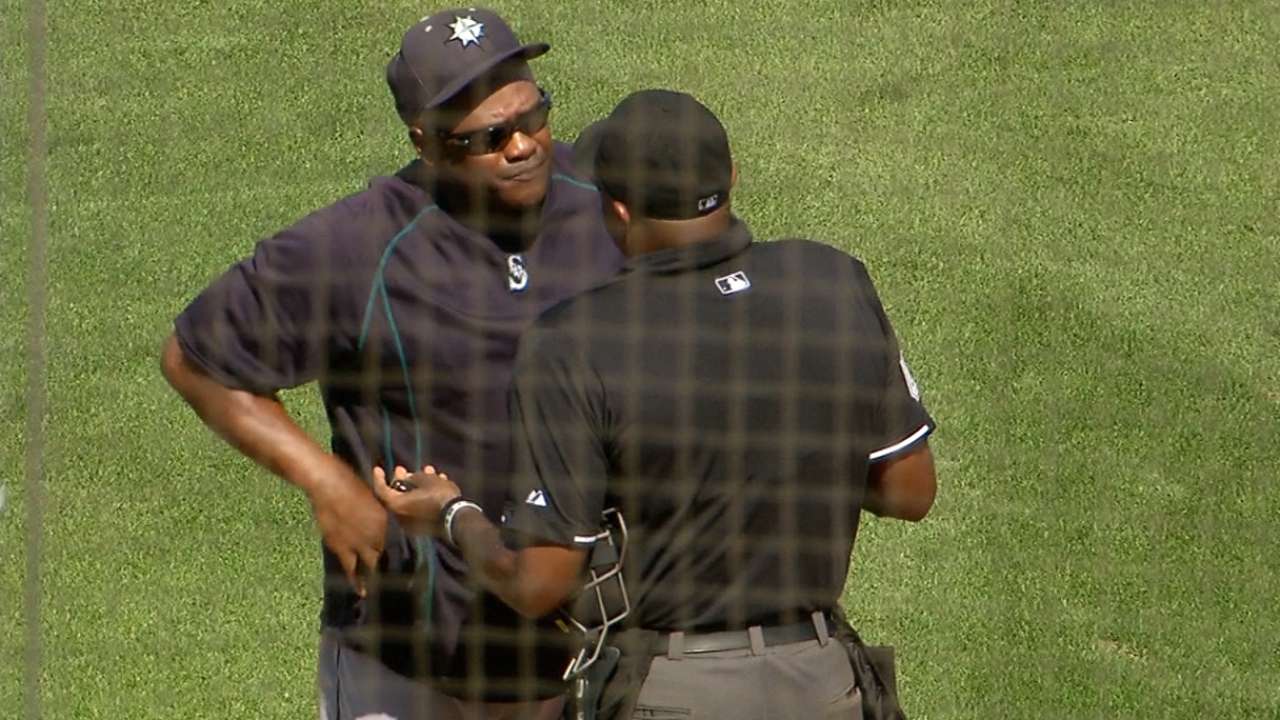 GOODYEAR, Ariz. -- A pair of questionable pitches from Indians starter Bruce Chen led to a heated exchange on the field and the ejection of Mariners manager Lloyd McClendon in an 8-6 loss Cactus League loss on Tuesday at Goodyear Ballpark.
In the top of the fourth inning, Chen threw two pitches behind the back of Rickie Weeks, prompting both benches to be warned by home-plate umpire Alan Porter after the second. The Mariners utility man had launched a leadoff homer off Chen in the first inning and Seattle ace Felix Hernandez hit Michael Brantley in the leg with a pitch in the second inning.
McClendon barked from the dugout after Chen's questionable pitches and Porter wasted little time in ejecting the Mariners manager from the contest. McClendon angrily stormed the field and argued with Porter, shouting and motioning in the pitcher's direction.
Following the argument, McClendon retreated to the visitors' dugout. Unfortunately for the manager, there are no exits behind the dugouts at the stadium. With no tunnel available, McClendon had to make a roughly 400-foot walk from the bench to a door in the right-field wall, giving fans the chance to cheer with each step he took.
McClendon then arrived in the visiting clubhouse just as several reporters were talking with Hernandez. During Spring Training, starting pitchers are made available to the media in midgame after they're finished, unlike regular season contests.
With the game not being televised, McClendon was left to sit in an empty manager's office for the final five frames.
"Obviously, he's not trying to hit Brantley," McClendon said of Hernandez. "He was fighting with his command all day. Listen, I get it. If you think you've got to protect your guy, OK, fine. Once. [Chen] has perfect control. He throws behind him twice.
"My only thing is, one, he should have been issued a warning on the first one. And if you issue a warning on the second one, on the very next pitch, obviously, he thought he was throwing at him. And if he's throwing at him, he should be ejected from the game, not warned. It makes no sense."
"I don't think [Chen is] going to throw changeups if he's going to do that [on purpose]," Indians manager Terry Francona said. "It got behind him, though. I could see why they were yelling. It was hot out."
Greg Johns is a reporter for MLB.com. Follow him on Twitter @GregJohnsMLB as well as his Mariners Musings blog. This story was not subject to the approval of Major League Baseball or its clubs.