Giles leaves game early with back tightness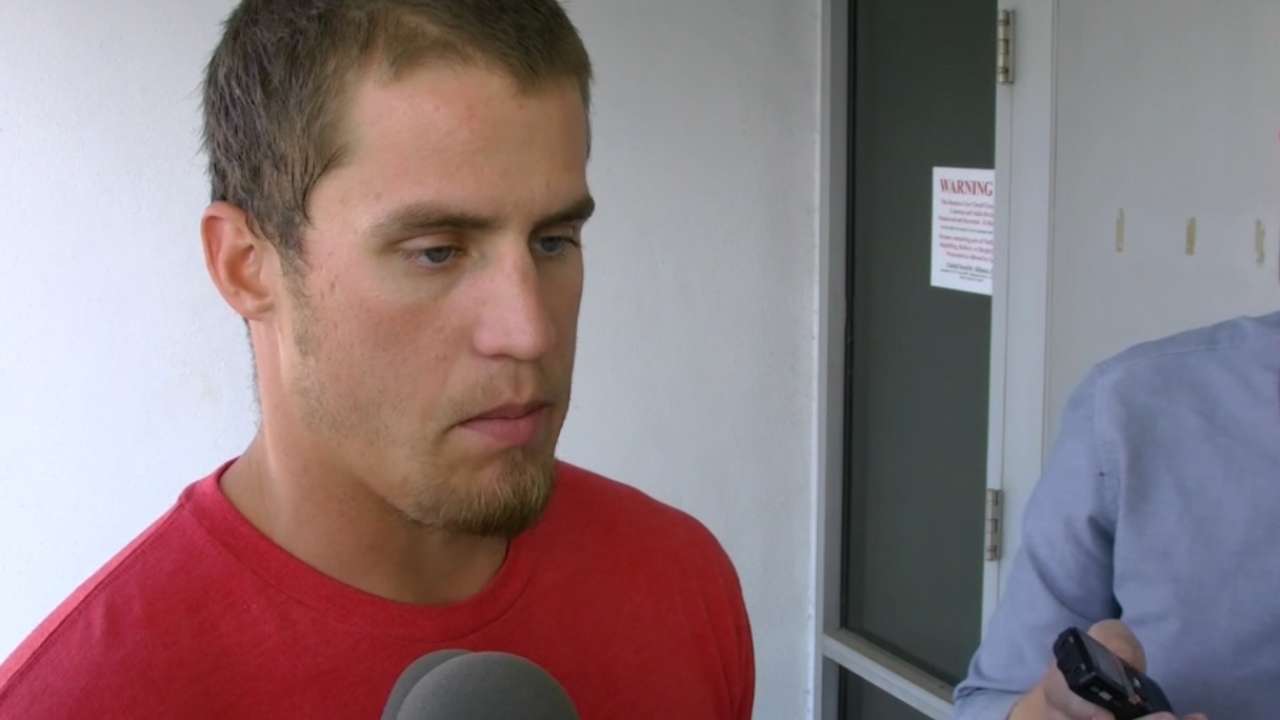 DUNEDIN, Fla. -- The Phillies cannot afford to lose Ken Giles to a serious injury.
But Giles left the eighth inning of Tuesday's 10-6 loss to the Blue Jays at Florida Auto Exchange Stadium with what he described as tightness in the middle of his back. Giles said he is not worried about it and fully expects to be ready to pitch Opening Day, if needed. But the Phillies hardly want Giles to risk something worse, so his availability Monday against the Red Sox at Citizens Bank Park is far from certain.
In fact, they probably will want to be cautious with him. There is no reason to push him in early April.
"It's just stiff," Giles said. "It doesn't hurt. I'm able to move around and stuff."
Phillies manager Ryne Sandberg sounded more alarmed than the reliever though.
"I'm a little concerned with that, a little concerned with that," he said.
Giles is a big reason why the Phillies' bullpen could be the team's main strength in 2015. Giles went 3-1 with a 1.18 ERA and one save in 44 appearances last season. He allowed 25 hits, 11 walks and struck out 64 in 45 2/3 innings. Giles' 0.79 WHIP was fifth among rookie relief pitchers since 1914. His 5.82 strikeout-to-walk ratio is sixth, and his 12.61 strikeouts-per-nine innings average ranked 10th.
Giles touches 100 mph with his fastball, but his velocity has been down this spring.
It hit 95 mph Tuesday.
"It's hard to tell if that has to do with his lower velocity," Sandberg said about the back tightness. "I'm just waiting to see him get checked out, waiting to see what it is."
"For me, I think that's perfect, where I need to be," Giles said about his velocity. "I don't want to be too in shape when I go in the season, then when the season goes on I kind of wear down. So around where I'm at right now I think it's going to be perfect. Then I can just continue to build up during the season."
A lack of velocity in Spring Training is not unusual for closers and power pitchers. Former Phillies pitching coach Rich Dubee often spoke about those pitchers needing to pitch with a "third deck," meaning a Major League stadium.
The Phillies hope that is the case with Giles.
Giles said he felt a muscle on the left side of his back grab him while facing Ryan Goins, who grounded out. Giles then walked Mike Reeves. Sandberg and assistant athletic trainer Chris Mudd immediately went to the mound to see him.
Giles said he has had the stiffness in his back for a few days, although Sandberg said he was not on any injury reports.
"I've stayed on it, kept it loose and stuff like that," Giles said. "I felt like it went away completely today, but then once I got back out there and really tried to rev it up, it kind of just clenched up."
Told the Phillies might want to be cautious with his back, Giles said, "I don't think they'll be too pushy on that because they know I'll speak the truth. Every day they always want to know how I'm feeling and stuff like that, but I'm not really concerned about that kind of stuff."
Todd Zolecki is a reporter for MLB.com. Read his Phillies blog The Zo Zone. Follow him on Twitter. This story was not subject to the approval of Major League Baseball or its clubs.