Shuck, Soto, Albers secure roster spots with White Sox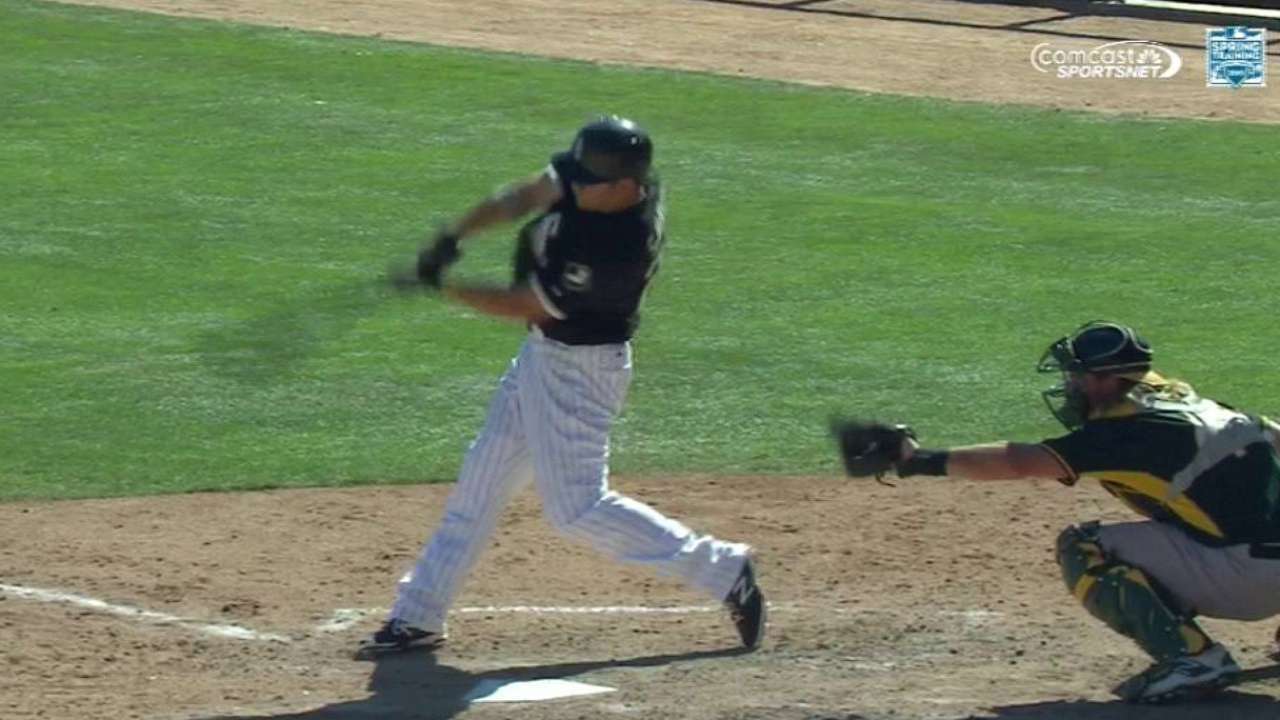 GLENDALE, Ariz. -- The White Sox active-roster decisions appear to be all but complete with the Tuesday announcement by manager Robin Ventura of J.B. Shuck as the fourth outfielder and the club confirmation that catcher Geovany Soto and right-handed reliever Matt Albers both were formally notified that they will make the club.
A decision on Article XX(B) free agents such as Albers and Soto had to be made by Tuesday under the Collective Bargaining Agreement. The players will be added to the 40-man, although the White Sox current roster sits at 39.
Because of the offseason put together by general manager Rick Hahn, the White Sox came to Spring Training without many openings. Micah Johnson appears to have earned the starting job at second, although Ventura pointed to Thursday's final day of Cactus League competition as the time when the rest of these calls would be announced.
Chris Sale will start Wednesday in a Minor League game and should have one more start Monday in Arizona before returning to the White Sox on April 11 or 12 after working his way back from an avulsion fracture in his right foot suffered on Feb. 27. So the first-week question becomes whether to take an extra position player, such as Carlos Sanchez, who has had a good camp in battling with Johnson at second, or an eighth reliever.
Candidates for that eighth-reliever spot would be Scott Carroll, Arcenio Leon and Maikel Cleto. Ventura knows the answer, but he wasn't sharing on Tuesday.
"You have to mix and match early to get through that first week, and you have to see where you stand as far as those guys getting healthy, where they are and when they come off," said Ventura, also referring to Jake Petricka, who will start the season on the disabled list but could be ready April 11 for a return. "The start of it is a little bit different than you would normally expect leaving Spring Training."
Shuck had two hits in Tuesday's 2-1 victory over the Dodgers, raising his average to .364 to go with a team-best five stolen bases. The 27-year-old's best year came in 2013, with the Angels, when he hit .293 with 60 runs scored and 39 RBIs. He split 2014 between the Angels and Indians before joining the White Sox in a reserve role.
"Coming in, I knew it was going to be more of a bench job, and [Melky Cabrera] was going to be more of a starter," Shuck said. "So for me, I didn't look at it as a competition. I was excited. I was just trying to come in and do what I can to hopefully help out the team in any way."
"He's everything that we thought he was when he was coming over here, as far as knowing how to play the game, playing all three outfield positions," Ventura said. "Just great at-bats every time he goes up there. He can run. He's definitely a complement to have out there in the outfield."
Scott Merkin is a reporter for MLB.com. Read his blog, Merk's Works, and follow him on Twitter @scottmerkin. This story was not subject to the approval of Major League Baseball or its clubs.