Price struggles vs. Bucs but feels strong
Ace allows seven runs after three solid innings, but focused on health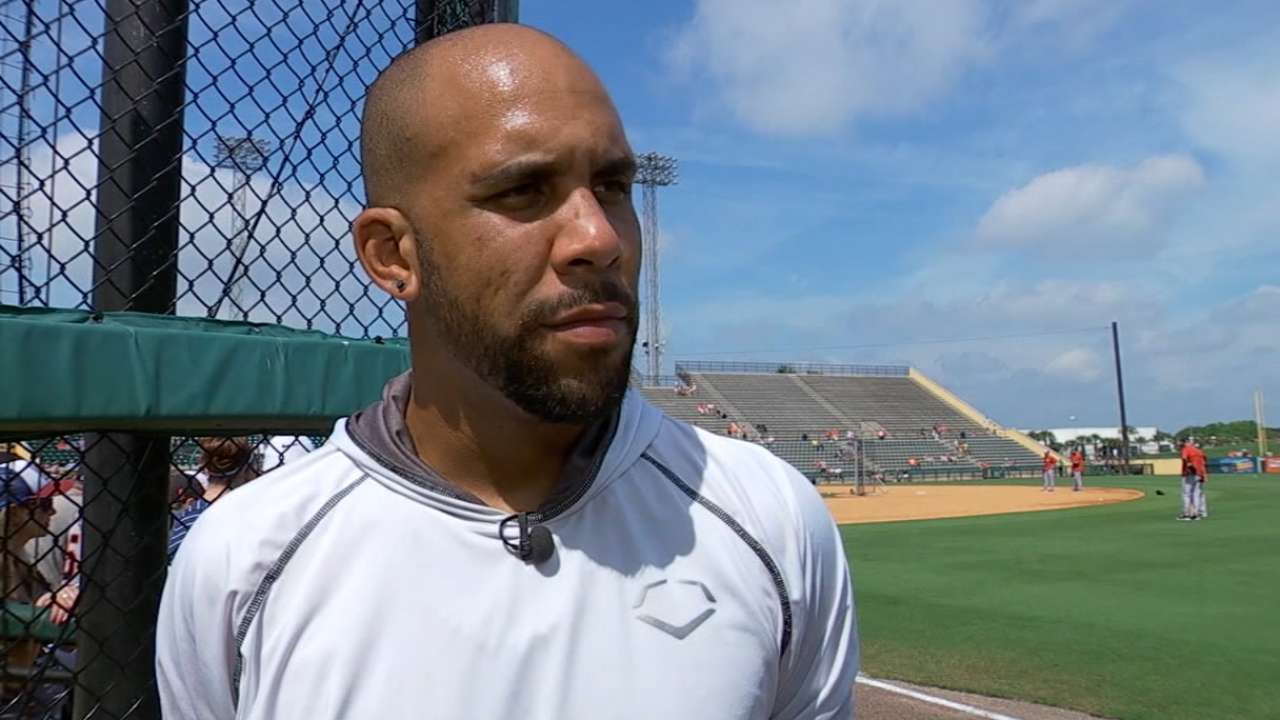 LAKELAND, Fla. -- David Price seems to have found a pattern. It's a good one for the first three innings, not so much after that.
Five days after the Tigers' ace retired the first 10 batters and last 10 batters he faced, giving up three runs in a three-batter span in between, he seemed headed down the same path Tuesday. He not only retired the Pirates in order the first time through the lineup, but he also left his outfielders with nothing to do until the ninth batter of the game, Pirates starter Vance Worley.
Then came the second turn through the lineup, and four runs in a six-batter span on the fourth. Three of the four hits either went to the outfield fence or, in the case of Francisco Cervelli's two-run homer to straightaway center and Andrew McCutchen's ground-rule double to the deepest part of right-center, cleared it.
Price only briefly recovered this time, taking on a three-run sixth inning on his way to seven runs allowed over six innings in his final outing before Opening Day.
"Gotta get more outs, especially when they get runners on base," Price said. "I need to get outs, try to get some by myself. Those are big, especially with guys in scoring position, being able to get that big strikeout or a weak fly ball where nobody can advance. Being able to recognize those situations and being able to make the pitches to get those. I didn't do a good enough job of that today, but I feel good."
At this point, that last part is what matters most to him. If he was dominating with an aching arm, he said, he'd be worried. As it is, he'll be ready when the outs count.
"I just wanted to go out there and put together a strong outing," Price said. "But my body feels good. I'd rather my body feel the way it does right now and have a 10 ERA as opposed to having some kinks or some soreness and having a zero ERA right now. Bodywise, I feel great, and that's what you want."
If there's one commonality to take out of the two outings, it might be the struggles with runners on base. That might have something to do with him pitching out of the stretch, though his windup is very similar to his stretch.
"A couple of times I've caught him on occasion out of the stretch [where] he doesn't have as good of command with some pitches," catcher Alex Avila said, "but I think that's just a bad start. It's not like it happens all the time."
Manager Brad Ausmus agreed.
"Early he looked sharp," Ausmus said. "It seemed like he was a little out of sync once he got into the stretch, but it's funny, it's never really bothered me when a good pitcher on his last spring start doesn't have his best outing. It's kind of a reminder that this game's not easy. I'm not even the slightest bit worried about it."
Jason Beck is a reporter for MLB.com. Read Beck's Blog and follow him on Twitter @beckjason. This story was not subject to the approval of Major League Baseball or its clubs.