MLB.com Columnist
Lyle Spencer
Vogt embraces opportunity to start for new-look A's
After Oakland's busy offseason, backstop gets chance to lead youth movement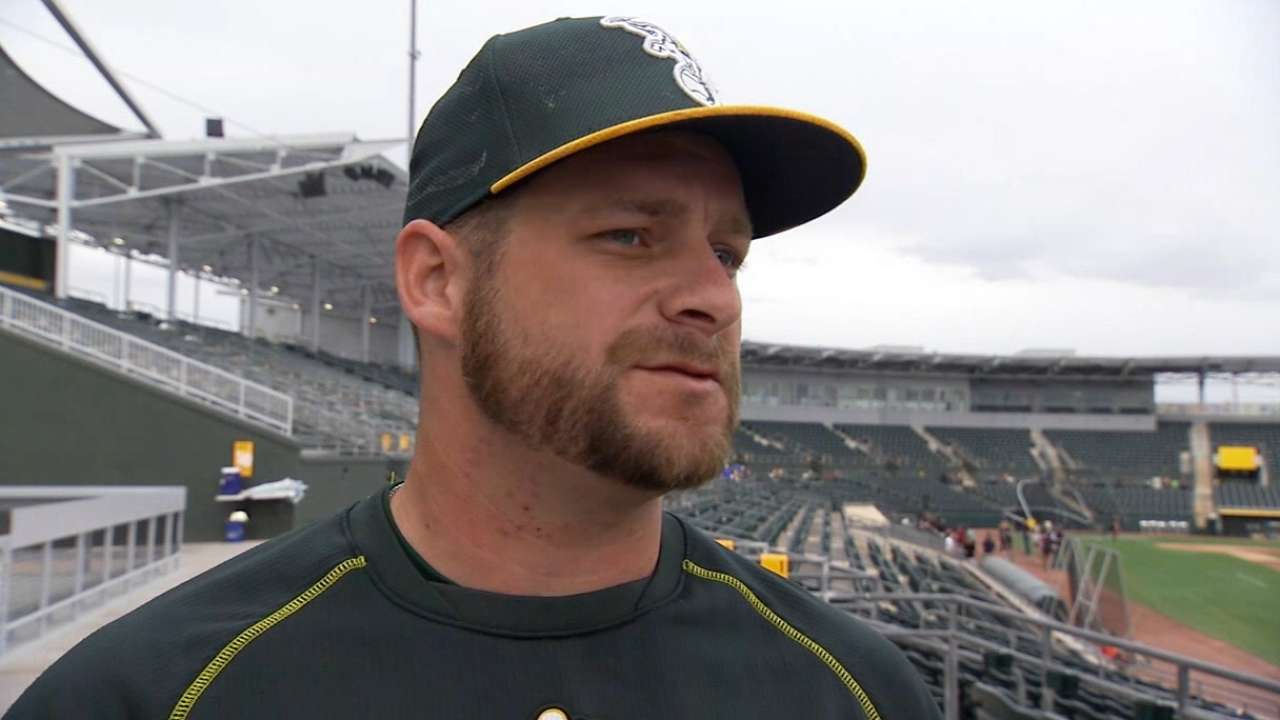 MESA, Ariz. -- From a distance Stephen Vogt watched Billy Beane's wild winter adventure -- nine trades, 27 players involved -- with a vested interest, keeping tabs on incoming and outgoing A's teammates.
When the latest Oakland renovation was complete, Vogt was the projected No. 1 catcher with just 49 Major League starts behind the plate on his resume, 40 of those in 2013 with the A's.
But life has taught Vogt to take nothing for granted. He isn't thinking in terms of being the man. He's more comfortable as one of the men in the trenches.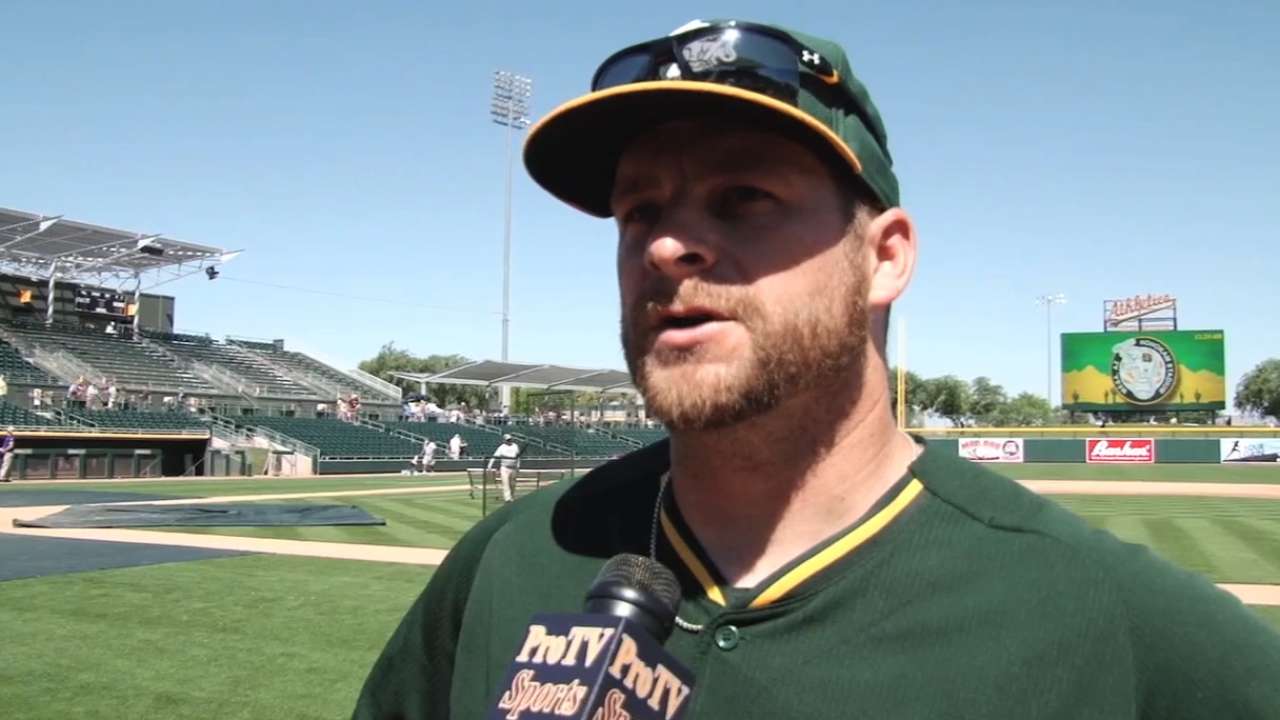 "When they made all the trades, it was kind of weird at first," Vogt said. "Then it's like, 'I'm going to have a chance to earn playing time.' I'm never going to say it's my spot. As soon as you relax in this game, you're in trouble. You can't be complacent. You have to keep working every day to get better."
A left-handed hitter carrying 215 pounds on a solid 6-foot frame, Vogt, coming off foot surgery, has had a productive spring entering Tuesday, batting .300 with two homers in 30 at-bats.
He has produced a .254/.298/.396 line in 149 career games. The numbers in 84 games last season, despite issues with the foot, were closer to what the A's can expect from him: .279/.321/.431, with nine homers and 35 RBIs.
The A's thought enough of Vogt to unload Derek Norris, an All-Star last season, in a deal with the Padres. From the White Sox comes Josh Phegley, with 69 career starts at catcher, to share the job with Vogt.
"It's a tag-term effort," Vogt said. "Josh and I have become good friends. No matter who's back there, we're in this together. Our job is to bring out the best in the pitching staff. There is no denying that pitching is the most important part of baseball, and catching should be an extension of pitching.
"My first catching mentor [Justin Duarte at Azusa Pacific University] told me that every hit is your hit, every strikeout is your strikeout, every stolen base is yours. His ERA is yours. You don't let your offense dictate your defense."
Six of the Royals' seven steals in last season's American League Wild Card Game came with Norris catching and may or may not have had something to do with his transfer to San Diego. If a 9-8 season-ending loss in 12 innings after coughing up a four-run lead doesn't drive a GM to drastic measures, nothing will.
So, here they are with all these new guys from all over the map getting to know one another. The entire infield is new. Sonny Gray and Scott Kazmir front the rotation, with lively competition for the remaining three slots.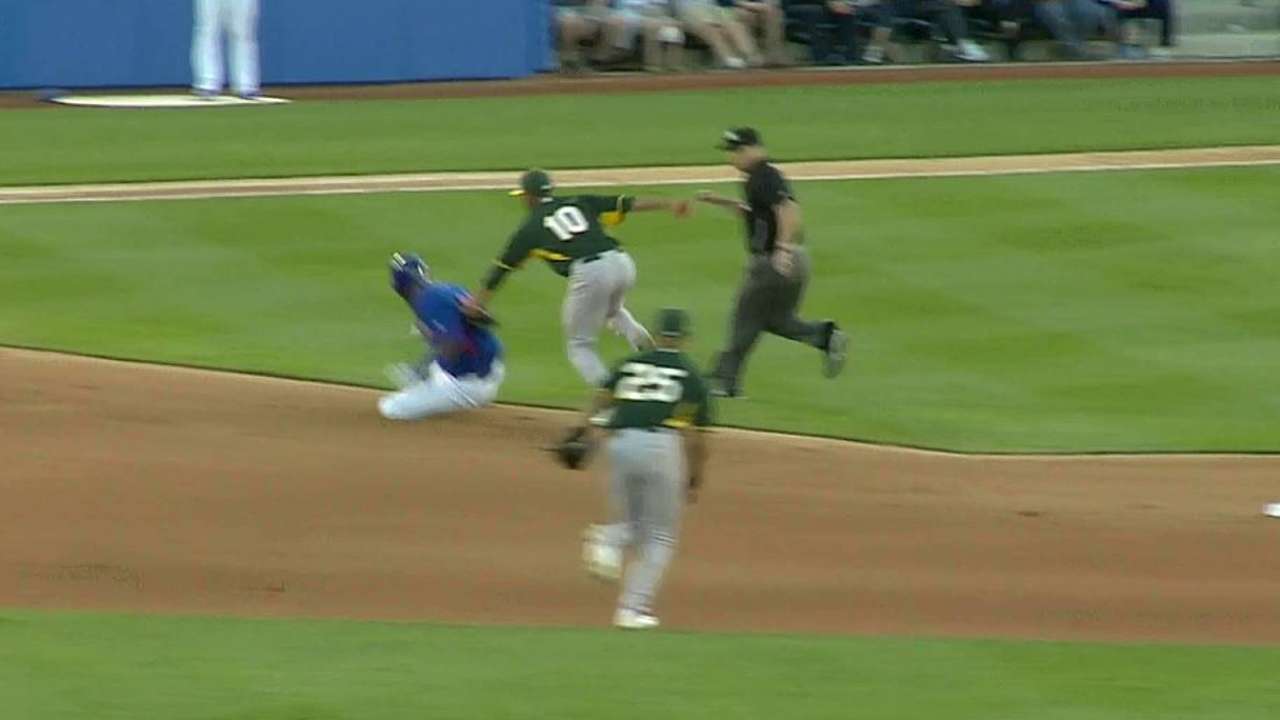 Barry Zito, who allowed three home runs on Tuesday, has drawn a lot of attention with his comeback attempt, but where the A's land in the stacked AL West will rest in large part on what young starters Kendall Graveman, Jesse Hahn and Drew Pomeranz are able to deliver.
"With all the new pitchers, you're not going to be comfortable in the beginning no matter what," Vogt said. "It's going to take a little time.
"Hahn and Graveman have kind of blown me away. I knew Jesse from Tampa Bay; we kind of came up together. Kendall Graveman, for a guy with one full season under his belt, has been really impressive. He has an idea what he's doing."
Averaging 92.7 wins and three consecutive postseason appearances over the last three years, the A's have become known for their loose and engaging clubhouse.
"It's an exciting time," Vogt said. "It's a young team, and a lot of people don't know the names. We like hearing that the A's are going to be so-so. We've been here six weeks, and there are a lot of good personalities on this team. Everyone gets along."
Vogt fits the classic catcher's profile, but has been one of manager Bob Melvin's chess pieces, playing first and the outfield as well as catcher in his two seasons in Oakland after arriving from Tampa Bay.
Now strictly a receiver, he is asked to guide a cast of young arms through the thicket of mood swings while banging hits and keeping his head out of the way of hitters' backswings -- an issue last season.
"Any time you are put in a position to play, it feels good," Vogt said. "That's what you want -- you want to play a lot."
Lyle Spencer is a national reporter and columnist for MLB.com. Follow him on Twitter @LyleMSpencer. This story was not subject to the approval of Major League Baseball or its clubs.