Tanaka, Yanks relieved after healthy spring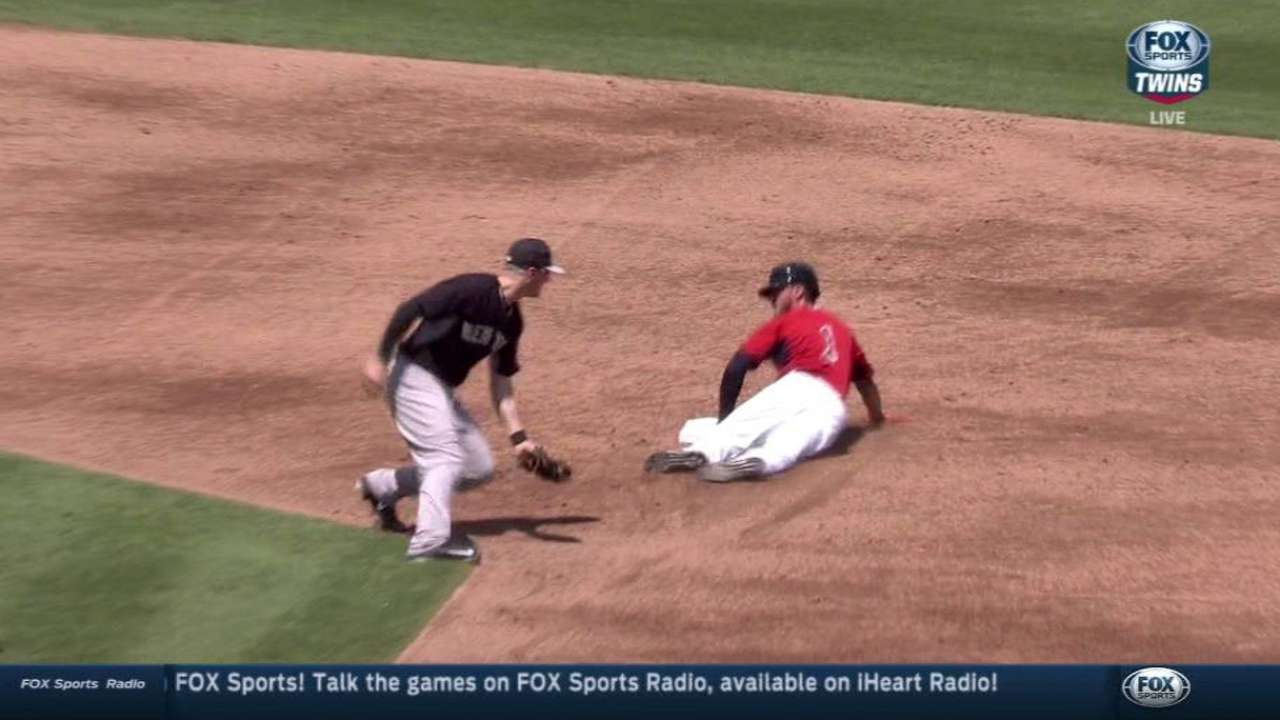 FORT MYERS, Fla. -- The contact might have been more solid than Masahiro Tanaka would have preferred on Tuesday, but as the Yankees right-hander left the mound for the final time this spring, the organization had to be thrilled that he is heading into the regular season with a clean bill of health.
Preferring to face a big league club for his final tuneup, Tanaka volunteered to make the 140-mile trek to Hammond Stadium, where he completed his Spring Training workload by hurling 4 1/3 innings of three-run, seven-hit ball in a 3-1 loss to the Twins.
"Obviously, it wasn't the best pitching today out there on the mound, but I felt that I was able to work on what I wanted to work on this spring," Tanaka said through an interpreter. "I feel pretty much ready to go for the season."
Tanaka threw 76 pitches (56 for strikes) and served up a solo home run to Eduardo Escobar in preparation for his Opening Day assignment on April 6, when he'll face the Blue Jays at Yankee Stadium. Yankees manager Joe Girardi said that he expects Tanaka will be able to throw about 90 pitches in that outing.
"I felt pretty decent about him going into the offseason, but I think you feel a little bit better now, just watching him go through his starts and getting built up," Girardi said. "But you never know about pitchers today."
Girardi has said that he doesn't expect to be sitting on the edge of the dugout bench with every pitch, as he did when Tanaka made his last two starts of the 2014 campaign, but Tanaka's partially torn ulnar collateral ligament will always be in the background.
Most lingering concerns were eased by the fact that Tanaka never reported any stiffness and seemed to be able to throw close to 100 percent effort during the spring. In 14 2/3 innings, Tanaka permitted six runs (five earned) and 13 hits for a 3.07 ERA, walking one and striking out 13.
"I feel good that I was able to come through camp healthy right now," Tanaka said. "I think I'm a bit relieved."
Tanaka has said that he is shying away from throwing four-seam fastballs, preferring to go with his two-seamer, as an accommodation to the fact that his four-seamers were hit hard last season. Catcher Austin Romine said that Tanaka relied on his two-seamer and slider in Tuesday's outing.
"He looked all right in the beginning. I think maybe his stuff wasn't as sharp as it was in the past," Romine said. "The splitter was a little erratic sometimes, but his slider was there for him and it kept him in the game for a little while. Some pitches hit a little bit too much of the plate. I think he pitched well for what he had today."
Tanaka's velocity sat between 87-90 mph on Tuesday, touching 92 mph. Tanaka has said that he is unconcerned about that dip, as well as a more conservative workload that saw him throw 6 1/3 fewer innings this spring than last.
"I'm not really overthinking about that at all," Tanaka said. "I was kind of taking it slow at the beginning, but at the end, I think I was able to build up to where I wanted to be. I'm not really worried about the innings."
Bryan Hoch is a reporter for MLB.com. Follow him on Twitter @bryanhoch and read his MLBlog, Bombers Beat. This story was not subject to the approval of Major League Baseball or its clubs.