Winning formula simple for Giants: score four
Stellar pitching means more than three runs usually translates to victory
SCOTTSDALE, Ariz. -- If the Giants approached their job with a golfer's mentality, every game would be a par 4.
Four, that is, as in runs.
Since occupying AT&T Park in 2000, and particularly since their formidable starting pitching began propelling the team to World Series-winning prominence in 2010, the Giants have embraced a modest yet effective offensive philosophy. They believe that scoring four runs should suffice for victory, since their pitching and defense ideally can limit opponents to three runs or fewer -- particularly at their pitcher-friendly home ballpark.
"It's critical for us," Giants manager Bruce Bochy said. "There's such a difference in our club when we can score four runs. We have the confidence that our pitchers are going to make some quality starts. That means three runs in six innings. And so, [scoring in] that four-run area, we're a winning ballclub, we feel."
Understand that four runs is a benchmark figure for every club. But this especially applies to the Giants, given their formula for success. The Major League-wide winning percentage for teams scoring four runs or more last year was .754 (1,885-616). That paled alongside the Giants' .849 (73-13), which ranked third in the big leagues behind the Nationals (74-11, .871) and the Angels (84-13, .866).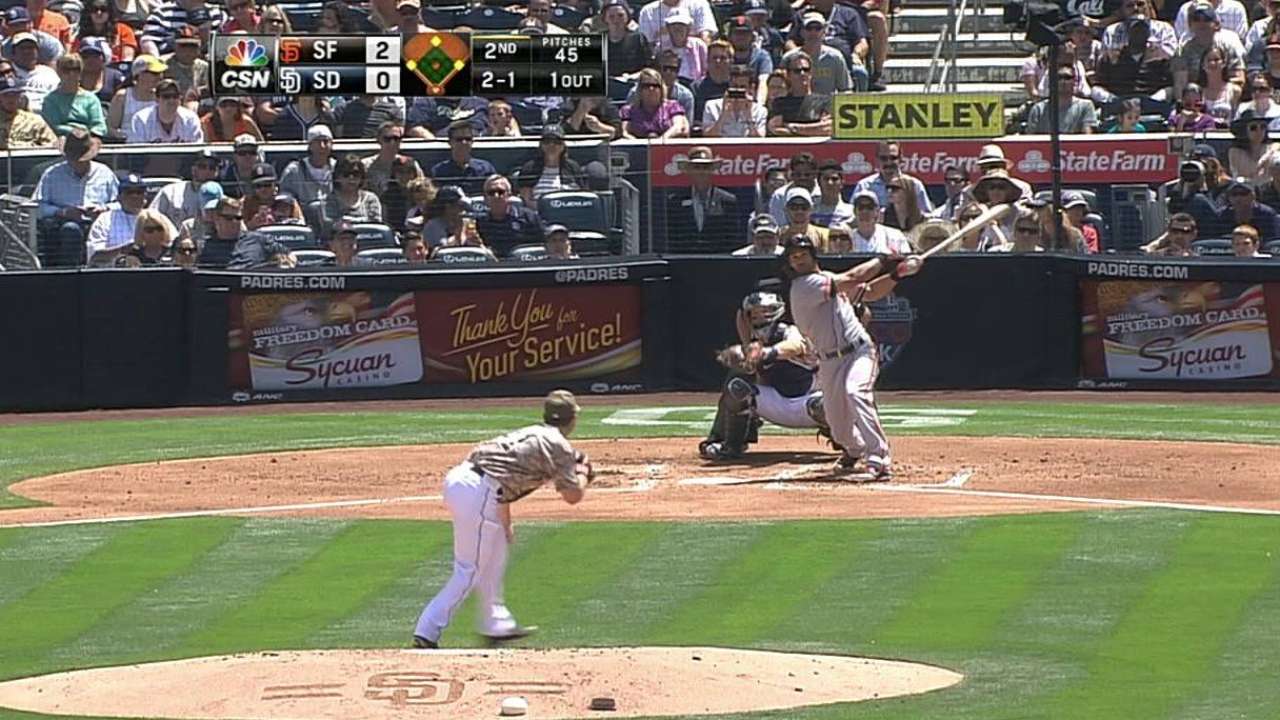 It has been thus since the Giants captured their first Series in their West Coast history in 2010. They built the Majors' best winning percentages that year (69-12, .852) and in 2011 (55-9, .859) when scoring at least four runs. They finished ninth in this category in 2012 (75-20), then ranked 15th the following year, smack in the middle of the Majors (56-17), when they posted their only losing record (76-86) since 2009.
The Giants know they must excel in this area again. Never known for their power, they lost a large percentage of their long-ball potential in the offseason when third baseman Pablo Sandoval and outfielder Michael Morse fled to Boston and Miami, respectively, as free agents. They accounted for 32 of San Francisco's 132 home runs in 2014. Their replacements, Casey McGehee and Nori Aoki, combined for five homers last season. Manufacturing runs, therefore, could be much more necessary for this year's Giants.
"We probably don't have the power we had last year," Bochy said. "So it's going to be critical that we execute and do some little things -- whether it's hit-and-run, moving guys -- or, as we say, keep the line moving. Just base hits. We're not looking for home runs. That clutch hitting -- there's no way to measure it, but that's always so important to a team."
It's also essential for Giants pitchers to uphold their share of this arrangement by muting opposing offenses. This is an easier task at AT&T Park, where San Francisco's staff, composed mostly of fly-ball pitchers, can allow drive after drive that die in the spacious outfield.
But little margin for error exists.
"In San Francisco, where we're not normally winning 10-run ballgames, every game is very tight," left-hander Javier Lopez said. "You need to have that confidence."
Chris Haft is a reporter for MLB.com. Read his blog, Haft-Baked Ideas, and follow him on Twitter at @sfgiantsbeat. This story was not subject to the approval of Major League Baseball or its clubs.