Cruz, Weeks provide pop in loss to Indians
GOODYEAR, Ariz. -- Mariners ace Felix Hernandez labored in his final outing of the spring, bowing out before the end of the second inning in an 8-6 Cactus League loss to the Indians on Tuesday at Goodyear Ballpark. Seattle manager Lloyd McClendon was ejected during the defeat.
The Indians, who featured the bulk of their projected Opening Day lineup, struck for seven runs on five hits against Hernandez in his 1 2/3 innings.
Tribe slugger Brandon Moss highlighted a four-run first inning with a two-run homer to right field, where the ball bounced off the roof above the stands for his fourth blast of the spring. Michael Brantley also had an RBI single in the first. In the second inning, Michael Bourn delivered a run-scoring double and Carlos Santana added a two-run double that ended Hernandez's outing.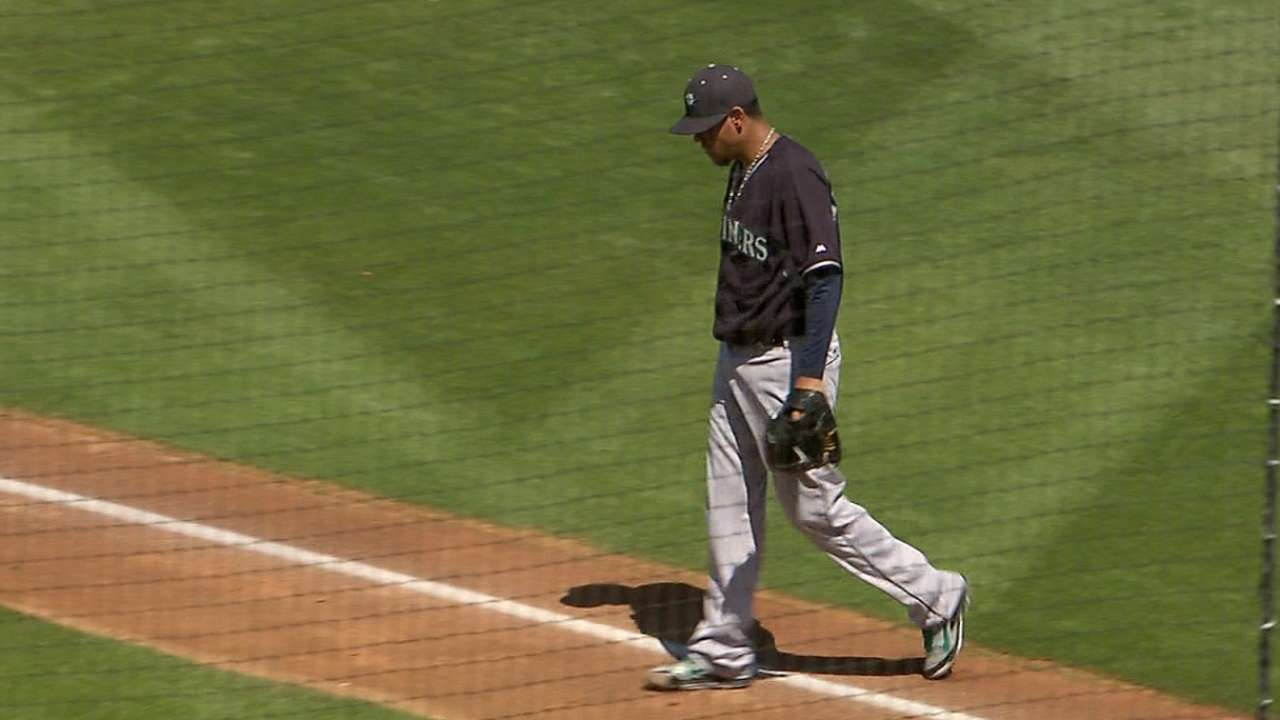 Hernandez threw 47 pitches (29 strikes), and ended with five hits allowed, two strikeouts, two walks and one hit batsmen. King Felix's next assigment will come on Monday, when the Mariners host the Angels in an Opening Day clash at Safeco Field. It will mark the eighth career Opening Day start for Hernandez, who has started the opener in each of the past seven years.
"Today was not good," Hernandez said "I couldn't get my balance. I was like falling back, I couldn't feel my legs. I don't know."
McClendon was hardly concerned.
"He's going to be fine," McClendon said. "This is a Spring Training game. That's the way it goes."
In the second, Hernandez hit Brantley with a pitch -- an errant offering that may have played a role in McClendon's ejection in the fourth. Indians starter Bruce Chen, who allowed a leadoff homer to Rickie Weeks in the first inning, threw two pitches behind Weeks' back, the second prompting home-plate umpire Alan Porter to warn both benches. McClendon shouted from the dugout and Porter promptly tossed the manager from the contest.
"Obviously, he not trying to hit Brantley," McClendon said of Hernandez. "He was fighting with his command all day. Listen, I get it. If you think you've got to protect your guy, OK, fine. Once. [Chen] has perfect control. He throws behind him twice. ... He should have been issued a warning on the first one."
"I don't think he's going to throw changeups if he's going to do that [on purpose]," Indians manager Terry Francona said. "It got behind him, though. I could see why they were yelling. It was hot out."
The veteran Chen, who is headed to Triple-A Columbus, was allowed to remain in the game. The left-hander yielded four runs on eight hits, while recording five strikeouts and no walks. Chen allowed three runs in the first, when Mariners slugger Nelson Cruz followed Weeks' solo shot with a two-run homer later in the inning.
Seattle's Brad Miller tripled and scored on a single from Austin Jackson in the second inning. Also, Dustin Ackley and Mike Zunino each came through with an RBI double in the eighth inning, cutting the deficit to 8-6.
Up next: Left-hander James Paxton makes his final spring tuneup as the Mariners host the White Sox at 1:05 p.m. PT on Wednesday at Peoria Stadium. Paxton has had just two Cactus League outings due to a bruised left forearm that delayed his spring. He gave up four hits and five runs (two earned) with three walks in 3 2/3 innings in his last start on Friday against the Royals. The game will be televised live on ROOT Sports and MLB.TV.
Jordan Bastian is a reporter for MLB.com. Read his blog, Major League Bastian, and follow him on Twitter @MLBastian. This story was not subject to the approval of Major League Baseball or its clubs.