Locke, Worley OK with Bucs' fifth-starter decision
Lefty gets last rotation spot, but both pitchers ready to contribute wherever necessary
LAKELAND, Fla. -- Pirates manager Clint Hurdle said last week the Bucs couldn't make a bad decision when picking their fifth starter. The only difference, he said, is that one pitcher would wind up happier than the other.
That pitcher turned out to be left-hander Jeff Locke, who beat out right-hander Vance Worley for the final spot in the rotation on Monday. Worley will open the season in the bullpen, and Locke will make his first start April 10 in Milwaukee.
"Obviously, I feel that's my best role -- out of the rotation. And I'm sure Worley feels exactly the same way," Locke told reporters Tuesday morning at McKechnie Field. "Both of us just wanted to help this team any way we could."
Locke went 7-6 with a 3.91 ERA in 131 1/3 innings last season, struggling in the second half after eight strong starts in the first half. The ups and downs of the past few years helped him keep some perspective while battling for a job this spring.
"I'm someone who's had a lot of success and a lot of failures, all at the same level. That kind of helped me keep things as even as I can," Locke said. "Whatever was going to happen, I wanted to find a way to contribute the best way that I could."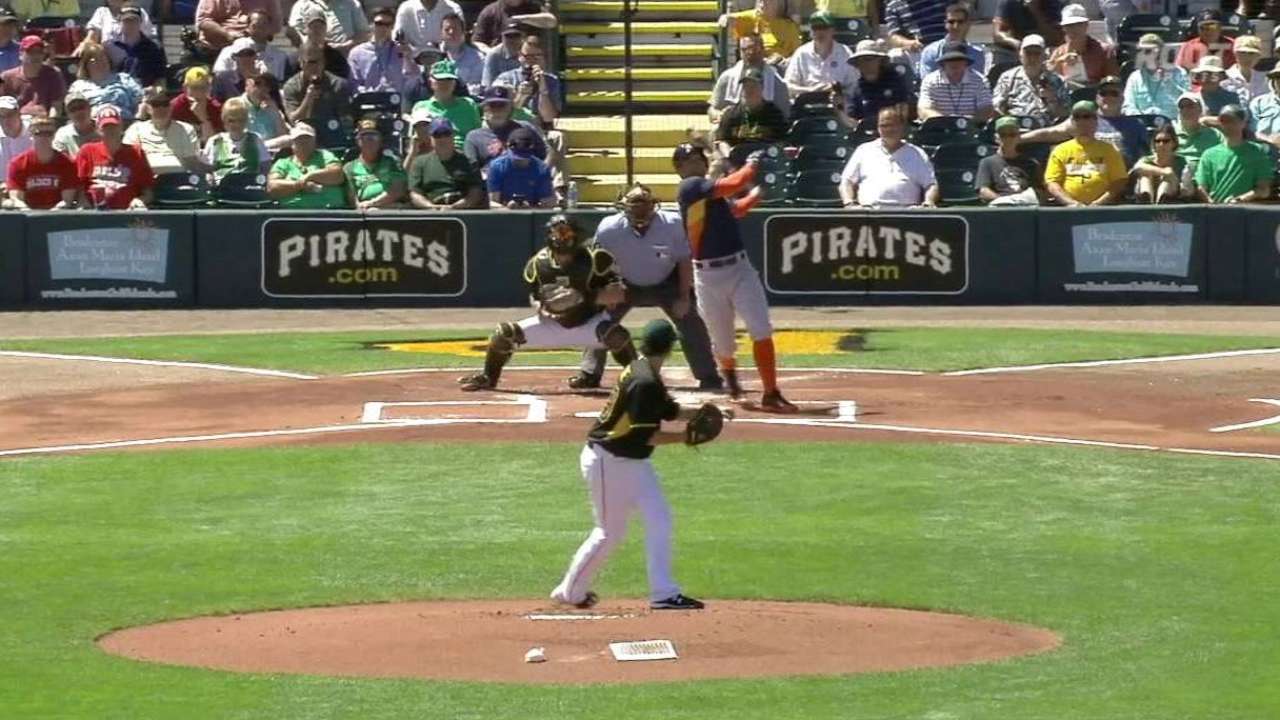 Meanwhile, Worley made his last start of the spring in the Pirates' 7-3 win over the Tigers on Tuesday at Joker Marchant Stadium, a shorter outing by design in which he gave up one run on three hits over three innings.
Worley showed enough last season to seemingly make him the favorite for the job, going 8-4 with a 2.85 ERA in 110 2/3 innings for the Pirates.
Hurdle and the Pirates' brass ultimately chose to slot another lefty into their rotation alongside Francisco Liriano and right-handers Gerrit Cole, A.J. Burnett and Charlie Morton.
"It is what it is. I'm here as a Pirate. I'm here to help [the team] win," Worley said. "It doesn't matter what my role is. I'm sure I'll get some starts thrown in. Whether I stick in the rotation or not, we'll see."
Worley has made eight relief appearances, only one of them since 2011. Hurdle said the plan, if time allows for it, is to use Worley out of the bullpen once before camp ends.
Worley said his preparation as a reliever will be "completely different" as he learns to break from the typical starter's routine.
"I have to find that happy medium where I can still get enough work in but not fatigue myself, because I don't know what day I'm going to go," Worley said. "That's something I'm going to have to learn on the fly."
Adam Berry is a reporter for MLB.com. Follow him on Twitter at @adamdberry. This story was not subject to the approval of Major League Baseball or its clubs.