Gomez atop Brewers Opening Day lineup
Braun to hit third, with Ramirez batting cleanup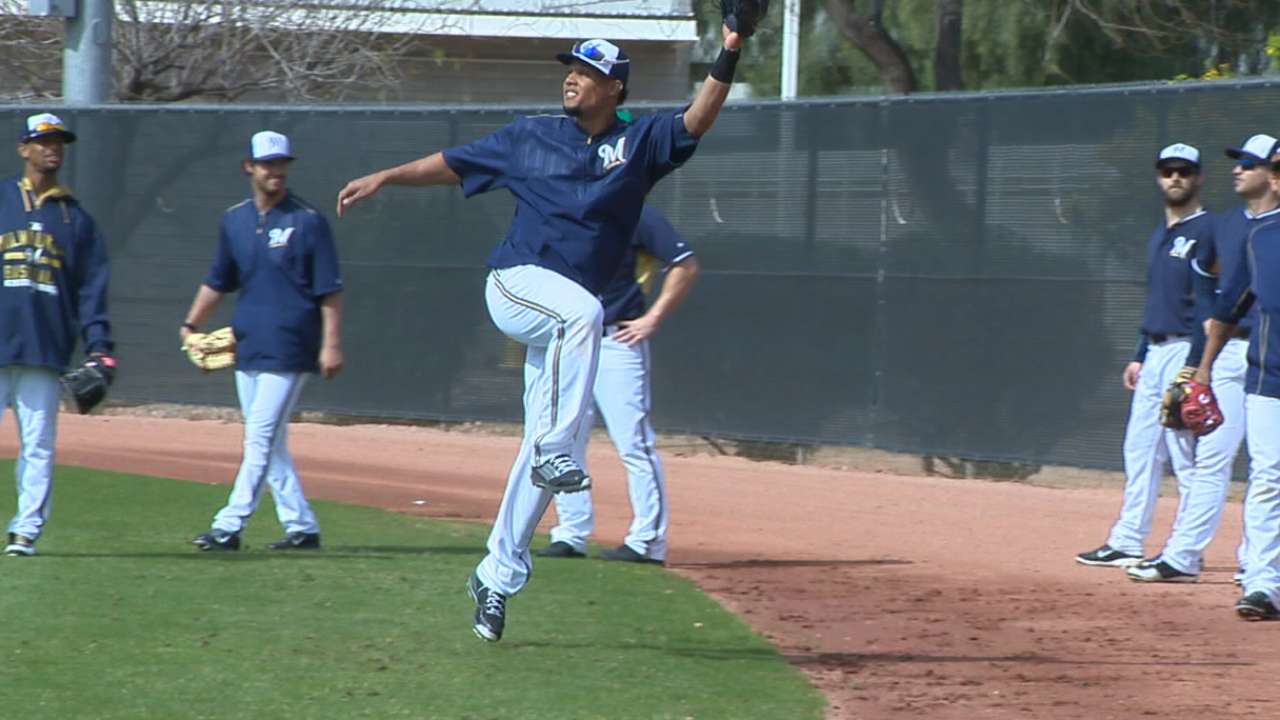 PHOENIX -- Someday, Carlos Gomez hopes to be a fixture in the middle of a batting order. But the Brewers need him in the leadoff hole, so that's where he'll hit when the regular season begins on Monday.
Manager Ron Roenicke confirmed that the lineup he rolled out against the Reds on Tuesday matches his plan for Opening Day. It looked like this:
1. Gomez CF
2. Jonathan Lucroy C
3. Ryan Braun LF
4. Aramis Ramirez 3B
5. Adam Lind 1B (L)
6. Khris Davis LF
7. Scooter Gennett 2B (L)
8. Jean Segura SS
"This is probably what we're going to go with," Roenicke said. "I talked to 'Gomey' this morning, and I don't want to say this is 100 percent, but this is what I'm leaning towards and I think makes the most sense. It's a nice looking lineup."
Roenicke had debated between Gomez and Gennett for leadoff duties. Gomez hit there most of last season, posting a .276/.356/.488 slash line and 20 home runs, including five homers leading off a game. When the Brewers needed Gomez in a run-producing role late in the season, Gennett took over and slashed .323/.351/.505 in 98 plate appearances as the leadoff man.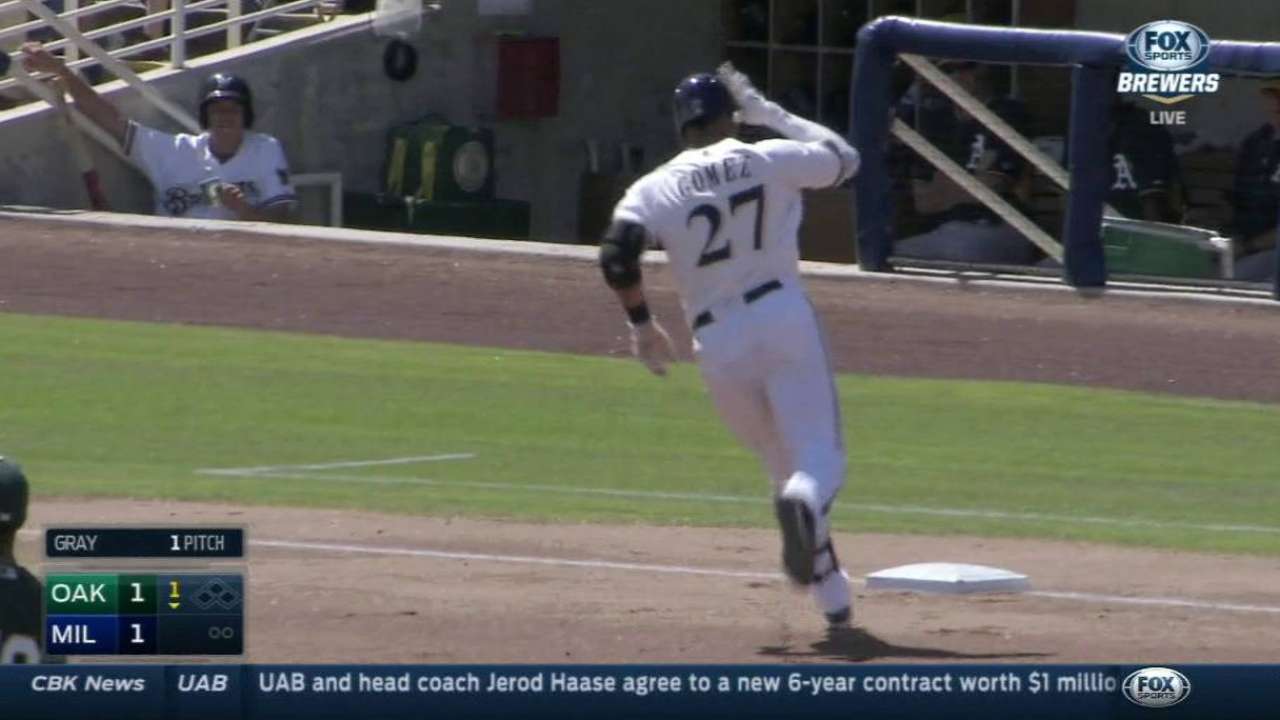 Overall, Gomez's on-base percentage last season was .365, second-best among Brewers regulars to Lucroy's .373. Gennett's OBP was .320.
"Carlos we know can hit third, fourth, fifth, and sometime during the season maybe it ends up a little bit different than what it is now," Roenicke said. "But I think because of what we have in [other] spots, I think it makes sense to have Carlos up front because he does a really good job in the leadoff spot. He not only gets on base, but he creates problems once he's on base. He creates problems leading off a game, just knowing if you throw him a strike, you could be down, 1-0."
Gomez accepted the assignment.
"I look at myself [having] a long career, and I don't look at myself like a leadoff [hitter], but right now, if that's what it takes to win games, I'm in," Gomez said. "I'm always positive. It doesn't matter where you hit in the lineup."
More of Roenicke's thoughts on the lineup:
On Lucroy hitting second: "I don't think he's that typical No. 2 guy that will hit and run and bunt a guy over. He's obviously not going to be doing that."
On whether he was tempted to place left-handed hitter Lind between Braun and Ramirez: "To start with, not really. If we get to that point, that's fine. Aramis is fine with moving anywhere."
On Gennett vs. Segura for the eight-hole: "'Seggy' may get on base a little bit more. He steals more. … They're both swingers. I don't know. Those two, I think, could go either way."
Adam McCalvy is a reporter for MLB.com. Read his blog, Brew Beat, and follow him on Twitter at @AdamMcCalvy. This story was not subject to the approval of Major League Baseball or its clubs.