Runs will tell the tale for Rangers in 2015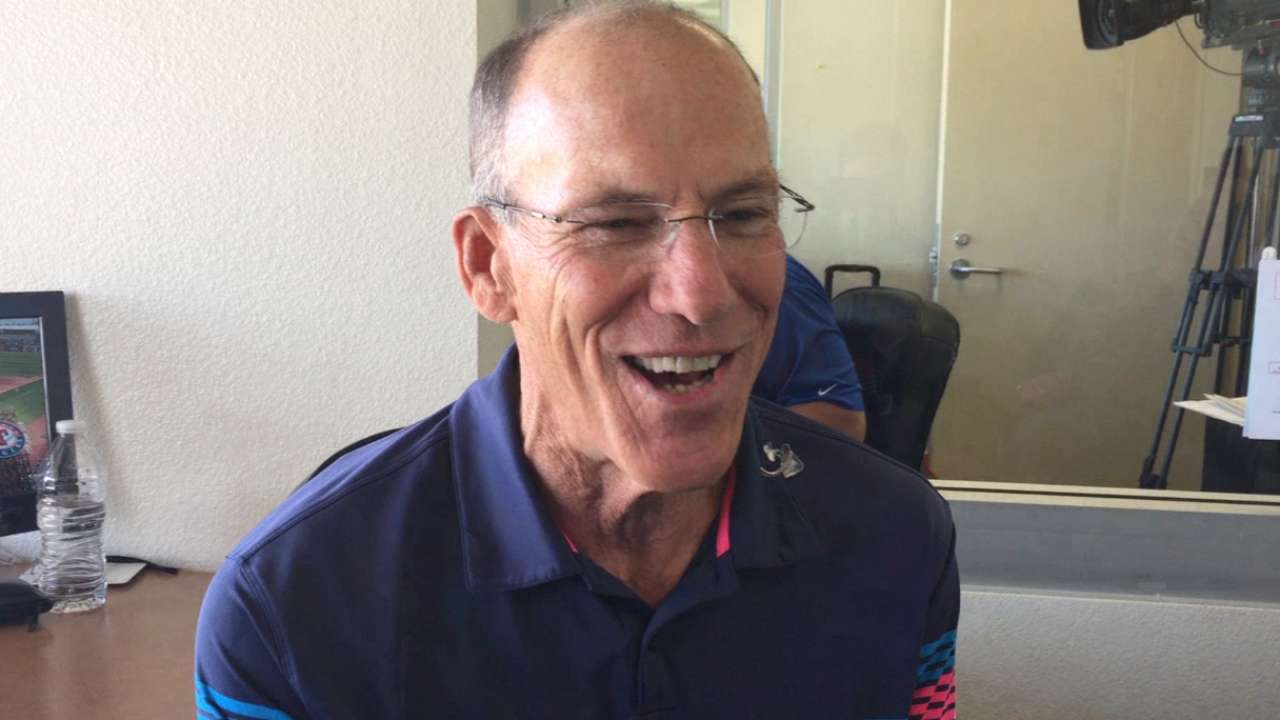 SURPRISE, Ariz. -- The Rangers did something almost unfathomable in 2014. They scored just 637 runs.
That was a stunningly low number for a team that has been known as an offensive powerhouse for the past three decades and playing home games in a ballpark deemed extremely hitter-friendly.
For all that befell the Rangers in a 67-95 season, the number that stands out most is that 637. That was the lowest for the Rangers in a non-strike season since 1985 and why it stands out as the key number that must get better in 2015.
The Rangers have seen a much steeper falloff in offensive production than they have in pitching since 2011, when they last went to the World Series after winning a club-record 96 games.
That was four years ago, when the Rangers scored 855 runs and allowed 677. Last season their pitchers allowed 773 runs, 96 more than they did in 2011. That's a much smaller difference than the 218-run drop in offensive production they have experienced since 2011.
For all the intricate statistics used to measure performance, it's still about scoring runs, so maybe the biggest question surrounding the Rangers is if they can be an offensive powerhouse again.
"Yes," designated hitter Mitch Moreland said. "From top to bottom, it is a very dynamic lineup. We've got guys that can run, get on base, take the extra base. We've got guys who can hit with authority and guys with a veteran presence. If we stay healthy, it could be a great year."
The tedious reminder of health is always necessary given that Moreland, Prince Fielder and Shin-Soo Choo all went down to season-ending injuries in 2014. But there's more.
The Rangers need Leonys Martin to seize the leadoff spot. The Rangers had just 81 runs from the leadoff spot last season, second fewest in the league. Martin has been in and out of that spot the past two years, now he'll be given a chance by manager Jeff Banister to keep it full-time.
"First of all, I just need to keep the game under control," Martin said. "Keep it in slow motion and keep my approach simple, put pressure on the other team."
The Rangers need to hit with runners in scoring position. They batted .241 in those situations last season, fourth lowest in the league. They hit .285 with runners in scoring position in 2011.
Driving the ball would also help. The Rangers had 404 extra-base hits last season, second fewest in the American League. The club record is 605, set in 2008. That was the year they hit a Major League-record 376 doubles. They had 260 last season. Full seasons from Fielder, Choo and Moreland should drive up the number of extra-base hits significantly.
Ryan Rua and/or Jake Smolinski need to hold up their end in left field and improve what was a dearth of offense from the outfield last season.
Rangers outfielders had a .677 combined OPS in 2014, the third lowest in the league. It was also the second-lowest combined OPS by a Rangers outfield in club history. Rangers outfielders also delivered 175 RBIs. That's only the second time in club history that Rangers outfielders have not driven in at least 200 in a 162-game season.
The Rangers also need to get back to being an explosive, pressure-packed baserunning team. Banister offered a reward this spring for the first player to take an extra base on a pitch in the dirt. Fielder won it. The Rangers World Series teams were outstanding baserunners.
That's another part of getting the Rangers back to being an offensive powerhouse.
"We're good," Fielder said. "We've got some young guys coming up and some veterans. We've got power and we've got some speed. We've got guys that can hit. We've got talent. That's what it's all about."
Scoring runs is what it's all about, and the Rangers need to be better at it in 2015. It needs to be their once and future strength.
T.R. Sullivan is a reporter for MLB.com. Read his blog, Postcards from Elysian Fields, and follow him on Twitter @Sullivan_Ranger. This story was not subject to the approval of Major League Baseball or its clubs.