Return to form makes Braun, Brewers dangerous
Year after posting career lows, slugger looks to have overcome thumb issues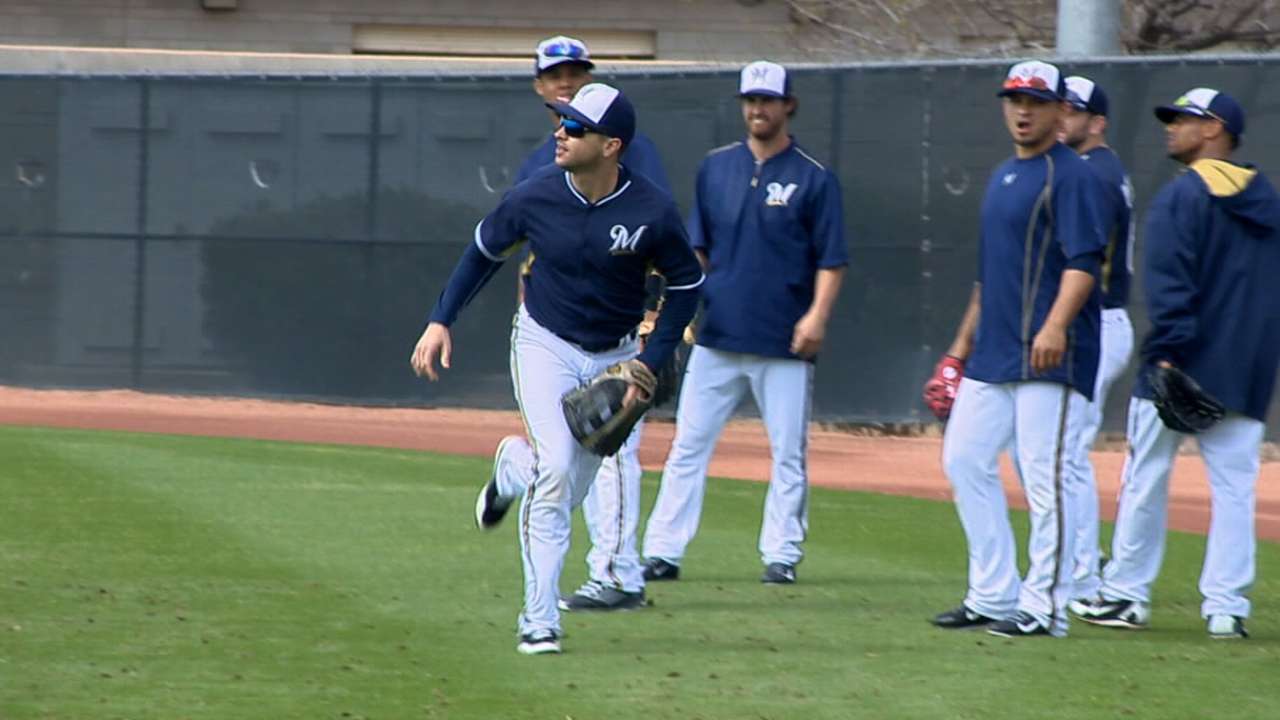 In the days leading up to Opening Day, MLB.com is examining various aspects of each team's roster. Today, the time has come to focus on a key player for the upcoming season. For the Brewers, that's right fielder Ryan Braun.
PHOENIX -- Before Ryan Braun began driving the baseball in Cactus League games, Carlos Gomez knew his teammate's problematic thumb was feeling better. Gomez saw what Braun was doing during batting practice.
"We hit in the same group every day and I say, 'Let's go. Hit a home run to center field over the [batter's eye],'" Gomez said. "Last year, he would say, 'No, not today.' Now, we do it. Now, I know he's comfortable again."
Braun is comfortable again because of a trip to the Kerlan-Jobe Orthopaedic Clinic in Los Angeles on Oct. 2. Citing a general weariness of questions about his health, he declined last week to talk about his emotions of that day, or the procedure which Braun and the Brewers hope can revive the slugger's career after two years lost partly to injury, partly to suspension.
Much is riding on what the Brewers described as a form of cryotherapy, in which doctors inserted a probe at the base of Braun's thumb and introduced extreme low temperatures, effectively deactivating the nerve there. Ever since, Braun has been able to operate without the shooting pain that accompanied many of his swings over the past two seasons.
"I've always said that as long as I'm healthy, I feel like success is inevitable," Braun said. "Hopefully I'm about to continue to stay healthy, but I feel good. I'm able to do some things I haven't been able to do for a long time.
"Like I've said many times, I don't want to get too far ahead of myself. But as long as I'm healthy, I know there's a small number of people on this planet who can do what I can do in this game."
From the time he broke into the big leagues in 2008 through '12, Braun produced a weighted on base average of .402, third-best in the big leagues behind the Reds' Joey Votto and Tigers' Miguel Cabrera. Braun himself prefers that measure to evaluating hitters, since it more accurately values each offensive event. During the same span, Braun ranked fifth in the Major Leagues with a .933 OPS.
Ryan Braun's last four seasons
| 2011-12 | Stat | 2013-15 |
| --- | --- | --- |
| 304 | Games | 196 |
| 74 | HR | 28 |
| 223 | RBIs | 119 |
| .990 | OPS | .805 |
| .419 | wOBA | .344 |
| 14.8 | WAR* | 2.9 |
Early in the 2013 season, Braun made awkward contact with a changeup from then-Cardinals right-hander Joe Kelly and felt a zing in his right hand. Braun has not been the same since.
His slugging percentage slipped to a career-low .498 in 61 games in 2013 before he was suspended for the Brewers' final 65 games. In '14, Braun returned and was able to get on the field for 135 games, but in a diminished state. He posted career lows across the board, with a .266 batting average, .324 on-base percentage, .453 slugging percentage and .777 OPS.
"There were a lot of days I couldn't take batting practice, a lot of things I just couldn't do," Braun said. "Now there are a lot of mechanical things I'm having to work through. For the last year and a half, all I tried to do was inside-out the ball. Now I can use my top hand properly, stay over the ball and get my swing to where it was before the thumb thing."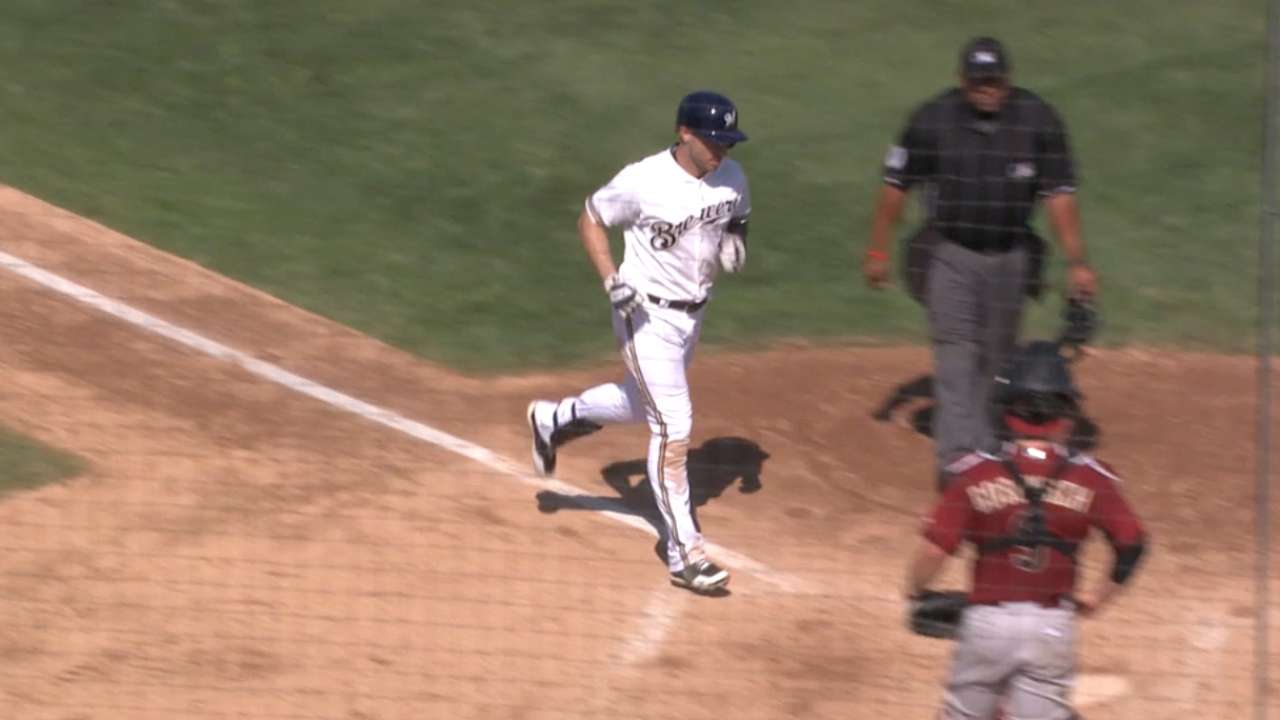 He is doing that work with efficiency. The Brewers have carefully monitored Braun's workload this spring, and he has limited his extra swings in the batting cage. Braun went hitless in his first few Cactus League games, then went on a seven-game hitting streak with a pair of home runs -- pulled to left field, notably -- and three doubles.
Braun will earn a base salary of $12 million in 2015 before a five-year, $105 million extension kicks in beginning with the '16 season.
Last year, Braun occasionally confided in Gomez about his frustration, but not often. Neither man likes to articulate negativity, especially Braun.
"There's no question about it: He's one of the best hitters in the game," Gomez said, the tone in his voice making clear he's annoyed this is even a question. "It's a gift. He's born with that ability to hit the ball, and he's going to be the same player. Probably better, because passing tough times in the past is going to make him stronger.
"After surgery on his hand, he had to test how it was doing. That's what I see. Now you see the strong swing."
Adam McCalvy is a reporter for MLB.com. Read his blog, Brew Beat, and follow him on Twitter at @AdamMcCalvy. This story was not subject to the approval of Major League Baseball or its clubs.