MLB.com Columnist
Anthony Castrovince
5 keys for AL Central clubs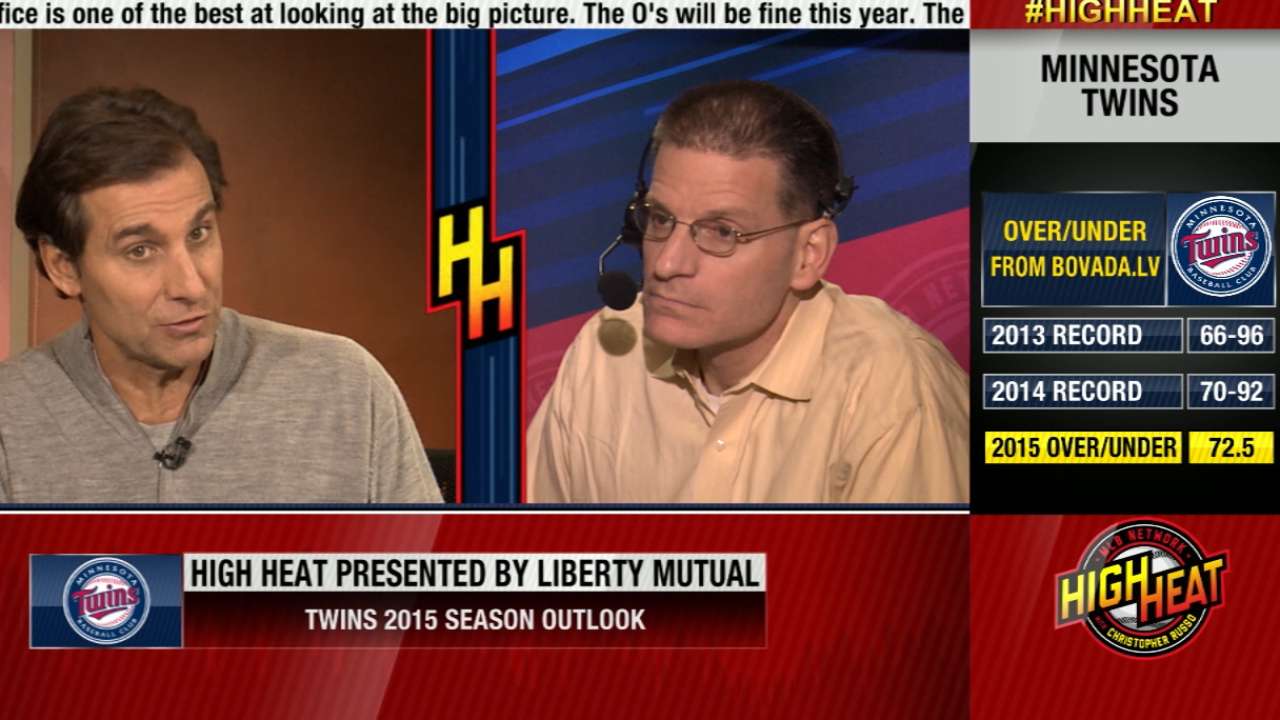 Any number of factors can conspire to decide a division. But at the dawn of a new season, these are the five factors that look like they'll loom largest in the American League Central.
1. Royal relief regression?
All right, we know that there are better chances of every BBQ joint in Kansas City closing than there are of Greg Holland, Wade Davis and Kelvin Herrera repeating their collective 1.28 ERA from last season. Heck, Davis gave up five extra-base hits all year, a seemingly unrepeatable feat.
The question, then, is not so much whether that unit will regress, but how steep the regression will be. The Royals were wise to beef up their bullpen all the more with Luke Hochevar, who is working his way back from Tommy John surgery. It could be that this 'pen is deeper (and, ergo, better) than it was a year ago.
But we all know how erratic relievers can be. There are some concerns about new acquisition Edinson Volquez's ability to sustain the breakthrough he enjoyed with Pittsburgh, and Yordano Ventura and Danny Duffy both have to prove they can handle a 200-inning workload. So it's possible that Kansas City's 'pen will be counted on even more than it was a season ago, and it is essential that it remains a strength.
2. The Avi Club
By year's end, Carlos Rodon could round out a White Sox rotation that looks strong up front (Chris Sale, Jeff Samardzija, Jose Quintana) and possibly shaky in the back. A bullpen that was almost historically bad last year should be improved with David Robertson and Zach Duke. And Jose Abreu has better protection directly in front of (Melky Cabrera) and behind him (Adam LaRoche). All told, the White Sox should be much improved after an 89-loss 2014.
But it's hard to imagine the Sox leaping from also-ran to legit division contender without a breakout from Avisail Garcia. This lineup, after all, has significant questions in the Nos. 7-9 spots, so the White Sox can't really afford a bust from Garcia in the No. 5 spot.
Garcia has appeared in each of the last three Major League seasons, but he's only accrued about a season's worth of at-bats. He's still just 23 (only six months older than Kris Bryant), and he worked hard to get back in the lineup after shoulder surgery early last year. Garcia is built like a linebacker, and he has the potential to post elite power numbers. The White Sox would love to see that in 2015.
3. Detroit's 'pen progress
We're certainly curious about the Max Scherzer-less rotation, especially as Justin Verlander battles a right triceps cramp that might put him on the Opening Day disabled list and refines his repertoire in an effort to get back to an ace-type level. And maybe there are some slight concerns about whether Miguel Cabrera and Victor Martinez can shake off their surgeries and get back to mashing in the middle of the order.
But no question looms over the Tigers quite like the bullpen, as it was a clear back-breaker last October and has been an organizational issue for several seasons. Unlike a year ago, when Joe Nathan was signed to a two-year contract, Detroit didn't make any major splashes in its bid to repair the 'pen. Tom Gorzelanny was the big addition here, and though he's had a rough spring, the Tigers are hoping he'll help. Mostly, they're hoping Nathan can bounce back from a rough-and-tumble ride and that Joakim Soria, or perhaps even rookie Bruce Rondon, can step into the ninth should Nathan continue to suffer.
Angel Nesbitt, who hasn't pitched above Double-A ball, has had a really encouraging camp, and bullpens can often be adjusted on the fly. But in a deepened division, the Tigers might have less margin for error in this area than they've had in some other years.
4. The In-D-ans
Speaking of 2014 issues that need to be resolved, the defense greatly damaged the Indians' postseason hopes last season, when they frustratingly finished three games out of a Wild Card slot. By any measure -- advanced (defensive runs saved) or traditional (errors) -- the Tribe had the Majors' worst defense, making Corey Kluber's AL Cy Young Award showing all the more remarkable.
While the Indians return a predominantly young and intriguing starting staff and have a really solid middle-of-the-order grouping (Michael Brantley, Carlos Santana, Brandon Moss and Yan Gomes), they won't get as far as a certain national sports magazine prescribed without significant defensive improvement.
Some improvement arrived when Jose Ramirez took over for Asdrubal Cabrera at shortstop last summer (defensive gem Francisco Lindor is also waiting in the wings at Triple-A Columbus), and Santana proved surprisingly adept at first. The keys in 2015 could be Lonnie Chisenhall at third and Jason Kipnis at second. Both had inconsistent offensive seasons last year that only made their limited defensive abilities less forgivable.
5. Fresh Twinkies
The Twins' rotation compiled a 5.06 ERA with a .290 average against, and it was charged with 70 losses in 2014. This was an improvement on the '13 figures (5.26, .305, 74 losses), but, well, not nearly as much improvement as Minnesota expected when the club invested in Phil Hughes (who was terrific) and Ricky Nolasco (who was, uh, not terrific).
Here we go again. The Twins bid boldly on Ervin Santana (four years, $55 million) to bring yet another fresh face to the starting five, and they're hoping a slimmed-down Nolasco will have better finish and more bite on his pitches. What will be particularly interesting to note as the season develops is how much input Minnesota gets from developing prospects Trevor May and Alex Meyer, neither of whom asserted himself in the spring battle for the rotation's fifth spot, which went to Tommy Milone.
Believe it or not, the Twins had the seventh-most productive offense in baseball last season, and the offense could potentially improve with the addition of Torii Hunter, the health of Joe Mauer and the power of Kennys Vargas. But the rotation clearly has substantial room for growth if Minnesota is going to be a major player in this deep division.
Anthony Castrovince is a reporter for MLB.com. Read his columns and follow him on Twitter at @Castrovince. This story was not subject to the approval of Major League Baseball or its clubs.