Blevins excited about opportunity with Mets
Traded from Nationals on Monday, left-hander fans former teammate Harper in debut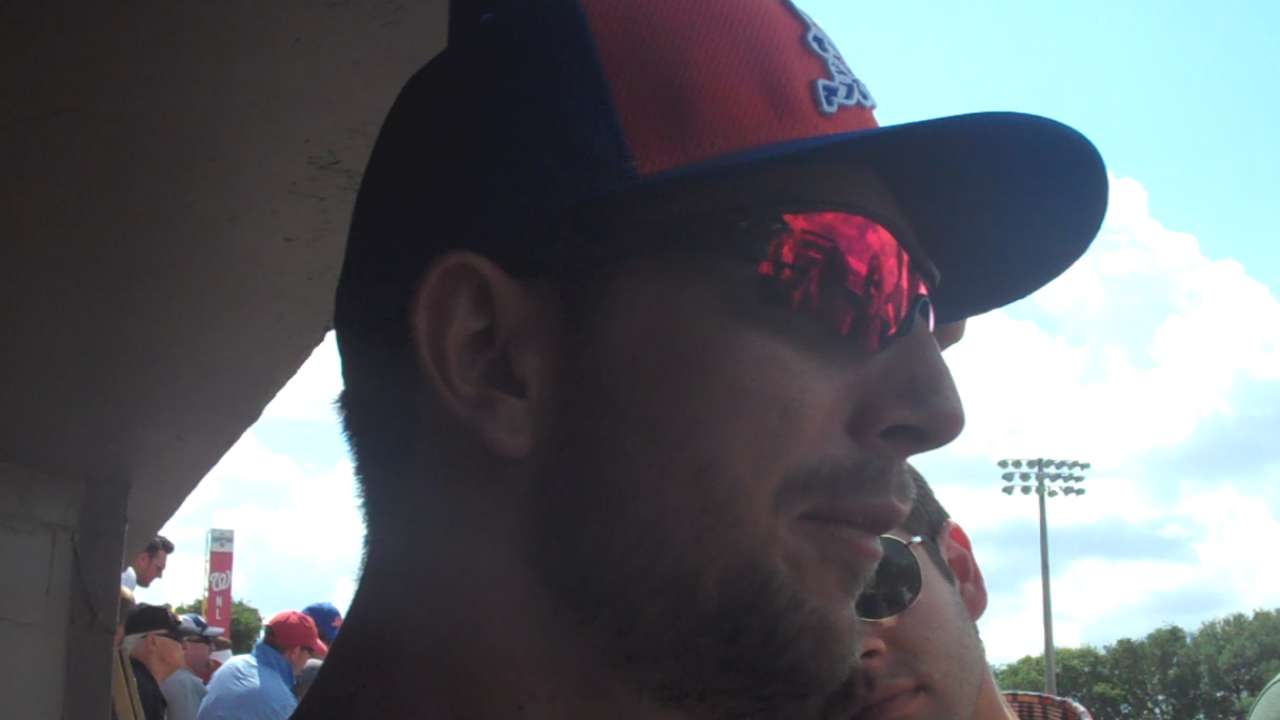 VIERA, Fla. -- Jerry Blevins did not want to ride the bus -- too many ex-teammates, too much awkwardness. So he made the arrangements hastily, asking a former teammate to drive him from Jupiter, Fla., where the Nationals played on Monday, to Viera after the game. Once back in his old office, Blevins lugged his belongings from Space Coast Stadium's home clubhouse down the right-field line to the visitor's quarters across the way.
There was method to his madness. Once the Nationals dealt Blevins to the Mets for Matt den Dekker on Monday, breaking the news to him immediately after the game, Blevins sought to make as clean a break as possible.
"There's all sorts of awkwardness, but it comes with the territory," Blevins said Tuesday, wearing his new Mets uniform for the first time. "This is the life we chose. I'm just happy to be a New York Met."
Though Blevins joked that everything was made easy because his car was already in Viera, the Mets offered plenty of additional infrastructure to ease his transition. Blevins' first manager was Mets bench coach Bob Geren in Oakland, where he also played with starting pitcher Bartolo Colon and catcher Anthony Recker. In November, Blevins toured Japan with first baseman Lucas Duda in Major League Baseball's All-Star Series. So when the Mets on Tuesday began spilling into the visiting clubhouse where Blevins had moved his belongings, he already knew a fair number of them.
Greetings aside, he went straight to work, striking out the only batter he saw: former teammate Bryce Harper in the seventh inning of the Mets' 2-0 win. Blevins grinned and laughed when asked about the "chess match" of facing one of the National League's top lefty sluggers, whom he is certain to see multiple times throughout the summer.
"That's a good question, he said, unwilling to divulge the secrets of his attack plan. "I'll leave that at, 'No comment.'"
Though Blevins endured something of a rough season last summer, posting a career-high 4.87 ERA in 64 games, he held left-handed batters like Harper to a .419 OPS. The Mets don't plan to use Blevins much against right-handers, with six other pitchers in their Opening Day bullpen better-suited for that. Instead, they are counting on him to be the terror against lefties that they thought injured specialist Josh Edgin would be.
"I see a huge opportunity with this organization," Blevins said. "They've got a lot of talent and high expectations, and I'm here to do my part."
Anthony DiComo is a reporter for MLB.com. Follow him on Twitter @AnthonyDiComo. This story was not subject to the approval of Major League Baseball or its clubs.