Strikeout totals won't shift Astros' philosophy
Potential reward of power gives club tolerance for swing-and-miss approach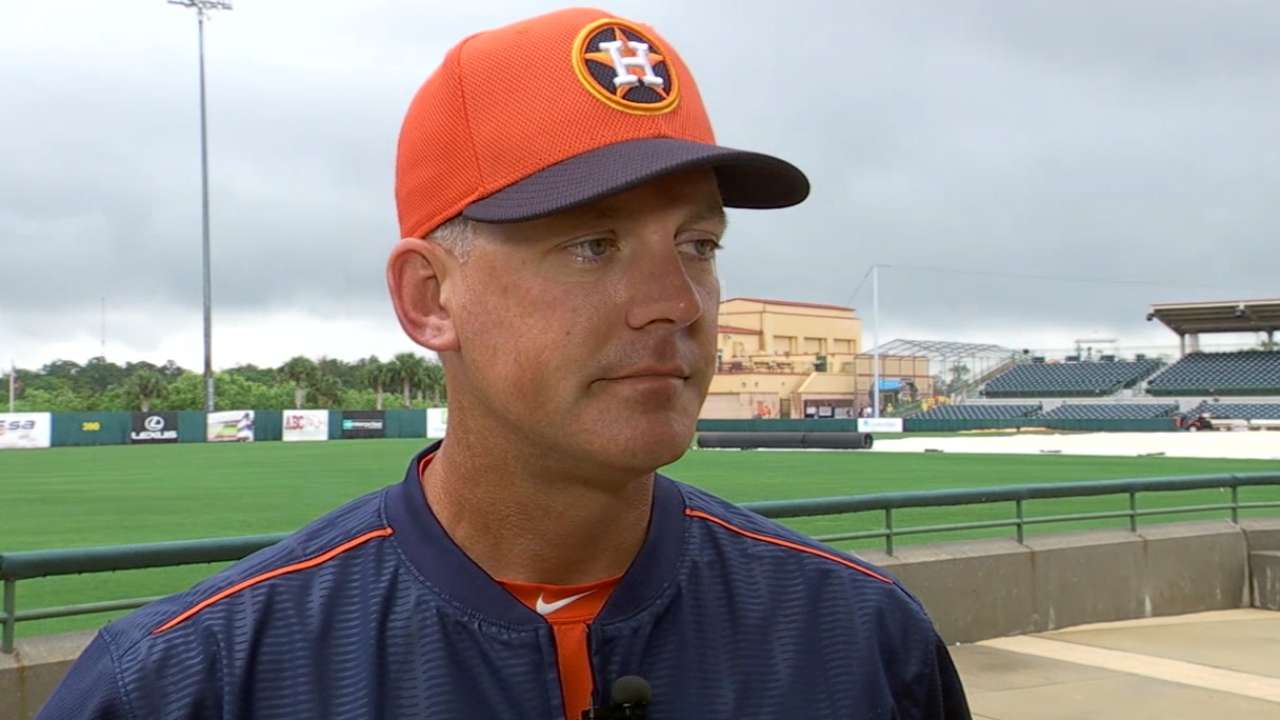 KISSIMMEE, Fla. -- Astros manager A.J. Hinch has been asked repeatedly this spring about his lineup's high strikeout rate, which is interesting to him, considering he and many team officials aren't worried about the issue.
There's no getting around the fact that several players in Houston's lineup miss on many of their swings, but the club is optimistic about what happens when those players make contact, as opposed to what happens when they don't.
"I certainly realize there are track records that suggest that strikeouts are going to be present with our team," Hinch said, "but I subscribe to the theory that you have to play the games to find out. We've swung the bat well with two strikes. We'll have our fair share of strikeouts like any team, but I think it's a topic that has been a non-topic for our team this spring."
The 2014 Astros struck out 1,442 times, posting the fourth-highest total in Major League history. That was an improvement over the previous season, when they set a Major League record by striking out 1,535 times. Houston ranked third in the American League with 163 homers last year, up from 148 in '13.
Five of the nine hitters who could be in the Astros' lineup in 2015 were among the top 20 in the Majors in strikeout percentage a year ago (minimum 300 plate appearances): Jon Singleton, 37 percent (first); George Springer, 33 percent (seventh); Colby Rasmus, 33 percent (ninth); Chris Carter, 31.8 percent (14th); and Jason Castro, 29.5 percent (19th).
Singleton, Springer, Rasmus, Carter and newcomer Evan Gattis are also all legitimate power threats who, when stacked together in the lineup, could form a potent combination. Carter was second in the Majors with 37 homers last year, Springer hit 20 in 78 games and Gattis was acquired from Atlanta in part to feast on the Crawford Boxes in left field.
"At the end of the day, we're going to produce 27 outs each game no matter what," general manager Jeff Luhnow said. "There's a fixed number of outs, and we know we've got players that have powerful swings and do have some swing-and-miss potential. That's part of it. It's going to be up to A.J. and the hitting coaches to figure out how to minimize the negative effects and maximize the positive. The positive is that guys that strike out a lot tend to drive the ball."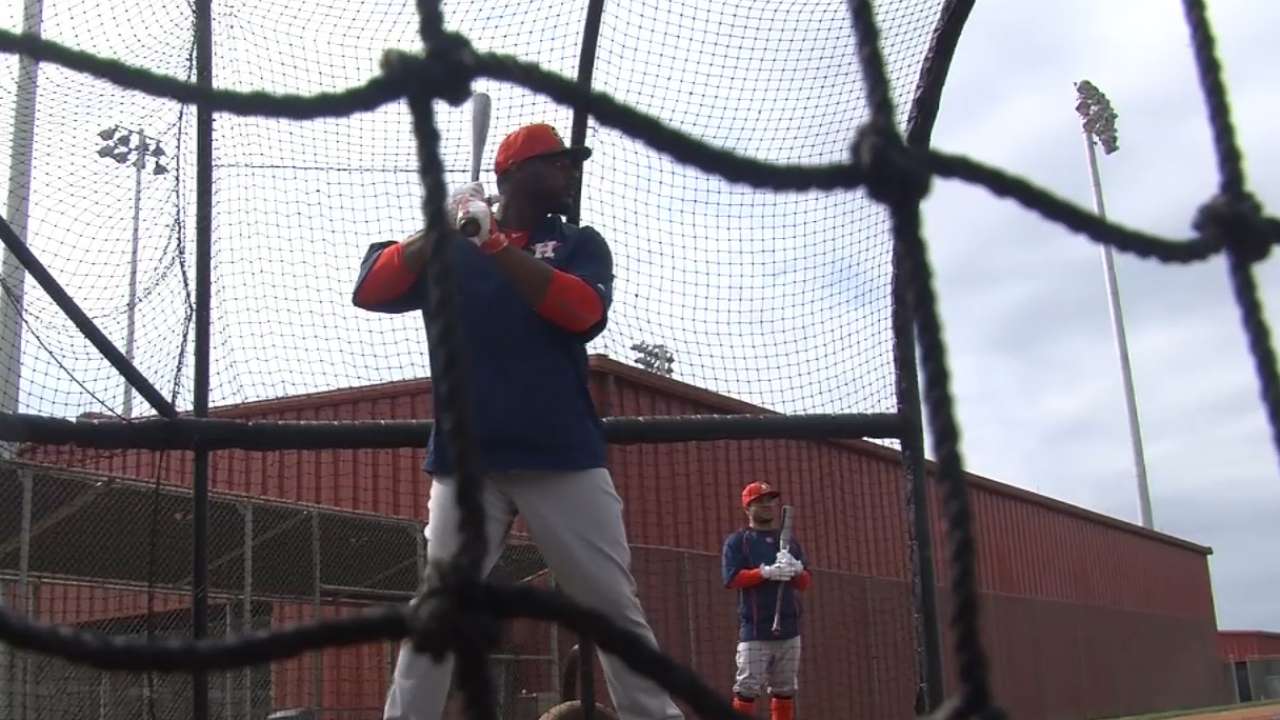 Carter, whose 212 strikeouts in 2013 were the third most in Major League history, last year led the Major Leagues with a homer every 13.7 at-bats, while dropping his strikeout rate from 36.2 percent in '13. He expects those numbers to keep trending in the right direction.
"Two years ago, we struck out a lot and didn't hit quite as many home runs and doubles as we should have, given the strikeouts," Luhnow said. "Last year, we struck out a lot, but we did hit a lot more home runs. This year, we're going to strike out a lot, but we're probably going to increase our run production, and overall, the net value to our wins should be there."
Brian McTaggart is a reporter for MLB.com and writes an MLBlog, Tag's Lines. Follow @brianmctaggart on Twitter. This story was not subject to the approval of Major League Baseball or its clubs.