Johnson, den Dekker bring depth, versatility to Nationals' lineup
Additions help outfield group dealing with several injuries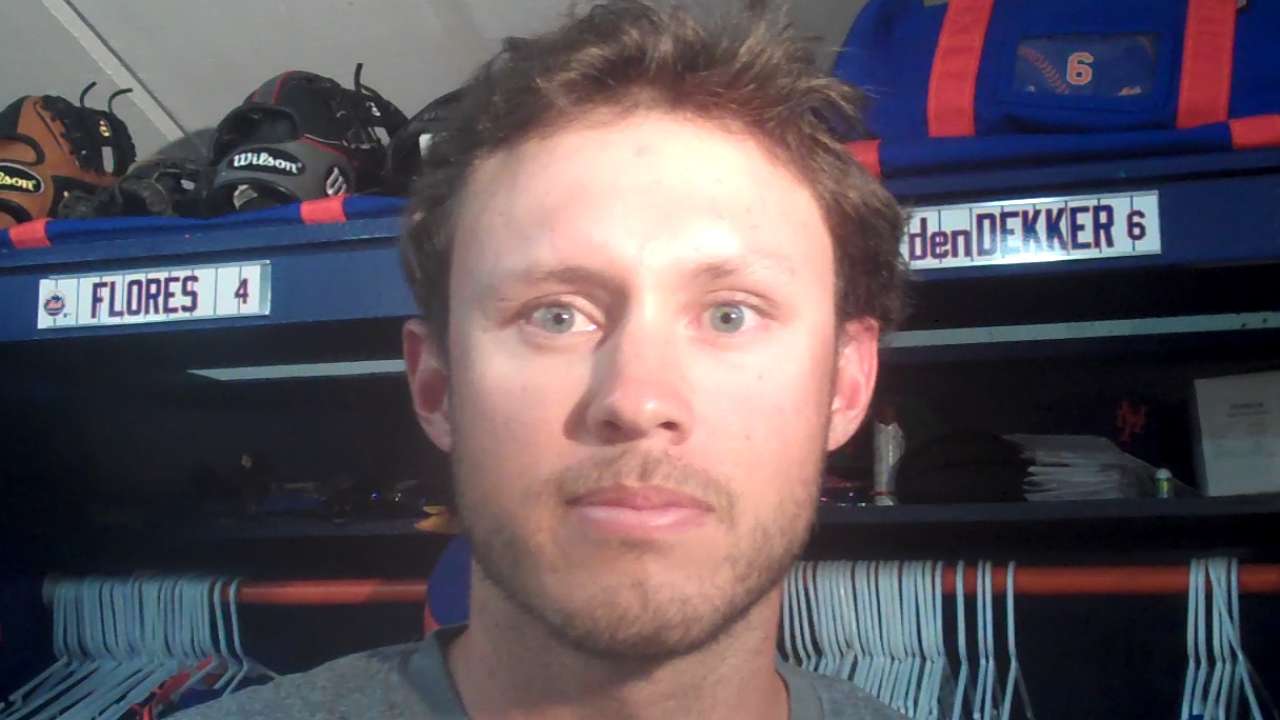 VIERA, Fla. -- Reed Johnson was in the Marlins' clubhouse cleaning out his locker at Roger Dean Stadium on Monday afternoon while his new team, the Nationals, was actually on the field playing the Cardinals.
No, he did not ride the bus back to Viera, Fla. with the team -- "that would be little weird," Johnson said -- but instead, had the chance to relax and enjoy dinner before he reported to Space Coast Stadium the next morning.
The Nationals new outfielders, Johnson and Matt den Dekker, arrived at the team complex on Tuesday morning with lockers next to each other and an opportunity to fill roles in the Nationals' outfield, especially with a number of outfielders still rehabbing injuries.
Center fielder Denard Span (abdominal) could miss the first month of the season. Left fielder Jayson Werth (shoulder) seems almost certain to begin the season on the disabled list, and Nate McLouth (shoulder) is not even doing baseball activity.
Michael Taylor seems poised to start the season in center field, so the Nationals are trying to determine who will begin the season in left field. Tyler Moore started there during Tuesday's game against the Mets against left-hander Jon Niese.
Clint Robinson and Tony Gwynn Jr. have each been having good springs and are the other options in the outfield currently in camp. Both den Dekker and Johnson have the ability to play all three outfield positions.
"It just gives us more options," Nationals manager Matt Williams said. "It's not a sense of being disappointed with anything available. Good players. We're glad to have them on our club."
den Dekker, a left-hander, has a .246 batting average in his career against righties, compared to .158 against lefties, so the Nationals could use him in a potential platoon role.
"I love playing in Washington," he said. "I got my first hit in Washington, actually my first home run. I could see the passion from the fans. It's probably one of my favorite places to play, just to see the excitement from the fans and throughout the game. It was a fun place to go and play games. I'm excited to be part of the team now."
The Nationals like the experience Johnson can provide off the bench, where he has a career .273 batting average.
"He knows how to come off the bench and get a hit," Williams said.
"I think every player wants to win and I think when you're a veteran player at the end of your career that becomes even more important," Johnson said. "To see what this team has done the last couple years not only with personnel, but just where they've gone and how deep they've gone in the playoffs it was important for me to be part of an organization that had a chance to win."
Jamal Collier is a reporter for MLB.com. Follow him on Twitter at @jamalcollier. This story was not subject to the approval of Major League Baseball or its clubs.