Tigers counting on effective Verlander
Club hopes righty recovers from triceps tightness, gets back to dominant self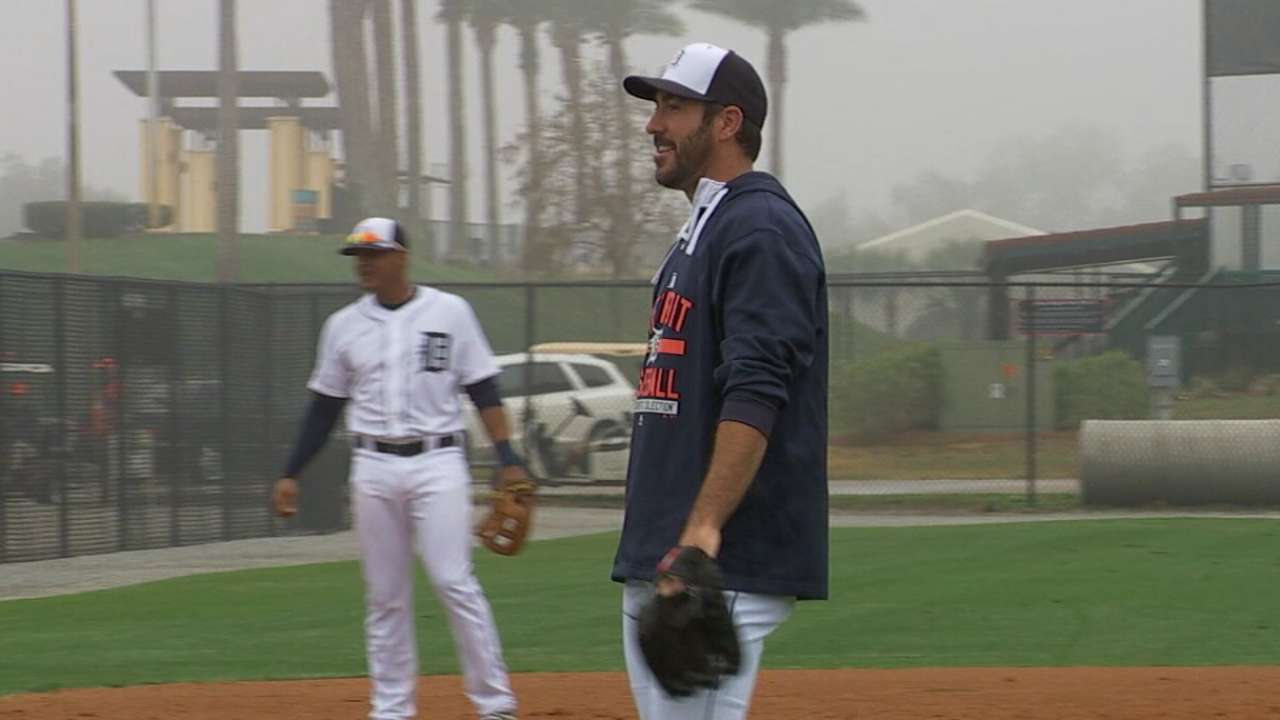 In the days leading up to Opening Day, MLB.com is examining various aspects of each team's roster. Today, the time has come to focus on a key player for the upcoming season. For the Tigers, that's right-hander Justin Verlander.
LAKELAND, Fla. -- For a brief moment, Justin Verlander was back.
For two innings last Friday, he was a glimpse of his old dominant self. His fastball hit 94-95 mph consistently on the radar gun in Dunedin, Fla., topping at 96. It could've been a generous reading until Bruce Rondon took the mound later and registered 95-97 mph on it.
Verlander's curveball, more hit-and-miss than swing-and-miss last year, was tight and spotted where he wanted. A buckler to Russell Martin was good enough that Verlander called it his best in two years.
"Best I've seen him," manager Brad Ausmus said.
A reporter, curious if he meant this spring or ever, asked, "Period?"
"No," Ausmus said, "you can put an exclamation point if you want."
It's the best Ausmus has seen him. And then it was gone. Verlander threw a third-inning curveball and felt some tightness in his triceps. If it was a regular-season game, he insists, he would've pitched through it. He felt too good to let that stuff pass if it count.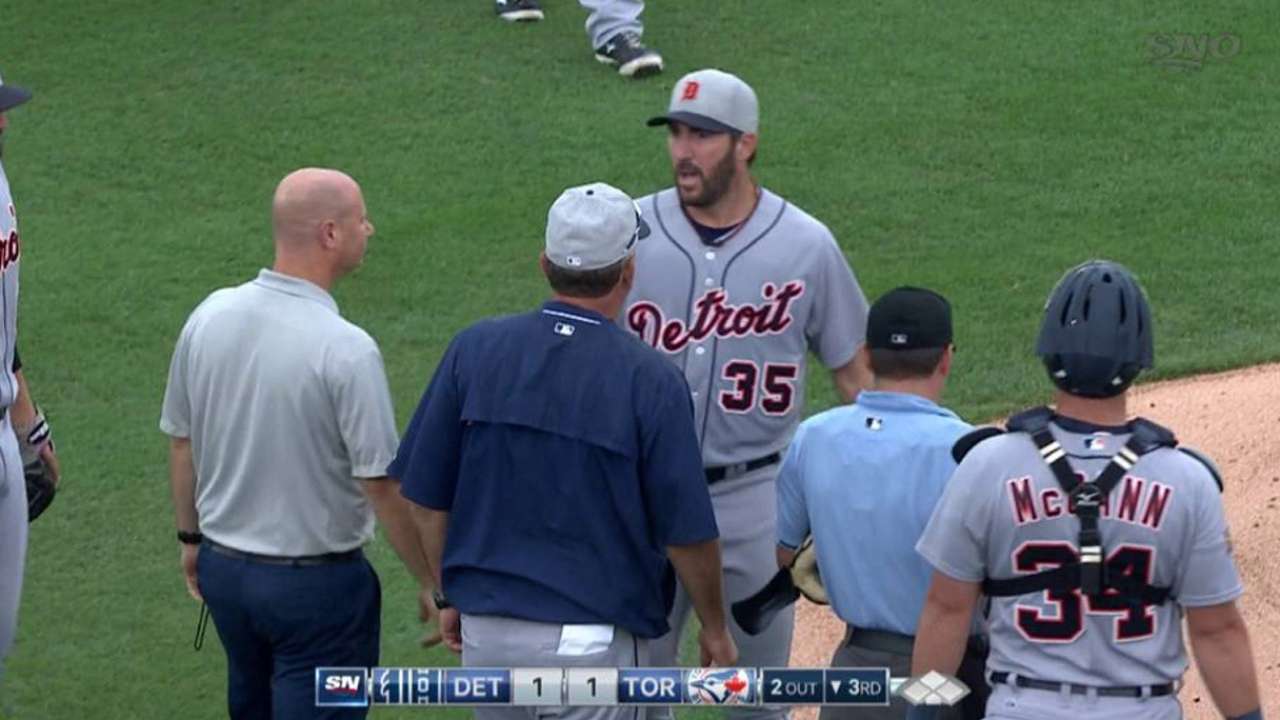 "A lot of the reason I'm optimistic -- and I don't want to say I'm happy about it -- but I think strangely, this kind of falls to what I was talking about," Verlander explained. "A lot of the adjustments I made, I'm getting back to being the person that I am, or throwing the way that I throw. I haven't done that in a while. It takes some adjustments."
The widespread belief around Tigers camp is that the injury isn't serious, though Verlander will start the season on the disabled list, scheduled to make his season debut on April 12. The bigger question is whether the pitching they saw from him Friday was serious.
Considering the saga of Verlander the last couple years, it's a perfectly fitting mystery with which to begin the season.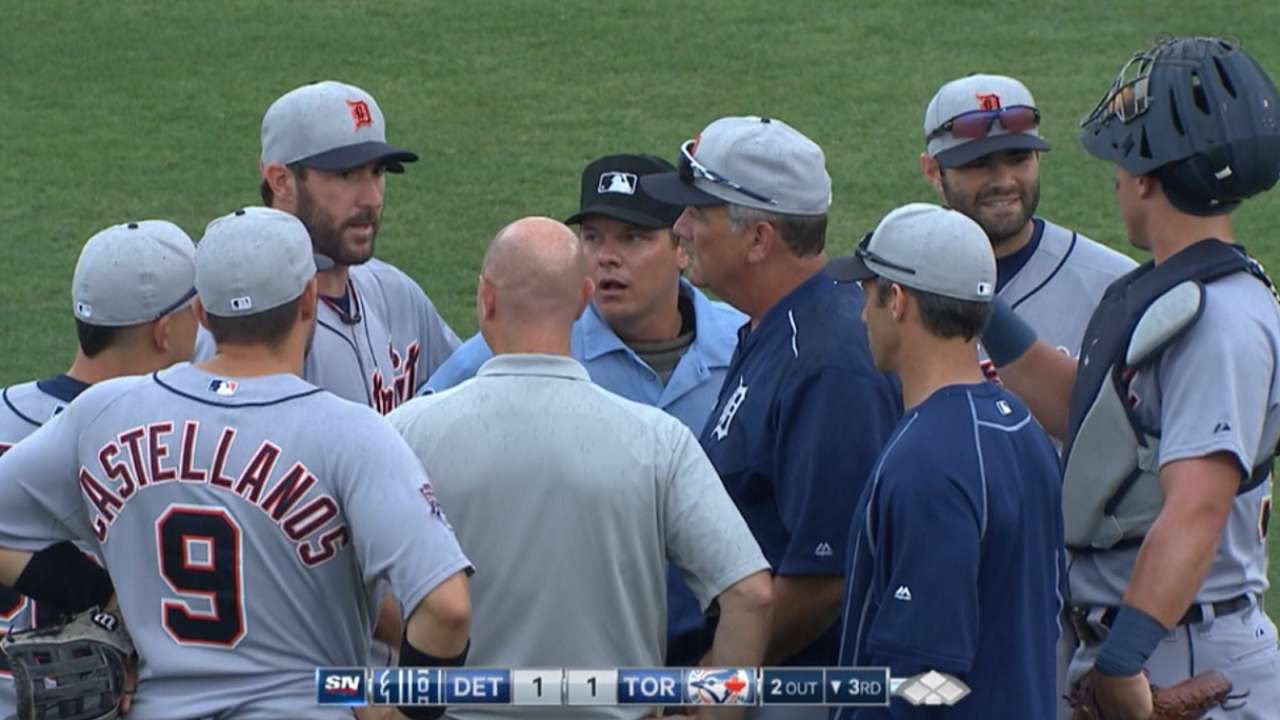 "It's kind of been a journey for him at this point," pitching coach Jeff Jones said, "especially with all the hard work he's put in, with all the stuff we've done, the video and mechanically and this and that."
Nobody with the Tigers knows Verlander likes Jones, who was promoted from bullpen coach to pitching coach as Verlander rose to greatness in 2011. Jones takes the griping when he visits the mound. He puts in the hours when they hit the video room or the bullpen. His calm demeanor has always complemented Verlander's intensity. They've had a hand in each other's rise to greatness.
"I know he's frustrated by it," Jones said of the injury. "It's not so much that I'm frustrated by it. We just want him to get better and not have any issues because I think all the hard work that he's put in is going to pay off."
The Tigers need it to pay off. With Max Scherzer in Washington, Rick Porcello in Boston and Drew Smyly in Tampa Bay, Verlander is now almost as crucial of a revival for Detroit as the city's downtown.
When the Tigers signed Verlander through 2019 at $28 million per season, they went all-in on his sustained success. They did it knowing the days of 100-mph fastballs wouldn't last, that he'd have to adjust his game at some point. What the Tigers invested in is the notion that the ace would emerge out of the transition.
In 2011, Verlander's MVP season, his production was worth 8.4 Wins Above Replacement according to baseball-reference.com. The next season, when he barely missed out on a second straight Cy Young award, he had a 7.8 WAR. That dropped to 4.6 in '13, then 1.1 last year.
In other words, Verlander's 2014 season was worth barely more than what they could've gotten from Triple-A Toledo. Kyle Lobstein posted a 0.5 WAR in less than two months.
Detroit withstood the drop thanks to Scherzer, a 6.7 WAR in 2013 and 6.0 last year, and Porcello's rise to 4.0 WAR last season. Even if David Price is an ace again, and Anibal Sanchez is healthy, and Shane Greene becomes the pitcher the Tigers believe, the safety net isn't the same.
The Tigers need Verlander -- maybe not the MVP Verlander, but the front-line starter Verlander. They need the glimpse to last.
"He's where he needs to be mechanically right now," Jones said. "That's probably the best I've seen his delivery consistently all spring, not only last start but the entire spring. It's the most consistent I've seen his delivery, and I think he felt the same way about it, too."
Jason Beck is a reporter for MLB.com. Read Beck's Blog and follow him on Twitter @beckjason. This story was not subject to the approval of Major League Baseball or its clubs.