Wilson living up to reputation as flamethrower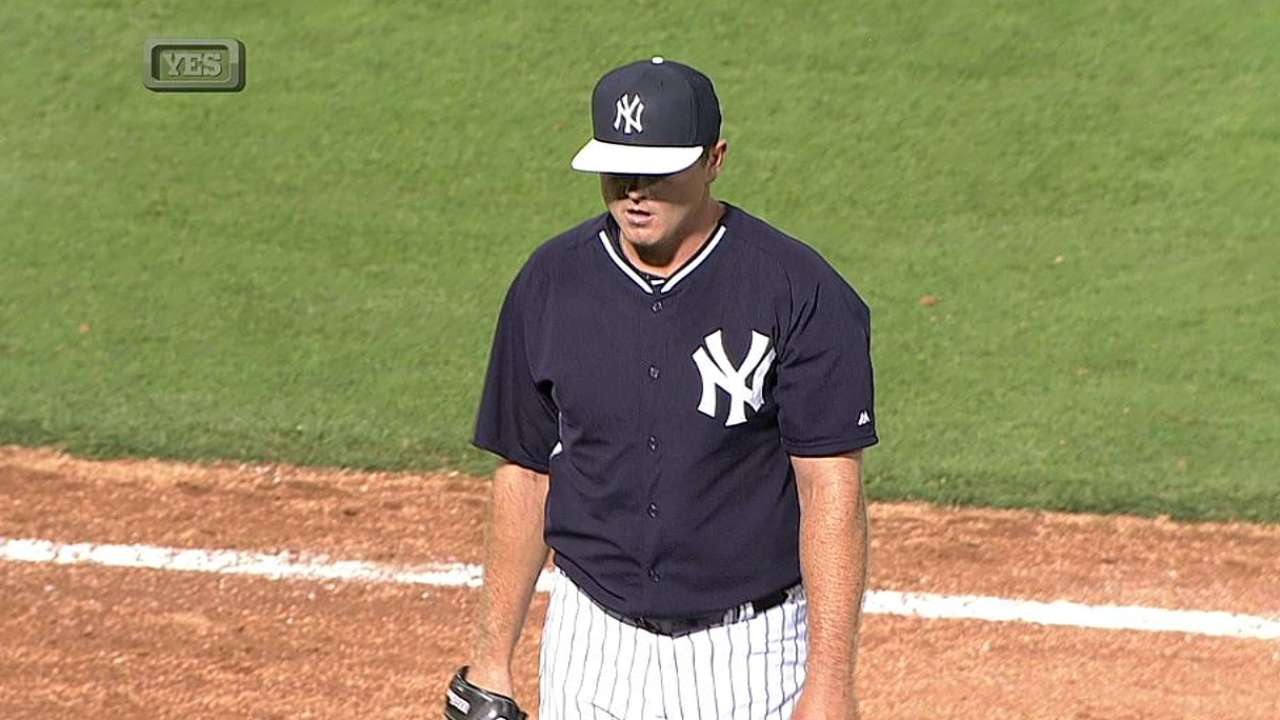 FORT MYERS, Fla. -- When the radar gun readings have been plopped down in the coaches' room this spring at Yankees camp, one name has consistently ranked ahead of the others. Justin Wilson arrived with a calling card of big velocity, and thus far, the left-hander has lived up to that advertisement.
"I think my velocity has always been up in the spring, usually kind of lively," Wilson said. "You get extra days off in the spring, so it's a little bit more controlled. It's nice to be fresh out there for the most part. I've heard it's been up there and it's been kind of normal."
Yankees manager Joe Girardi said that the team has clocked the 27-year-old as high as 97 mph this spring, and Wilson generally sat around 96 mph with his heater last season. That healthy arm is one of the reasons that general manager Brian Cashman acquired Wilson from the Pirates in December for catcher Francisco Cervelli.
Wilson, who was 3-4 with a 4.20 ERA in 70 appearances for Pittsburgh last season, said that he was driving with his wife to meet his parents for dinner on the evening of Nov. 12 when his cell phone buzzed. The caller ID said that it was the Pirates' GM, Neal Huntington.
"It was weird. The phone rang and I saw it was Neal," Wilson said. "I answered and I was like, 'Wow. All right, OK. Hold on, hon, I've got to take this.' And then the next call was from Cash. So it was all good.'"
Wilson said that he was caught off guard by the trade, but he is excited for the opportunity to pitch in The Bronx.
"I'm just thankful to be able to play the game," Wilson said. "It's a great opportunity and it's New York. What athlete wouldn't want this? It's what it's all about."
The Yankees entered the final week of camp with two bullpen spots up for grabs, but Wilson is thought to be a lock, along with Dellin Betances, Andrew Miller, David Carpenter and Esmil Rogers.
The final two spots will be decided from within the group of Andrew Bailey, Chris Martin, Chasen Shreve and Chase Whitley. Carrying Miller, Wilson and Shreve would give the Yankees three left-handers, which Girardi has said he would not be opposed to.
"I'm very excited. A lot of good arms," Wilson said. "It's going to be fun to watch and fun to build off each other and compete with these guys within ourselves, especially against other teams."
Wilson said that he has been working with pitching coach Larry Rothschild to get ahead of hitters more consistently, making some small mechanical tweaks to keep the ball in the zone and repeat his delivery. He wrapped up last season with a 2.04 ERA over his last 21 appearances (17 2/3 innings, four earned runs) and is hoping to carry that into 2015.
"Numbers-wise, [2014] was not what I would want it to be, but I took the ball every time they asked me to," Wilson said. "I competed and had some bad breaks here or there. The adjustment for me is to keep the traffic off the bases. If you do that, I'll be fairly successful."
Bryan Hoch is a reporter for MLB.com. Follow him on Twitter @bryanhoch and read his MLBlog, Bombers Beat. This story was not subject to the approval of Major League Baseball or its clubs.