MLB.com Columnist
Bill Ladson
Williams feeling excited, not pressure over expectations
Manager discusses loaded pitching staff, injury concerns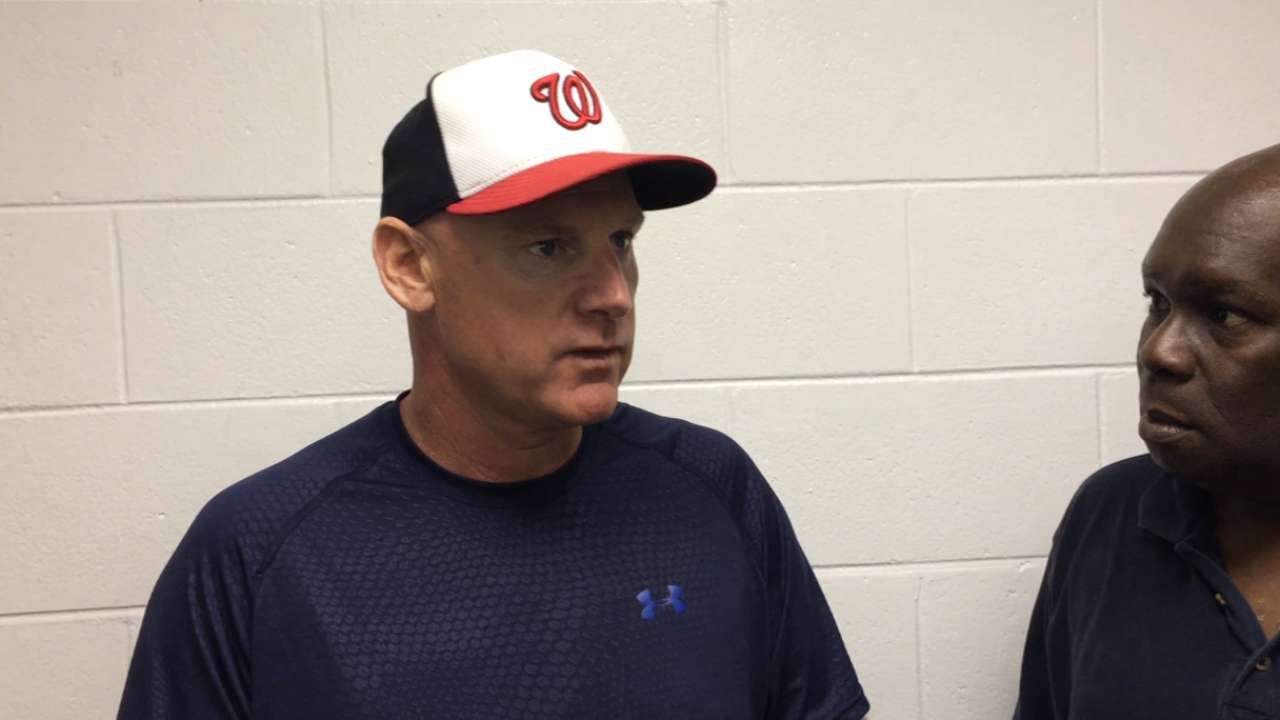 In his first year as manager, Matt Williams guided the Nationals to the National League East title and captured the NL Manager of the Year trophy.
This year, Williams has a chance to win a World Series title and another Manager of the Year trophy. It doesn't hurt that the Nationals have a dominating pitching staff led by Opening Day starter Max Scherzer.
MLB.com caught up with Williams recently to talk about the Nationals and their chances of reaching the postseason.
MLB.com: How do you feel about the Nationals right now?
Matt Williams: I think we have some questions, like every teams does. We have some injuries and some guys that are coming back from those injuries as we speak. [We have] some questions as to whether they'll be ready for Opening Day. That's what we're dealing with right now. On the other side of the coin, we feel really good about our starting pitching. A lot of guys have gotten a lot of at-bats, so they're prepared. We'll get to Opening Day and see where we can go.
MLB.com: How good is the pitching staff? Is it the best you have seen?
Williams: I've been on some pretty good teams as a player and as a coach. But to have the number of starting pitchers that have all of this ability and a track record to go along with it, it's pretty special. That being said, we have to execute and we have to do things right. To give the ball to those guys every fifth day is a lot of fun for a manager. We feel confident about them going out there and doing the job.
MLB.com: What is your biggest concern about the Nationals?
Williams: It's our health. Health is the key. Denard [Span] is going to be late to [start] the season. Anthony Rendon is dealing with a knee issue. Jayson Werth is trying to come back as quickly as he can come back. That's a concern. Of course we lost Clip [Tyler Clippard] and that's a blow. We'll have to fill that in and match up if we can. The biggest thing is our health. We have to get healthy as quickly as possible and have a full team out there.
MLB.com: You always talk about getting that easy RBI. Please explain.
Williams: It's just taking advantage of those opportunities that are given. If we get a guy on second base with nobody out, we want to get him to third so we can get him in easy, whether it's a grounder or a fly ball in the dirt or whatever it is. Those things are presented to you over the course of a game, and over the course of a season. You want to take advantage of it. Balls are going to fly out of the ballpark too, sometimes. The three-run homer's great, but those don't happen very often. We need manufacture something, too.
Looking back at our club last year and the things we did well, our stolen base percentage was good. We provide those opportunities. We got guys to third base well. We want to take advantage of times we have those. Given our starting pitching staff, we want to take care of those easy RBIs and easy run scoring opportunities to help our guys win.
MLB.com: With the Nationals favored to go all the way this year, is their more pressure in your second year as manager?
Williams: I don't know if there's pressure involved in baseball. It's what we love to do. For me, I don't feel pressure. I feel excitement, I feel anxiety sometimes, I feel anger and I feel joy in all of those things. Pressure, you put that on yourself. Anything external can't really affect that. It's all about what you do to yourself. I view it as excitement. I get a chance to do what I love to do on an everyday basis. That's fun. That's not pressure.
MLB.com: The expectations are high. Is it World Series or bust?
Williams: What we want to do is execute. Expectations are high because we have some really good players and collectively, they can be a really special team. If we do things right, we can be special. If we don't, we won't be. Our concentration now is to execute on the ball field, throw the ball where we want to, catch the baseball, get those easy RBIs we talked about and see where we can go.
Bill Ladson is a reporter for MLB.com and writes an MLBlog, All Nats All the Time. He also can be found on Twitter @WashingNats. This story was not subject to the approval of Major League Baseball or its clubs.