Nine-run ninth gives Red Sox unbelievable win over Rays
Entered final at-bat trailing by six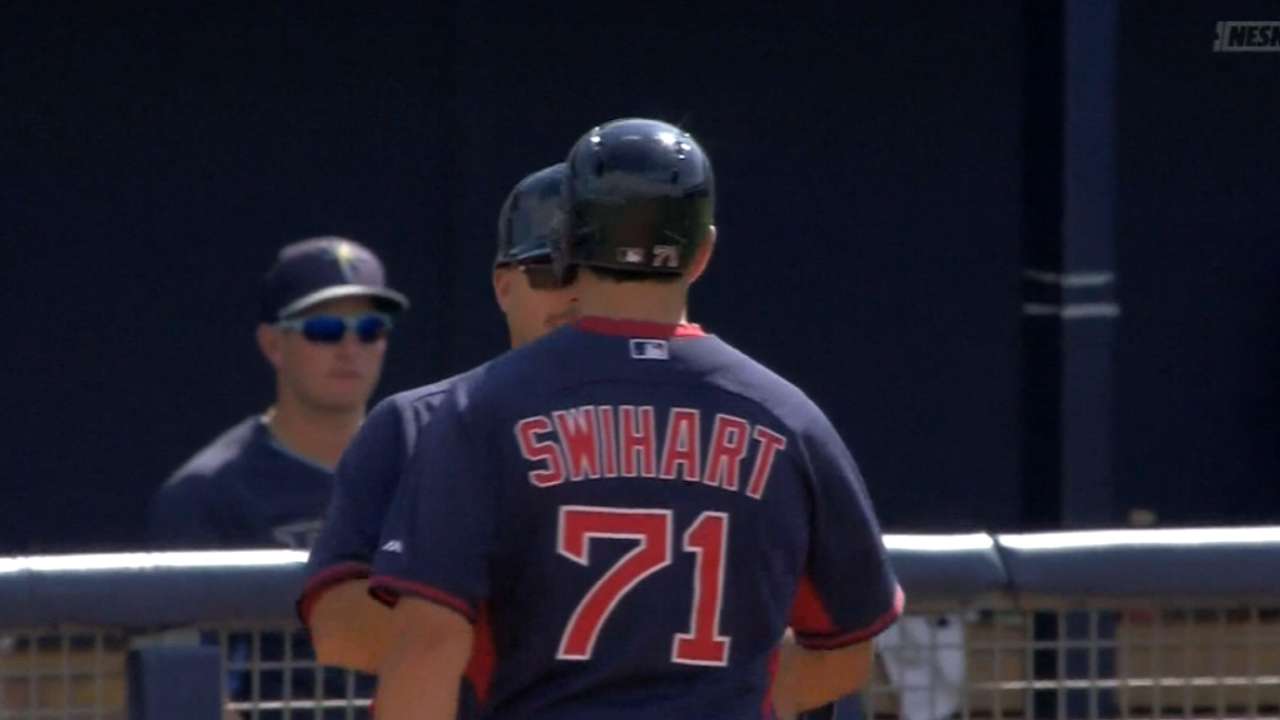 PORT CHARLOTTE, Fla. -- The Red Sox completed a wild, ninth-inning comeback on Tuesday, scoring nine times to pull off an 11-8 victory over the Rays.
Entering their final at-bat with a six-run deficit, the Red Sox stormed back courtesy Blake Swihart's two-run triple and RBI singles from Brock Holt, Daniel Nava, David Chester, Deven Marrero and Swihart. Jemile Weeks and Quintin Berry added RBI groundouts.
"It's a Spring Training game and we end up stringing a number of hits together," Red Sox manager John Farrell said. "But despite that, there were some decent things from the mound today. I thought [Junichi Tazawa] probably wasn't as sharp as we've seen. Defensively, we were sloppy and at this point in time in camp, you'd think that would be a little bit more airtight, particularly with some decisions on some throws."
Offense for the Rays came from their future.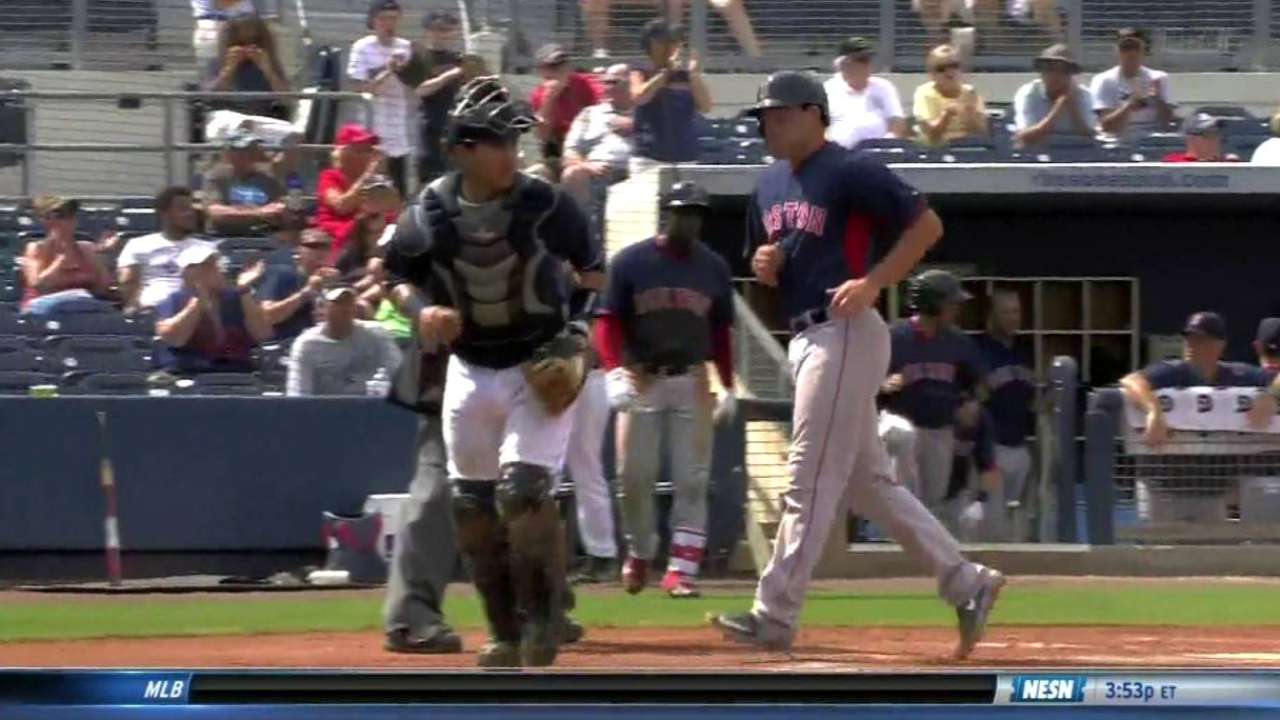 Daniel Robertson, who joined the Rays in the January trade that sent Ben Zobrist and Yunel Escobar to the Athletics, started at shortstop after Alexi Casilla was scratched from the lineup.
Just prior to the game, the Rays released the veteran infielder, paving the way for Robertson to start at shortstop. Given the chance, the 21-year-old came through.
Robertson is rated by MLB.com as the No. 2 prospect in the organization and No. 66 among the Top 100 Prospects. Tazawa would agree with the lofty ranking after Robertson connected for a three-run homer in the second to give the Rays a 4-0 lead.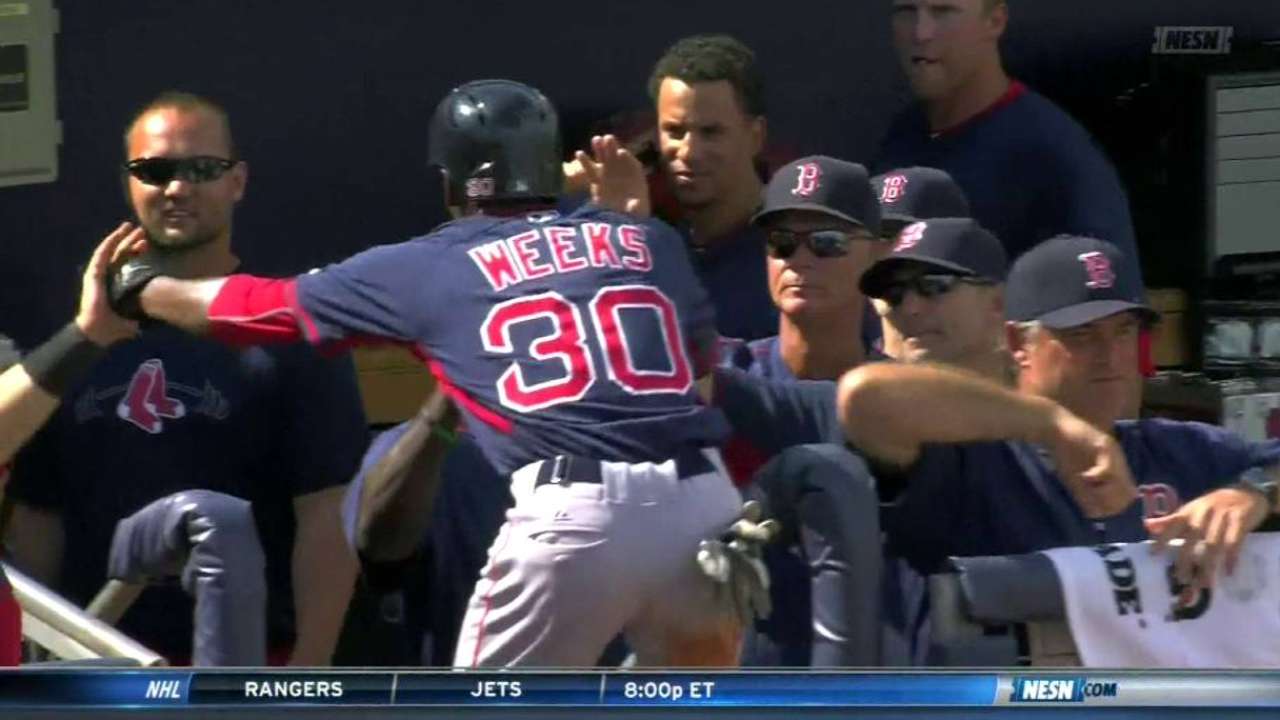 Robertson added a two-run homer in the sixth off of Keith Couch that extended the lead to 6-2.
"Awesome thrill. Awesome opportunity," Robertson said. "I got word I was coming over here and just went out there and played the game I love. And it was a good day. Had fun out there.
"Any time I can come out here and show these guys what I can do, it's just a blessing. And I feel like that's what I did, so it was a fun time."
The Rays showed some speed in the first inning. Brandon Guyer led off the inning with a single through the middle against Red Sox starter Edward Mujica. Kevin Kiermaier followed with a bloop single to center. With Guyer breaking for third, Red sox center fielder Jackie Bradley Jr. threw wildly, allowing Guyer to score and Kiermaier to advance to third.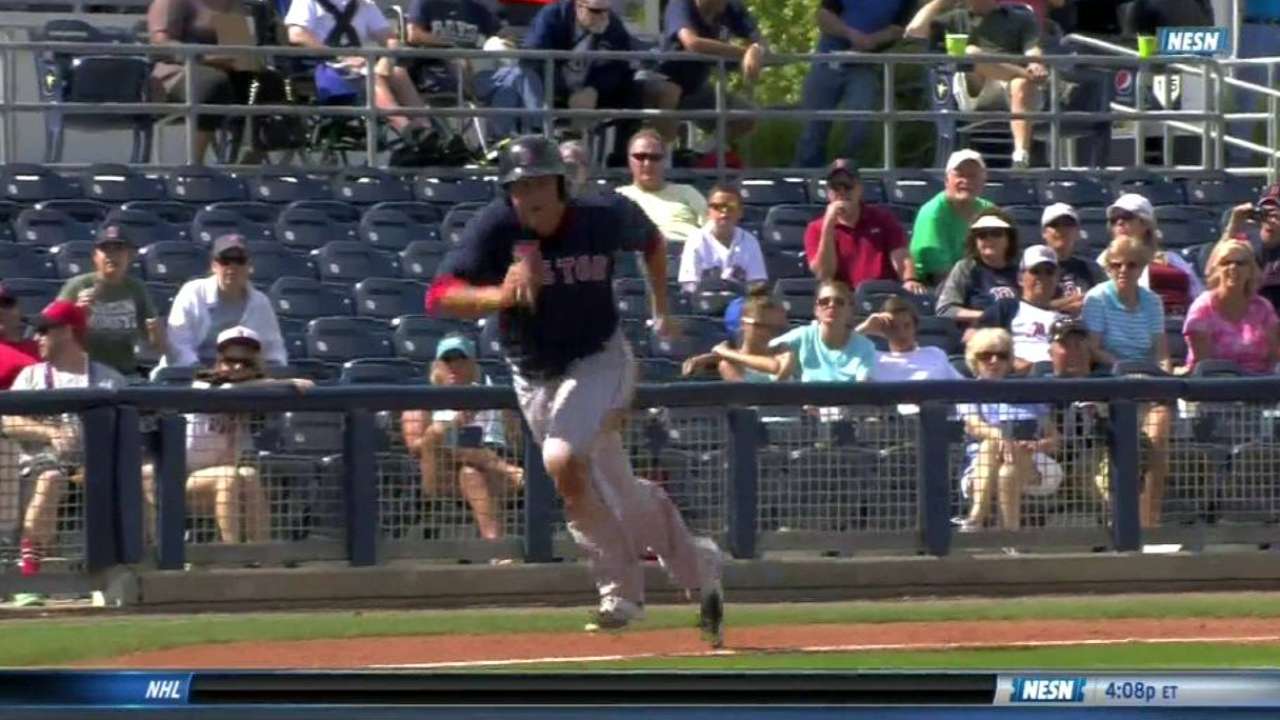 The Red Sox got busy in the sixth with a little help from the Rays.
Nava reached on a fielding error by Rays second baseman Tim Beckham. Jeff Beliveau then hit Bradley. with a pitch before Weeks singled through the middle to score Nava. Bradley scored on a groundout to cut the lead to 4-2.
Up next: The Red Sox will have split-squad contests on Wednesday at 1:05 p.m. ET. Clay Buchholz will pitch on the road against the Twins in his last outing before Opening Day. It will be an abbreviated outing. Knuckleballer Steven Wright, still in competition for a bullpen spot, will start the home game against the Blue Jays, airing live on MLB.TV.
Bill Chastain is a reporter for MLB.com. This story was not subject to the approval of Major League Baseball or its clubs.