Power play: Stanton aware of fantasy impact
Reigning NL home run leader and second-ranked player can mash with best of them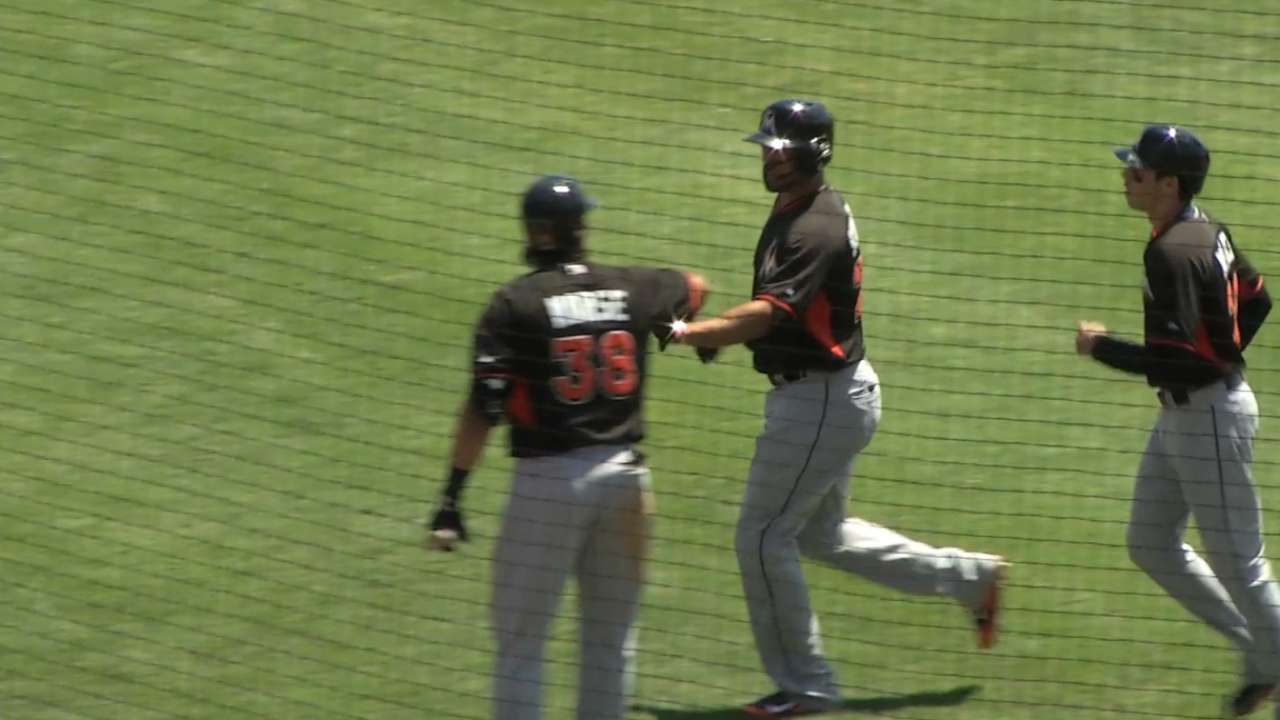 Giancarlo Stanton is one of Major League Baseball's freshest faces, and his at-bats are appointment viewing, especially for his fantasy team owners. A baseball, football and basketball star who grew up in Sherman Oaks, Calif., Stanton has never played in a fantasy baseball league himself, but he nonetheless appreciates how it can engage fans.
The slugger also has fun with diehards who alternately thank him and rip him for either helping or hurting their fantasy teams. MLB recently sat down with Stanton to discuss fantasy baseball and what it's like to square off against some of the sport's best.
MLB.com: Do fans make comments about how your on-field performance impacts their fantasy teams?
Stanton: I think fantasy leagues help people follow the game every single day. As a player, there's a good side and a bad side to that. If you're not playing to the best of your ability or if you're injured, fans may tell you to come back because they want you to contribute to their fantasy team, rather than because they care about your well-being (laughs). But no matter what, the interaction is cool.
MLB.com: If you did have a fantasy team, who would you pick first?
Stanton: Probably Mike Trout. He's got the home runs, steals and overall game.
MLB.com: You've also named Miguel Cabrera, Matt Holliday and David Wright as hitters who appeal to you. With Cabrera, especially, what about his approach impresses you the most?
Stanton: His mental approach at the plate is probably the best in the Majors to dissect and watch. He makes hitting look simple, not only because of his talent but also because of his mindset. When he's on deck, he's already got four, five or six different scenarios playing out in his head. And the moment that he's set to hit, everything comes together like clockwork. Some players take much longer, while some let the at-bat develop before they realize what they're going to do.
MLB.com: What is your approach when you face one of the game's best pitchers, like Clayton Kershaw?
Stanton: It's almost easier -- although easier isn't necessarily the right word to describe how to get a hit off them -- against guys like him, because they are so consistent. They have their plan and they know how to make adjustments. They are well scouted for you, but they also know your weaknesses and their strengths and how they're going to try to get you out. We always see them on TV and they always see us on TV, so both sides are able to pick up tendencies. From that, you can set a game plan.
Joe Frisaro is a reporter for MLB.com. Follow him on Twitter @JoeFrisaro. This story was not subject to the approval of Major League Baseball or its clubs.