Phillies have options to replace Brown
Right fielder sidelined with left Achilles inflammation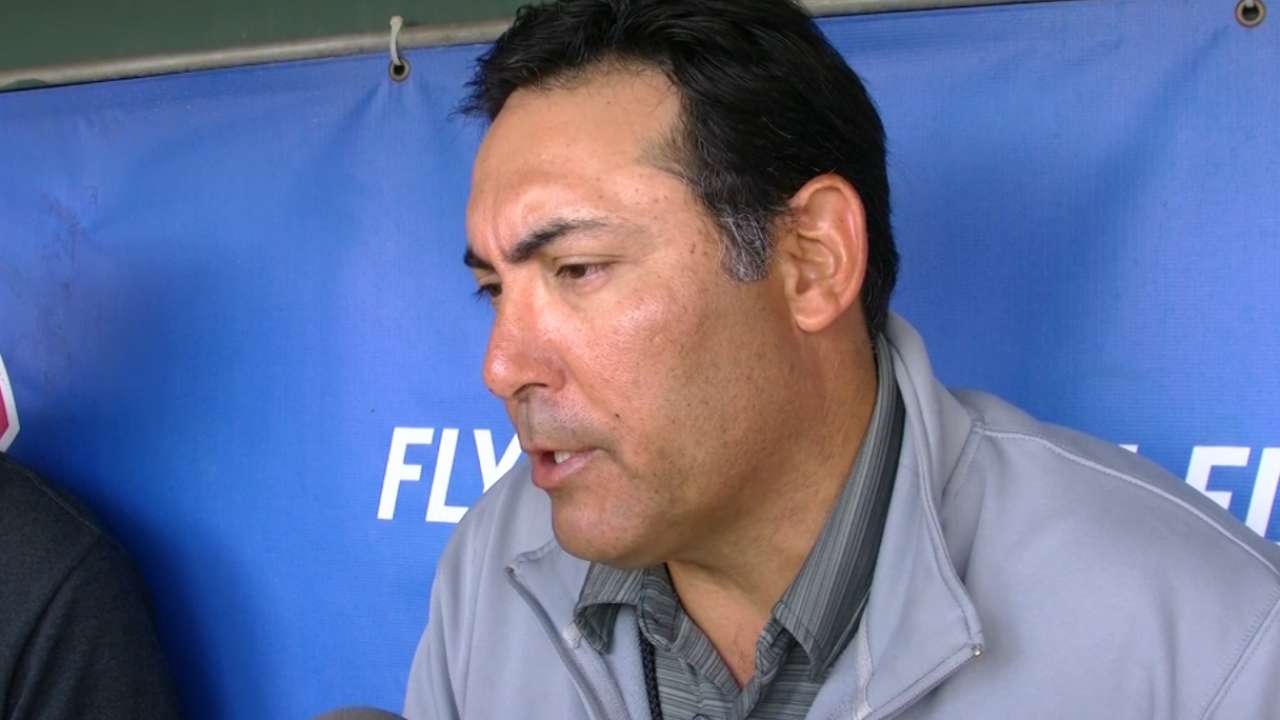 CLEARWATER, Fla. -- The Phillies have been trying for years to replace Jayson Werth in right field.
They have started Hunter Pence, Marlon Byrd, John Mayberry Jr., Domonic Brown, Delmon Young, Ben Francisco and 11 others in right field since Werth signed a seven-year, $126 million contract with the Nationals in Dec. 2010. But with the Phillies announcing Tuesday that Brown will open the 2015 season on the 15-day disabled list with left Achilles inflammation -- his DL stint can be backdated to March 27, which means he could be activated as early as April 11 -- that list could grow to 18 by Opening Day.
The candidates to replace Brown include Jordan Danks, Jeff Francoeur, Brian Bogusevic and Russ Canzler. Grady Sizemore, who started 11 games in right field last season, also remains a possibility.
"We're very open-minded," Phillies general manager Ruben Amaro Jr. said Tuesday morning at Bright House Field. "We don't have a set right fielder right now."
Here is a closer look at the candidates to replace Brown:
Danks: He might be the favorite. First, he already is on the 40-man roster and has options remaining, which comes into play. Second, he might play the best defense. Danks has hit .227 with eight home runs and 26 RBIs in 344 at-bats in his career with the White Sox. He is hitting .250 (9-for-36) with one home run, five RBIs and .746 OPS this spring. If Danks is the Opening Day right fielder, it would give the Phillies six left-handed hitters in the lineup, leaving Carlos Ruiz as the only right-handed bat and switch-hitter Freddy Galvis.
Sizemore: He has a guaranteed one-year, $2 million contract. Amaro said Monday that "for me," Sizemore is on the team. Sizemore posted a .580 OPS from Aug. 6 through the end of the 2014 season, and has hit .214 (9-for-42) with three RBIs and a .527 OPS this spring. He went 3-for-4 Tuesday.
Bogusevic: He is hitting .306 (11-for-36) with three home runs, eight RBIs and a .944 OPS this spring. He clearly has performed better than the other right field candidates, but he is a non-roster invitee so they could start him in Triple-A and bring him up if needed.
Francoeur: Amaro probably telegraphed the front office's thinking Monday when he said:
"If Francoeur doesn't make the club, he doesn't have any outs in his contract right now, so if somebody falters at the Major League level and he's not on the club, then he'll have an opportunity to come up."
Francoeur is hitting .189 (7-for-37) with two RBIs and a .432 OPS this spring.
Canzler: He is hitting .286 (12-for-42) with one homer, four RBIs and a .707 OPS this spring. It is hard to imagine the Phillies going with Canzler over the others.
Regardless of who starts Opening Day, Brown is expected to return to the post. He has been sidelined since March 19 because of tendinitis in his left Achilles.
"It's the right thing to do," Amaro said. "We just want to make sure he's playing well. It's more of a matter of making sure this is not a lingering issue for him."
"They don't want to rush anything and I really don't, either," said Brown, who went 0-for-4 as a designated hitter Tuesday in a Minor League game. "It's tough for being down here and missing Opening Day. But it's better to miss a week or so than to miss a month or two. [I'll] make sure I get all the inflammation out of there and be 100 percent when I come back up to Philly. So that's the big goal."
Todd Zolecki is a reporter for MLB.com. Read his Phillies blog The Zo Zone. Follow him on Twitter. This story was not subject to the approval of Major League Baseball or its clubs.