With 'pen filling up, Bucs option Holdzkom, Scahill
Club also reassigns Wood as one open spot remains on big league club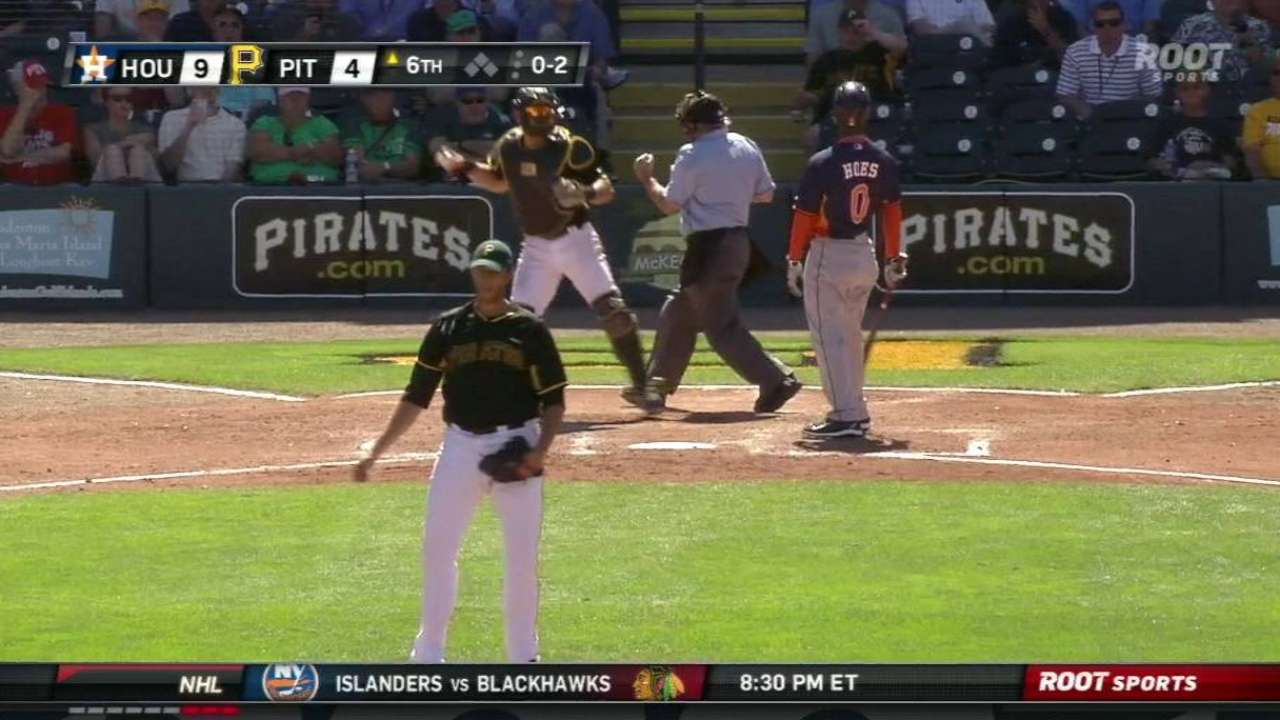 BRADENTON, Fla. -- The Pirates' bullpen picture came into sharper focus on Tuesday morning, when right-handers John Holdzkom and Rob Scahill were optioned to Triple-A Indianapolis and Blake Wood was reassigned to the Minor League camp.
Those moves left eight men -- including only one other reliever (Jared Hughes) with a remaining Minor League option -- for a bullpen that has seven seats.
"This time of year, all of them are tough," Pirates manager Clint Hurdle said Tuesday afternoon. "John had put himself in competition to break with the club.
"We've got very solid depth behind the guys we project to take. [Holdzkom] continues to develop. He continues to grow. And I know we'll be going to him at some point in time this season."
While Scahill and Wood were new to the organization, Holdzkom had a brief but stellar history with the club. The tall righty had pitched his way out of independent ball to make nine impressive appearances in September and followed that up by allowing three runs in seven spring outings.
"Yeah, I knew this was a possibility," said Holdzkom, alluding to the Minor League options hanging over his head. "It doesn't make it any more fun. It's frustrating … they got a really good bullpen right now. Just part of the journey."
Pirates general manager Neal Huntington acknowledged deliberating from a position of strength to face "a very difficult decision."
"We had a handful of guys that deserved to be on the Major League club," Huntington said. "But we have a limited number of spots."
The secured spots now belong to closer Mark Melancon; left-handers Tony Watson and Antonio Bastardo; rotation fallout Vance Worley; and right-handers Arquimedes Caminero and Radhames Liz. Stolmy Pimentel and Hughes are competing for the last spot.
"Liz … we really like him in that multi-inning role," Huntington said, two days after Liz's second straight three-inning outing of the spring. "[Holdzkom] did, and will, do some good things for us, as will Rob and Blake."
Wood, the last remaining non-roster pitcher in camp, allowed one run in his first five Grapefruit League outings, with six strikeouts in his first three innings. He allowed three runs in his last 2 1/3 innings, and added just one more punchout in his final 4 1/3 innings.
Holdzkom was originally scheduled to pitch in Tuesday's game against the Tigers in Lakeland, Fla., but as the team bus filled up, he remained by his locker in the McKechnie Field clubhouse.
"I'm not going to change too much," he said. "Just trying to look at it as another part of my career. It's not going to define me. I'll try to do well, and if they need me, I'll be ready for them. I'll keep working.
"You never hope for someone to get injured, obviously, but I don't think anyone ever finished the season with the same 25 they started with. There are lots of roster moves on every team, and we'll see if I'm one of them."
Tom Singer is a reporter for MLB.com and writes an MLBlog Change for a Nickel. Follow him on Twitter @Tom_Singer. This story was not subject to the approval of Major League Baseball or its clubs.