MLB.com Columnist
Jonathan Mayo
What's in store for Top 100 Prospects still in camp?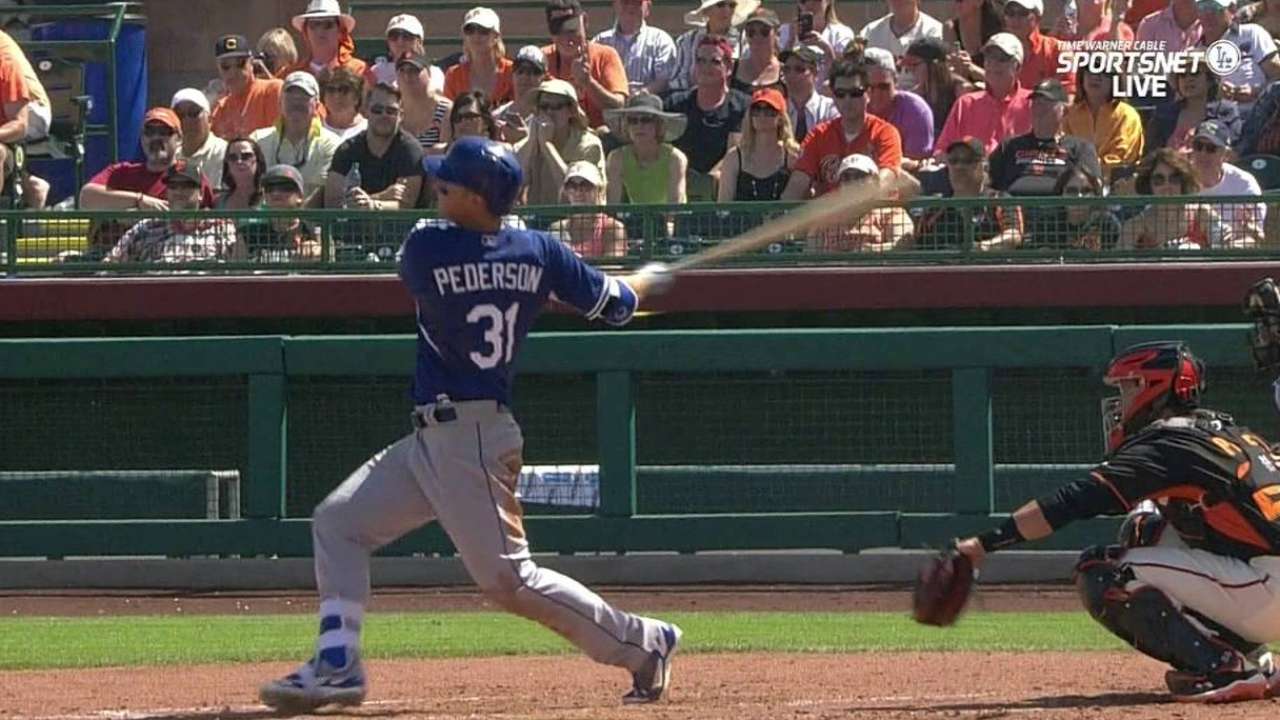 Many of the game's top prospects have made their impressions and moved on from big league camp this spring. We've been documenting them and their ETAs.
But several of those on the Top 100 Prospects list are still in camp, hoping to push the timing of the future up just a bit. Some are sure-fire bets to break camp with the parent club. Some are still trying to make the team, or at the very least, attempting to make the decision to send them down a difficult one. Here's a look at the Top 100 prospects still making noise in the Grapefruit and Cactus Leagues.
14. Joc Pederson, OF, Dodgers
No decision has been made, but Pederson is doing everything he can to earn the Opening Day nod in center field. He's hit .368/.400/.754 with six homers in 57 at-bats, showing that the decision to trade Matt Kemp to the Padres to make room for Pederson might have been a wise one.
16. Archie Bradley, RHP, D-backs
A year ago, Bradley came to camp with a chance to win a job. He didn't, and then he struggled through a down year that included arm trouble. Fast forward to this spring, and Bradley has pitched well, with signs pointing to him potentially winning a job … in the bullpen. If that doesn't happen, he'll go down to Triple-A Reno and continue to hone his craft as a starter, his long-term role.
17. Jon Gray, RHP, Rockies
Assuming health -- Gray had a sore groin after his last outing -- the right-hander appears headed to making Colorado's rotation, with the possibility of getting the ball for the second game of the regular season. His last start was a clunker, but he should have the chance to erase it with one more strong Cactus League outing before the 2015 campaign begins.
18. Daniel Norris, LHP, Blue Jays
When camp started, Norris was one of many competing for a spot in Toronto's rotation. The loss of Marcus Stroman to a torn ACL made Norris' inclusion all but certain, and all signs point to him starting the Blue Jays' third game of the season against the Yankees.
23. Jorge Soler, OF, Cubs
Kris Bryant has been sent down (temporarily); so has Javier Baez. But Soler will be in Chicago's Opening Day lineup, playing right field. Manager Joe Maddon has recently discussed putting the toolsy outfielder in the No. 2 spot in the lineup.
26. Andrew Heaney, LHP, Angels
Heaney's first Spring Training with the Angels hasn't gone as well as he hoped, as he has struggled to put hitters away even when he's been ahead. The schedule allows the Halos to begin the season with a four-man rotation, meaning Heaney will at least start the year with Triple-A Salt Lake.
36. Eddie Butler, RHP, Rockies
Butler was making a strong case to break camp in Colorado's rotation, but he left his start on Monday after one inning with what was described as shoulder fatigue. His immediate future is up in the air as he awaits further evaluation.
43. Michael Taylor, OF, Nationals
Players never wish for an injury to provide an opportunity, but that's exactly what's happened for Taylor. When Denard Span went down with an abdominal injury, Taylor stepped up and has hit .333/.357/.722 in 54 at-bats. He'll be in center field on Opening Day, with what happens after Span's return TBD.
44. Dalton Pompey, OF, Blue Jays
Pompey began the 2014 season in the Class A Advanced Florida State League and ended it in the big leagues, so it was unclear whether he was ready to hit Toronto full-time. He's showed enough to be penciled in as the starting center fielder, with his speed expected to help on both sides of the ball.
45. Aaron Sanchez, RHP, Blue Jays
The jury was out at the start of camp as to whether Sanchez would land a spot in the rotation or move to the bullpen, where he was so effective late in 2014. The injury to Stroman opened the door for Sanchez to start, and it looks like he'll be the No. 5 guy in the rotation.
79. Mike Foltynewicz, RHP, Braves
The Braves have given their new acquisition -- he came over in the Evan Gattis deal -- every opportunity to make the rotation as the No. 5 starter. His immediate future may hinge on what Atlanta decides to do with veteran non-roster invites Wandy Rodriguez and Eric Stults.
81. Jake Lamb, 3B, D-backs
Lamb could very well be the Opening Day starter at third for the D-backs, and he's hit well enough this spring (.345/.413/.600 in 55 at-bats) to warrant the job. Whether that happens may depend on Arizona's plan for Yasmany Tomas. Lamb has been seeing time at first base, where he could spell Paul Goldschmidt at times as well.
91. Stephen Piscotty, OF, Cardinals
For the second straight spring, Piscotty has gotten a lot of playing time. For the second straight spring, Piscotty should head to Triple-A Memphis for the start of the season. This time around, he could be the first one called up should the need arise.
94. Christian Bethancourt, C, Braves
Atlanta felt it was time for Bethancourt to step up and take over behind the plate. Gattis is gone, with only vet A.J. Pierzynski to share time with. Bethancourt has had a strong spring and appears ready to be the everyday backstop.
Jonathan Mayo is a reporter for MLBPipeline.com and writes a blog, B3. Follow @JonathanMayoB3 on Twitter. This story was not subject to the approval of Major League Baseball or its clubs.