Mauer putting in extra effort to bounce back, lead Twins
Former MVP alters plate approach, ramps up physical preparation for 2015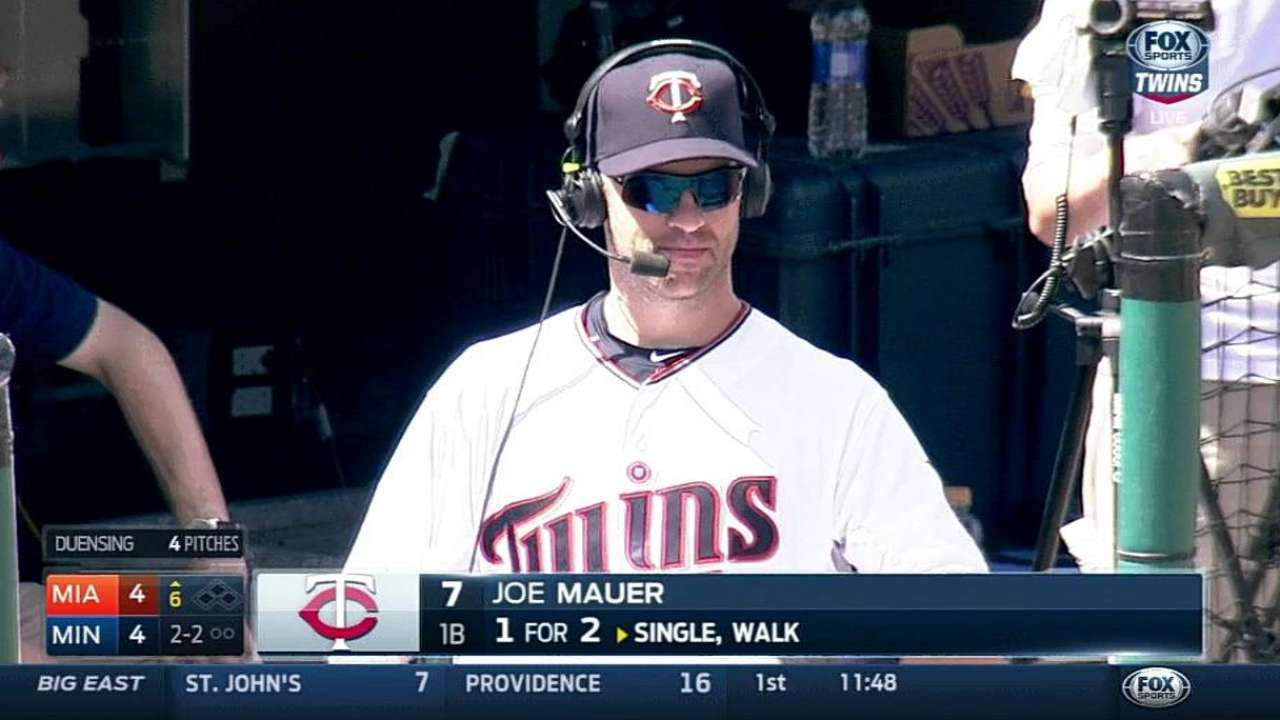 In the days leading up to Opening Day, MLB.com is examining various aspects of each team's roster. Today, the time has come to focus on a key player for the upcoming season. For the Twins, that's first baseman Joe Mauer.
FORT MYERS, Fla. -- It's become a familiar sight at the Twins' Spring Training complex hours before game time.
It's Joe Mauer, working exclusively with hitting coach Tom Brunansky on a practice field, trying to pull the ball in drills using a tee or in batting practice. So while it's become a usual occurrence this spring, it's still unfamiliar seeing No. 7 hitting the ball with authority to right field, given he's known for his doubles power the opposite way.
Though it's not a totally revamped approach, Twins manager Paul Molitor believes it's another wrinkle Mauer can utilize as he looks to bounce back from a down year in 2014.
"I know he's been spending time with Tom working on that," Molitor said. "Whether it's a runner on first and trying to pull the ball hard, or getting into counts and then turning it loose. I know he's added a little more confidence in that swing. He can keep people more honest by doing things at different times, but at the same time not making drastic changes to who he is."
While Minnesota's lineup surprised last year, finishing seventh in the Majors in runs scored, Mauer had an uncharacteristically subpar year in his first season as a first baseman, hitting .277/.361/.371 in 120 games. The issue was a lack of power, as evidenced by his slugging percentage and home run (four) and RBI (55) totals.
The move to first base was done in hopes of helping him stay on the field after sustaining a concussion late in the 2013 season, but it didn't turn out that way, as he notably missed 40 days with a strained right oblique in July and early August.
Mauer, 31, said the injury sapped his ability to turn on inside pitches, and it shows in the statistics, as he hit just .204 with a .241 slugging percentage on balls pulled to right field, compared to a .486 average with a .714 slugging percentage on balls hit to left field. His lack of success on balls pulled to right was glaring, as he entered the year a career .388 hitter on balls hit to right field.
"Physically, I just wasn't able to do the things I'm doing now," Mauer said. "I'm moving a lot better. Physically, I'm feeling a lot better. I was dealing with a lot of things last year."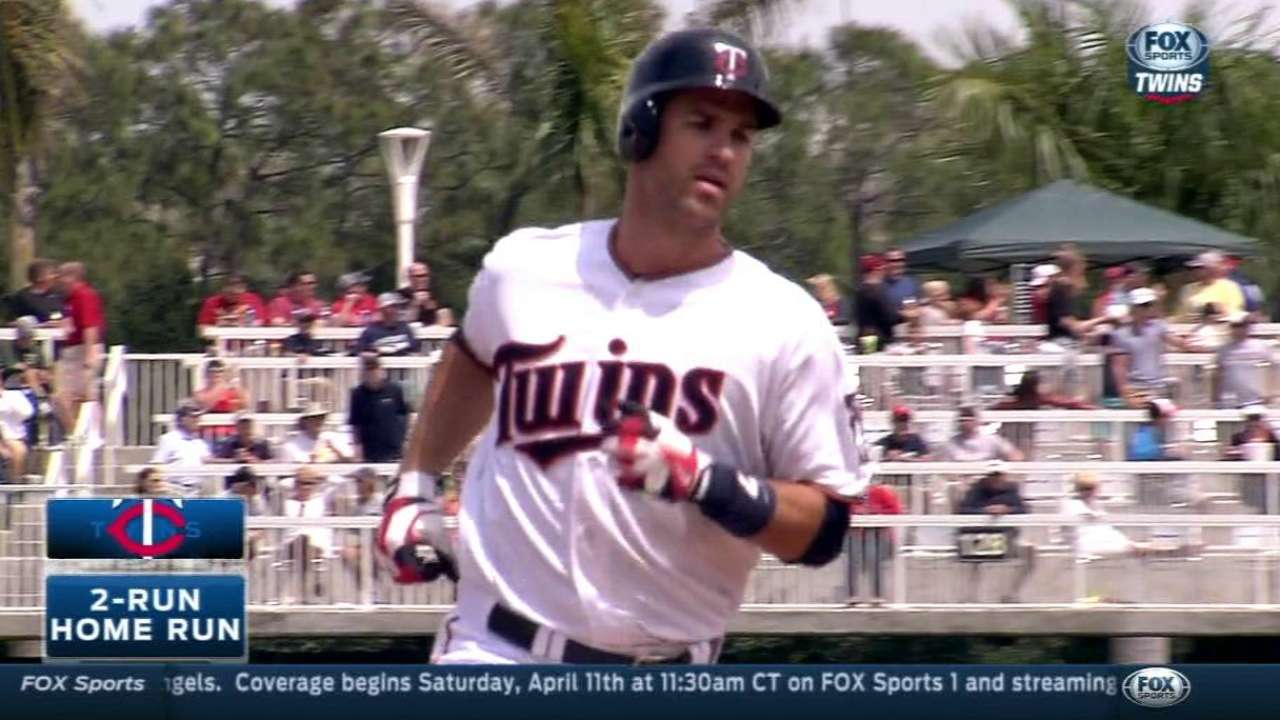 Mauer has also maintained that his slow start offensively -- he hit .267/.343/.340 through the first two months of the season -- was attributed to the fact he wasn't able to have a normal offseason and started preparing for the season later than usual due to the concussion. But this year, he was able to prepare for the season without any issues, and he worked extensively with stretching guru Roger Erickson, who has worked with many NFL players.
"It's night and day for me considering everything," Mauer said. "From conditioning to coming off that concussion, I'm in a good place now."
The Twins remain hopeful Mauer can return to his previous form, as he was usual self just two years ago, hitting .324/.404/.476 in 113 games in 2013 before the season-ending concussion. Much has been made of his increasing strikeout numbers -- he struck out in a career-high 18.5 percent of his plate appearances last year -- but it wasn't a huge jump up from the 17.5 percent strikeout rate in '13.
A Mauer resurgence would help spark an offense that was the club's strength last year, but remains dependent on the production of youngsters such as Danny Santana, Kennys Vargas and Oswaldo Arcia. Twins general manager Terry Ryan is among the believers that Mauer will turn it around.
"I don't know why he couldn't," Ryan said. "He's still in the prime of his career. He just had an off-year. He's healthy and I think he's anxious to prove last year was just an aberration."
Mauer, who is still under contract through 2018 at $23 million per year, knows that '14 was a disappointing year, but he's ready to put it behind him.
"There's definitely room for improvement across the board, but that's exciting," Mauer said. "It's Spring Training, so I'm not going to project anything or anything like that. But I'm excited to get out there and play the game and see what happens."
Rhett Bollinger is a reporter for MLB.com. Read his blog, Bollinger Beat, and follow him on Twitter @RhettBollinger. This story was not subject to the approval of Major League Baseball or its clubs.