Collins: 'This is the year for our team to step up'
Manager sees Harvey's return, Wright's rebound as key to success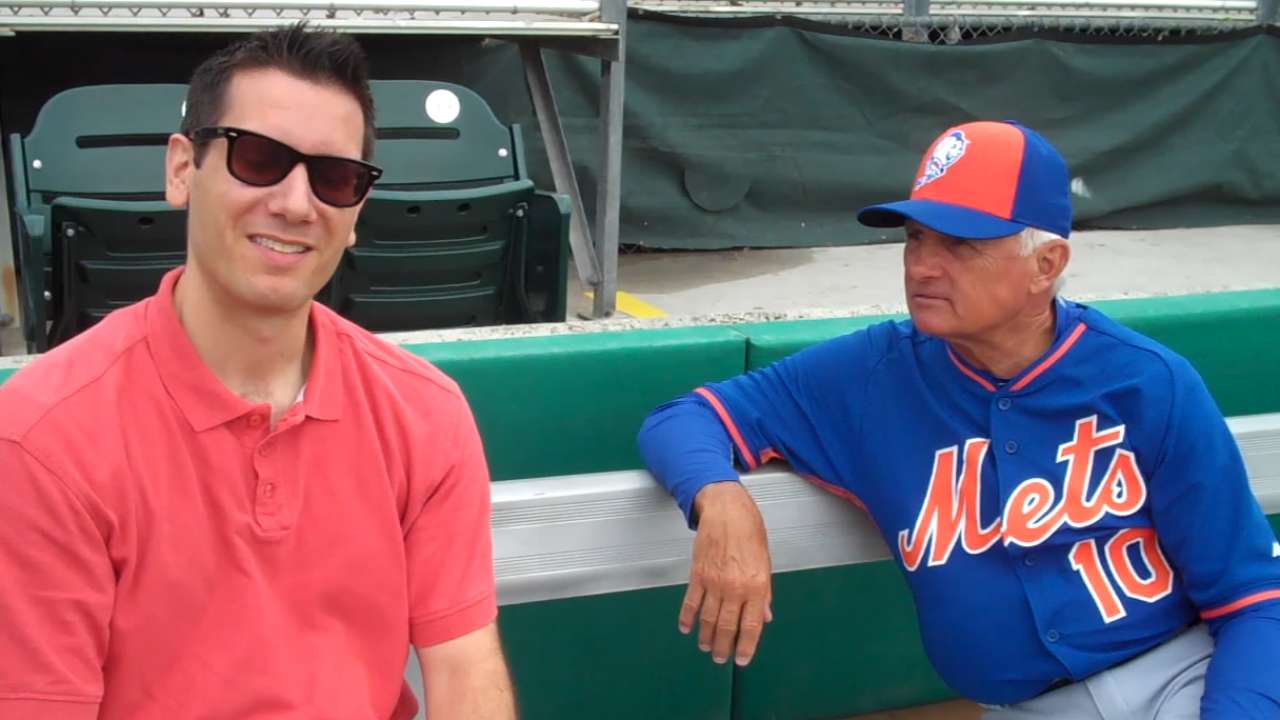 PORT ST. LUCIE, Fla. -- Entering his fifth year as the Mets' manager, Terry Collins finds himself under as much pressure as anyone in the organization. Officially in win-now mode, the Mets believe general manager Sandy Alderson's four-year rebuild is complete. They expect to compete for a playoff berth. And at the forefront of their renaissance is Collins, who reveals his thoughts on the 2015 season in Part 2 of MLB.com's season preview.
MLB.com: It's been a rough camp in terms of injuries to the pitching staff. How does that change your outlook heading into the season?
Terry Collins: It doesn't do a lot for us, being honest. This game's all about adjustments, anyway. One of the big losses was obviously losing our left-handed reliever, Josh Edgin. They're hard to find, those left-handers. Losing Zack Wheeler was a huge loss for us. This guy had a chance to be our Opening Day starter, one of the guys we discussed all winter long as being an impact guy. But we're very, very lucky. We have some depth, especially in the rotation.
MLB.com: Two of those depth guys are prospects Noah Syndergaard and Steven Matz. What did you think about their time in big league camp?
Collins: They're close, and I think you're going to see them this summer. I don't think there's any question that they're going to be ready. I was very, very impressed with both guys. I thought Noah really handled himself very well. Being a power kind of a guy, the thing that impressed me so much was all the strikes he threw. And obviously Steven Matz is on the fast track the last couple years. He's come very, very fast. Plus stuff. Left-handed. As you go into the season, you want to sit here today and hopefully not have any injuries to your starting rotation, but you know what? History says you're going to, and we're very lucky to have some guys who can come up.
MLB.com: What did you like out of Matt Harvey this spring?
Collins: He's back. And the doctors said he would be. I thought even last year at the end of the season, Matt Harvey could have pitched in the worst-case scenario, which we weren't going to let happen. But that's how fast and how hard this guy worked to get back. We're seeing the results of it this spring.
MLB.com: One other bounce-back candidate is David Wright. How much do you think his shoulder injury undermined him last summer?
Collins: I think it affected him a lot last year. This guy being the face of our team and our organization, he knew he had to play. He realized that, and we all realized that: He had to go out there. I just think it took a toll on him during the season, but he's back. We're seeing great things from him this spring. His strength's back in his shoulder. He's swinging the bat like he his capable of. So there's no reason why he shouldn't step up and have another big year for us.
MLB.com: You've talked since the winter about how this is the year for the Mets. Why do you feel that way?
Collins: Look at the two additions we just talked about. To get a No. 1 starter, if you go out on the open market, it's very, very expensive. We have a guy in our organization, and he's back and he's healthy, named Matt Harvey. The middle of your lineup is going to be the key to any club. David Wright being healthy, he's the key. I think a healthy David Wright's going to play well, and that's why I think this is the year for our team to step up."
Anthony DiComo is a reporter for MLB.com. Follow him on Twitter @AnthonyDiComo. This story was not subject to the approval of Major League Baseball or its clubs.