Boyer tosses 1 2/3 scoreless innings after making roster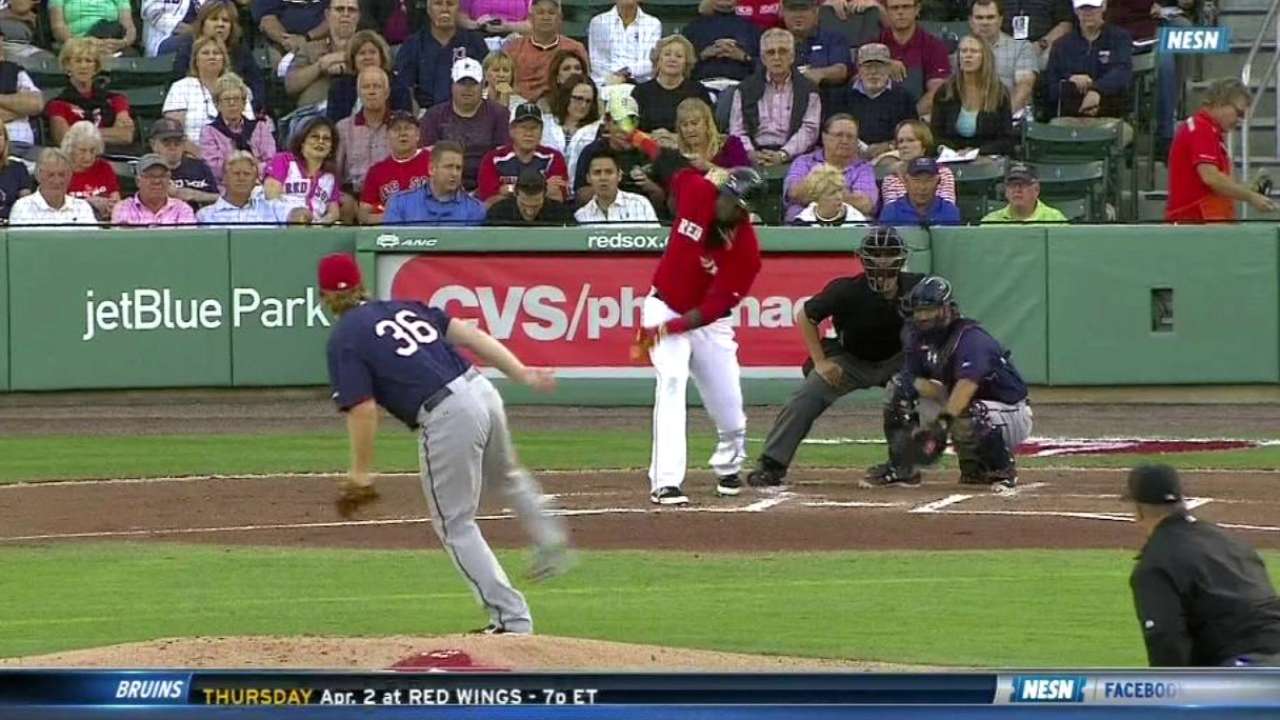 FORT MYERS, Fla. -- With eight of their projected nine Opening Day starters in Monday night's lineup, the Red Sox erupted for a six-spot in the bottom of the fourth inning en route to a 14-2 victory over the Twins.
Mike Napoli started the barrage with a broken-bat homer that cleared the Green Monster. Xander Bogaerts, Mookie Betts, Dustin Pedroia and David Ortiz all had RBI hits in the inning. Veteran Torii Hunter had two hits for the Twins, including a ground-rule double to center.
MOMENTS THAT MATTERED
Masterson dazzles: Righty Justin Masterson turned in what was easily his best performance of Spring Training, firing 5 2/3 innings and allowing just one unearned run. The sinkerballer scattered five hits while walking one and striking out four.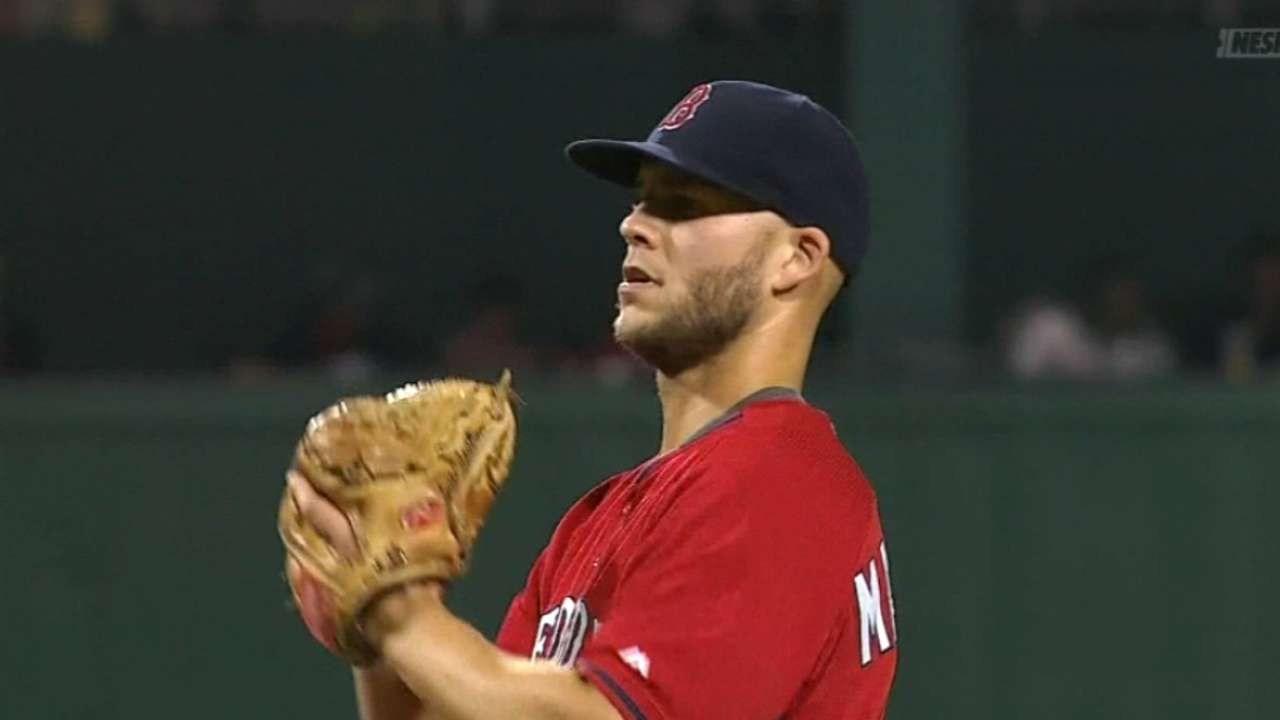 Boyer added to roster, gets the start: Right-hander Blaine Boyer had his contract selected before Monday's game, as the non-roster invitee was informed by general manager Terry Ryan that he made the club. And with scheduled starter Kyle Gibson out with the flu, Boyer made the start in his place and tossed 1 2/3 scoreless innings. Boyer was given the start so he could get home early to help his family pack, as they're making the drive up from Fort Myers for Opening Day.
"It was a load off my shoulders," Boyer said of making the team. "It was a surreal moment for me. I'm just excited and very thankful to Terry Ryan."
Betts adds to highlight reel: Hardly a game has gone by this spring when Betts hasn't made his way on to the highlight reel. Monday night was no exception, as the center fielder ranged back and made a twisting catch at the warning track to take extra bases away from Trevor Plouffe.
"He makes a heck of a play, obviously," said Red Sox manager John Farrell. "I think what he's become more comfortable with is playing the lineup. Knowing where we are in the lineup. Guys with a little more power, he'll go a little bit deeper. That's just coming through his feel and repetition in playing center field. He continues to impress."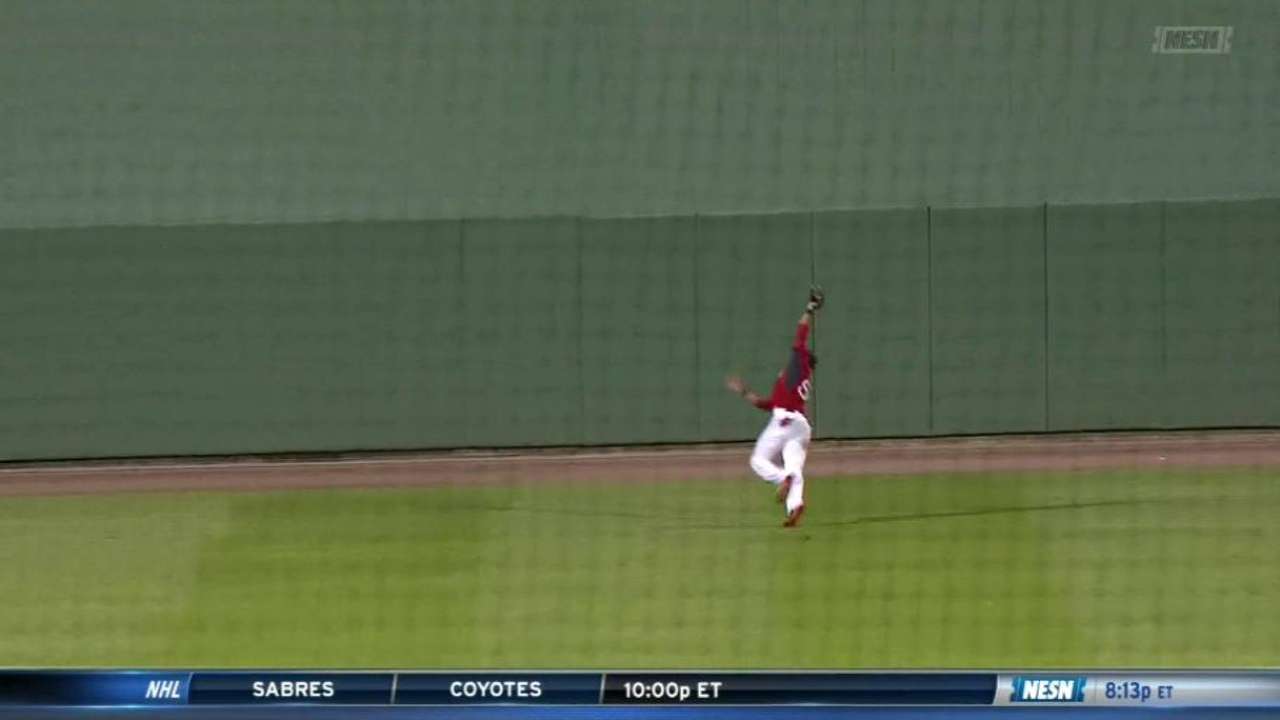 Duensing struggles in relief: Twins lefty Brian Duensing's spot in the bullpen is secure, but he had a rough outing. He gave up six runs on eight hits, with all six of those runs coming in the fourth inning. After getting Pablo Sandoval to ground out to open the fourth, Duensing gave up seven straight hits, including a homer to Napoli and doubles to Shane Victorino, Bogaerts, Betts and Pedroia.
QUOTABLE
"What I'm really excited about is, you're going to have a different guy who I feel is just going to go on hot streaks for a while. You'll have a week of this guy, a week of that guy and when they all come together, I'm going to sit there and just watch. Put my feet back and say, 'This is awesome'." -- Masterson on Boston's offense
"I like Brian in that two-hole. I like how that plays out. I like the experience Torii has. He's not a prototypical No. 4 hitter. I know what numbers he was able to produce in the role he served the Tigers in. I know he was in the two-hole most of the year and had a very productive year." -- Twins manager Paul Molitor on the top of his order being Danny Santana, Brian Dozier and Joe Mauer to open the year, with Hunter potentially serving as the cleanup hitter
SOUND SMART WITH YOUR FRIENDS
• Hanley Ramirez is 18-for-66 lifetime (.273) against Cole Hamels, the lefty the Red Sox will face on Opening Day. That stat line includes 11 doubles, two homers and six RBIs. Sandoval is a .281 hitter with two homers and six RBIs in 32 at-bats against Hamels.
• The Twins and Red Sox have both played in Fort Myers together for the last 23 years, and with Boston's win on Monday, the head-to-head results are almost even. The Twins hold a 66-65-2 advantage over the Red Sox over that span. The two clubs finish with four straight games against each other to end Spring Training this week.
MEDICAL NEWS
• Twins catcher Josmil Pinto, who has been out with concussion-like symptoms, made his return to action in a Minor League game. He caught three innings and went 0-for-1 with two walks. He's scheduled to play in a Minor League game again on Tuesday.
• Red Sox closer Koji Uehara again felt discomfort in his right hamstring while throwing a bullpen session on Monday, ending even a remote chance he could be ready for Opening Day. Uehara isn't sure when he'll be ready to return. Edward Mujica will start the season as the closer.
WHAT'S NEXT
• The Red Sox will travel to Port Charlotte for a 1:05 p.m. ET game against the Rays on Tuesday on MLB.TV. It will be a bullpen game, as lefty Wade Miley will stay home and pitch a Minors game. Rusney Castillo, Allen Craig and Daniel Nava are among those who will make the trip for Boston. Catcher Sandy Leon, acquired on Monday from the Nationals, should make his debut for the Red Sox.
• The Twins host the Yankees at Hammond Stadium on Tuesday at 12:05 p.m. CT on MLB.TV. Left-hander Tommy Milone, who was named the club's fifth starter, gets the nod against Yankees right-hander Masahiro Tanaka. Closer Glen Perkins and Casey Fien are also slated to see action.
Rhett Bollinger is a reporter for MLB.com. Read his blog, Bollinger Beat, and follow him on Twitter @RhettBollinger. Ian Browne is a reporter for MLB.com. This story was not subject to the approval of Major League Baseball or its clubs.