Ground-ball specialist Anderson praises Dodgers' infield
Rollins, Kendrick and Co. turn three double plays behind veteran lefty
SCOTTSDALE, Ariz. -- The Dodgers acquired starting pitcher Brett Anderson, who gets ground balls, and a middle infield that knows what to do with them.
The combination on Monday illustrated what some of those radical offseason moves were about. Anderson pitched six shutout innings in a 4-2 win over the D-backs, inducing a dozen ground balls. The Dodgers infield turned four double plays, three behind Anderson, two of them by new shortstop Jimmy Rollins and new second baseman Howie Kendrick.
"Anderson's stuff was really, really good," said manager Don Mattingly. "He gets ground balls, he works quick. And he's been the picture of health this spring."
The injury-prone Anderson threatened to ruin that reaching for a bouncer up the middle, then thinking better of it and pulling back his hand "and not breaking a finger," he said, "like I did before."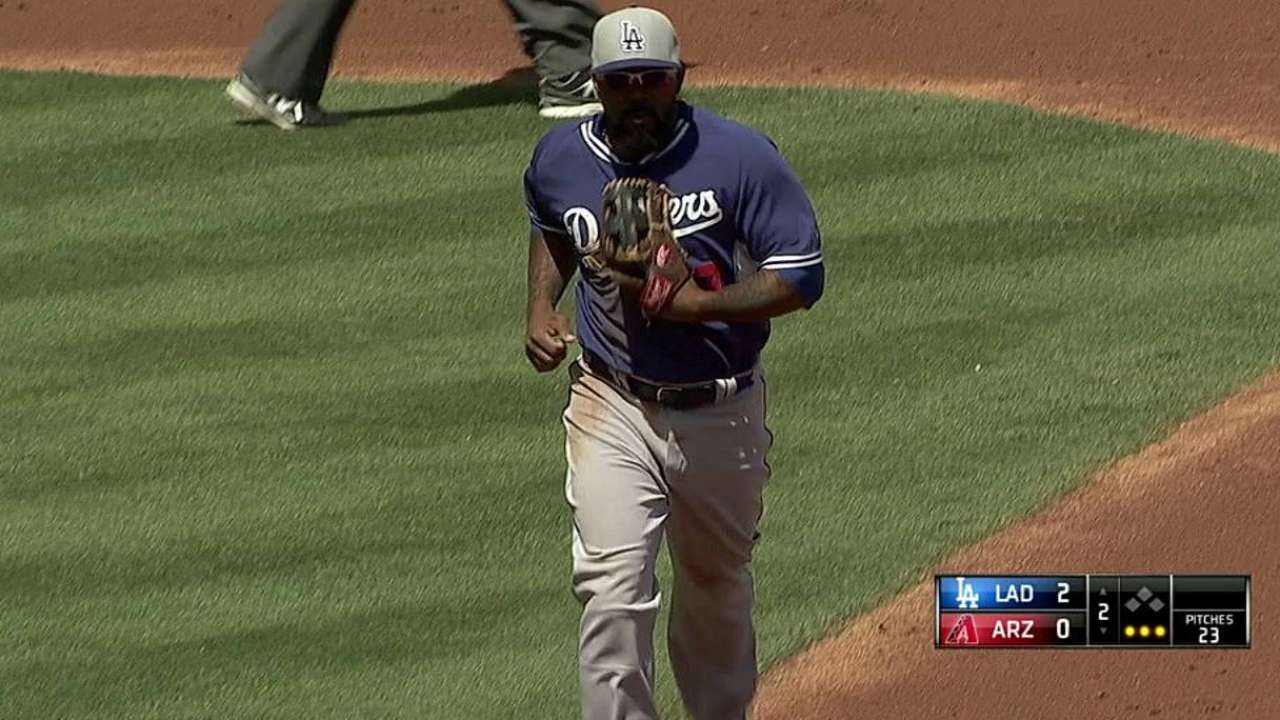 Anderson said the Dodgers' infield "so far has been tremendous. They've made all the plays. I did my part running to first for the fifth putout of my career."
Eric Stephen of True Blue LA verified that Anderson wasn't kidding about the play when he took first baseman Adrian Gonzalez's throw covering first to retire David Peralta. Anderson has four career putouts in the regular season.
Anderson made 74 pitches and threw extra in the bullpen afterward. His next start in the Freeway Series on Saturday against the Angels will be abbreviated.
Ken Gurnick is a reporter for MLB.com. This story was not subject to the approval of Major League Baseball or its clubs.