MLB.com Columnist
Phil Rogers
Walker doesn't flinch against Trout and Pujols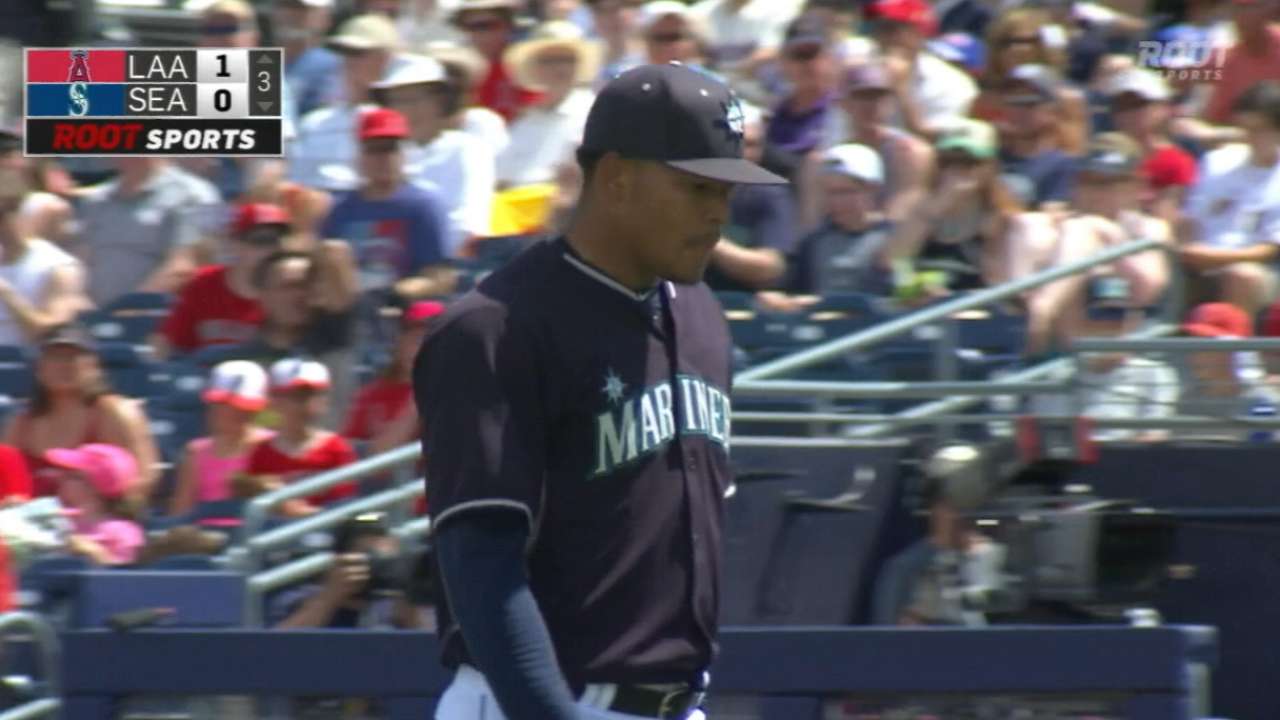 PEORIA, Ariz. -- Opening Day approaches. With every page that is torn off the calendar, as we say farewell to March and get ready to welcome April, the baseball just gets better.
On Monday afternoon at Peoria Sports Complex, the best pitcher in the Cactus League this spring, 22-year-old Mariners right-hander Taijuan Walker, stood tall against Mike Trout and Albert Pujols, two of the best hitters of the last decade.
Then, to show the maturity that teammates and management rave about, Walker shrugged it off, like he'd never dreamed of this day.
"I just try to keep everything the same," Walker said after working seven express-lane innings in a 5-3 victory for Seattle. "I don't try to amp up too much. That's when you get in trouble, when you try to do too much to bigger guys. I try not to worry about the name on the back. I was just going right after them."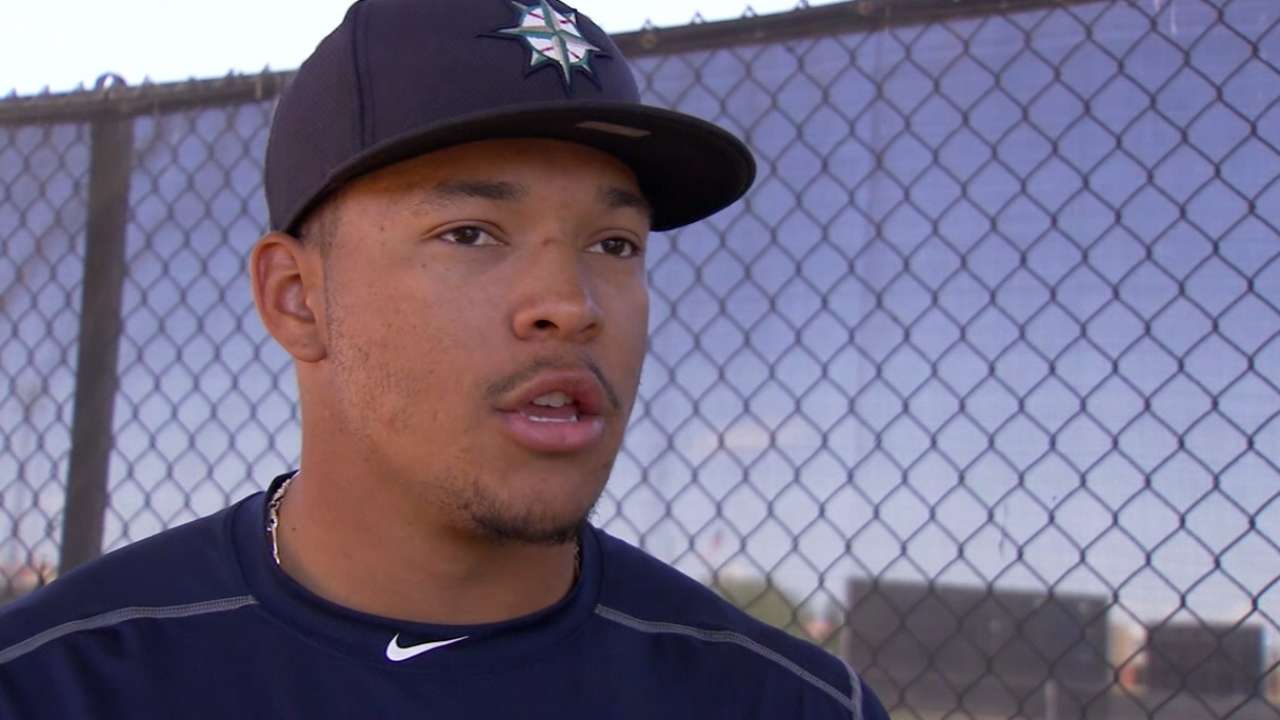 Walker, who stands 6-foot-4 and is listed at 230 pounds, worked to Trout and Pujols the way a young Tom Seaver would bear down when the Pirates sent Roberto Clemente and Willie Stargell to the plate. Walker handed them a combined 0-for-6, working ahead in the count in all six plate appearances, although it would be wrong to suggest he handled them with ease.
Pujols twice hit smashes to third baseman Kyle Seager, and Trout lifted a long fly to the edge of the left-field warning track. That's what these guys are supposed to do, right?
The sequence that will give Walker confidence when he faces them in the regular season came the second time he saw the Angels' two icons. Walker struck out Trout to end a 1-2-3 third inning, then fanned Pujols to start a 1-2-3 fourth.
Trout took a 96-mph heater for strike one, then spit on a 92-mph two-seamer off the plate to even the count 1-1. He fouled off a hard slider, then foul-tipped a belt-high 96-mph fastball that settled into catcher Mike Zunino's mitt.
Leading off the next inning, Pujols went down on three pitches. He took two fastballs for strikes, then swung at and missed a slider.
That's six strikes in seven pitches vs. Trout and Pujols. You can watch the Angels for 162 games and not see many pitchers match that sequence.
"He's obviously one of the bright young stars in our league," Angels manager Mike Scioscia said. "Today you could see why. He really showed good stuff, threw strikes with everything. I'm glad we got to see him, because you really can't make adjustments until you get in the batter's box against him. It's good that we got a chance to see him. But he's good, no doubt. They have a really strong starting rotation, and he's one piece of it."
Well, not officially, yet. The Mariners haven't announced that Walker has won the opening behind Felix Hernandez, Hisashi Iwakuma, James Paxton and J.A. Happ, but Walker has eliminated the suspense by going 3-0 with a 0.36 ERA in 25 innings. He's allowed only nine hits and four walks while striking out 24.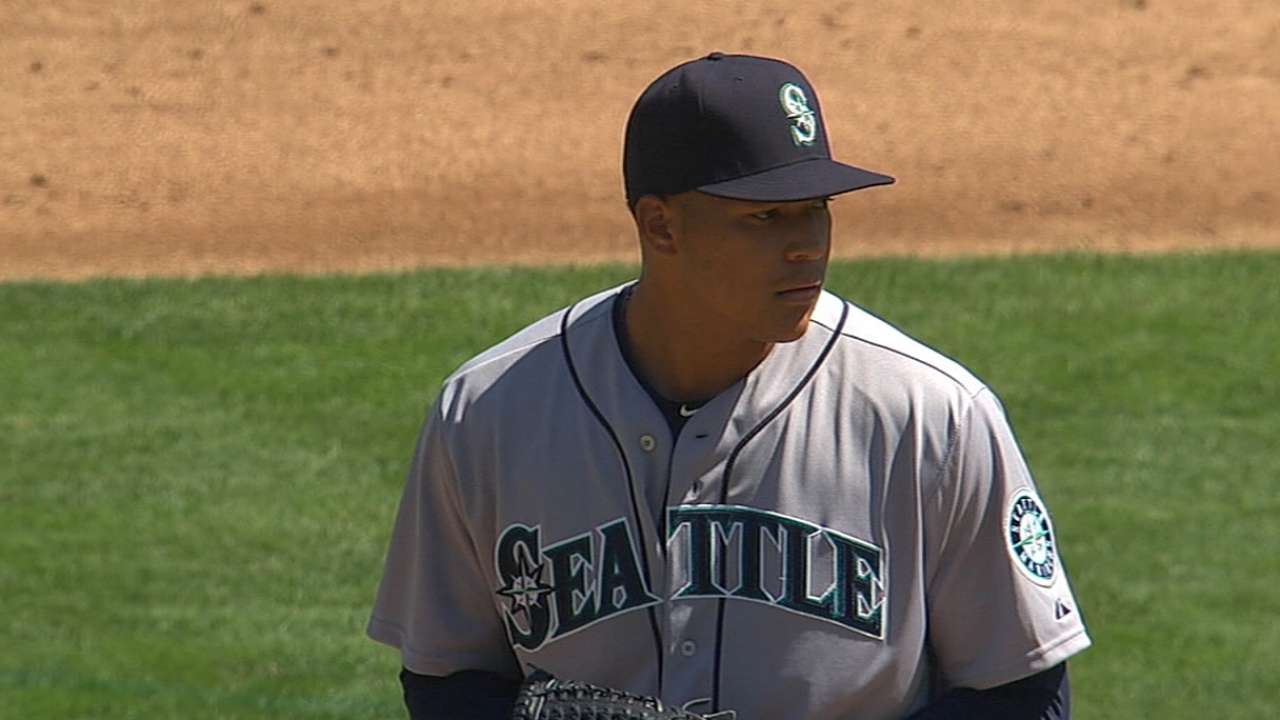 If Walker doesn't pitch again before the Mariners head to Seattle for next Monday's opener against the Angels, he'll hold the franchise record for best Cactus League ERA. We'll see if it's coincidence or foreshadowing that Matt Young set the previous record (0.44) in 1983, the one year he was an All-Star.
Nobody with the Mariners is ready to predict that level of success for Walker. A seemingly minor shoulder issue was the primary culprit in his disappointing 2014 season, but he might have also made the mistake of digging himself a little too much when he went home after his breakout season in '13, which had started in Double-A.
"I'm still trying to stay in the moment, take it one start at a time, take it day by day," Walker answered when a reporter asked him to assess his Spring Training. "I don't want to look too far ahead. I did it in the past, and it kind of hurt me, so right now I'm just one day at a time."
Rickie Weeks wouldn't know. Seattle's new left fielder/DH was in Milwaukee last season. He can say he's been hugely impressed with Walker this spring.
"The guy's got the makeup to be a superstar in the game, with the stuff he has," Weeks said. "It's all about makeup and throwing strikes. He's shown that already, so the sky's the limit for him. … This guy, he knows his role, he knows what he has to do to get better in this game. He's trying to pick the brains of guys like Felix. He's a Cy Young winner. He's able to go out there and just show him the way, basically."
Watching Walker against the Angels, it seemed clear he has gotten past the golly-gee portion of his career, and looks like he's ready to jump right into the part where he's a full-fledged wing man for King Felix.
Walker had worked 19 scoreless innings this spring until Matt Joyce drove a fastball for a long homer to center field in the second inning Monday. He gave up singles to the next two hitters he faced, David Freese and Erick Aybar, but those were the only hits he surrendered.
Walker threw only 72 pitches in seven innings, barely breaking a sweat even though the thermometer said 91. Mariners manager Lloyd McClendon didn't seem the least bit surprised, even if Trout and Pujols were in the opposing lineup.
"First of all, he's a very talented young man," McClendon said. "He's a very confident young man. I don't think the name on the back is going to intimidate him. Part of that is he has great stuff. It helps you not to be intimidated."
If this really was business as usual, it's not too early for the Mariners to start figuring out how they can ration Walker's innings so he can work in October. His arm is the cherry on top for a Seattle team built to go the distance.
Phil Rogers is a columnist for MLB.com. This story was not subject to the approval of Major League Baseball or its clubs.