Gibbons not afraid to lean on rising youngsters
From Travis to Sanchez, prospects may earn significant roles with '15 Blue Jays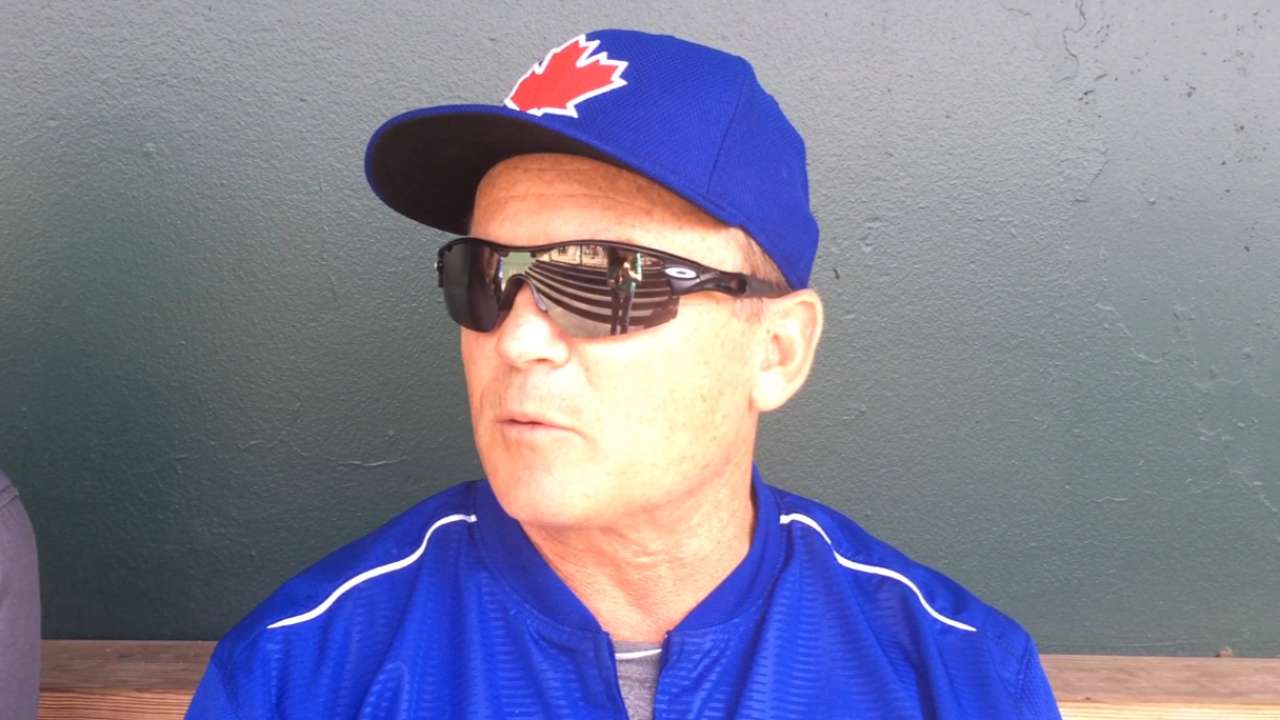 The following is a question-and-answer session with Blue Jays manager John Gibbons as he looks ahead to the 2015 season:
On the bullpen showing increased depth with such players as Miguel Castro and Roberto Osuna stepping forward ...
Gibbons: "The coaching staff and front office, we're all very pleased. It was a big question mark, possibly three, four guys on the staff. We had our struggles in the bullpen, and a couple guys ended up leaving. ... So we definitely knew it was going to be a new look. You never know how guys are going to perform. We threw out some competition, and the majority of the guys pitched very well. Now comes the tough part. Who are the guys you're going to break with? Are we taking the right guys?
"Once the season starts, there can always be changes, back and forth, to make sure we have the hot hand. We like the way it's setting up. There are still going to be some tough decisions; there are only going to be seven spots. We have to make sure we get the right guys and hope it all fits together. They may not necessarily be the best arms, but [we hope to reach a point] where they can all work together on any night where you can close out a game."
On second base being another area of uncertainty but maybe less so after Devon Travis' strong spring ...
Gibbons: "I talked to [former Tigers skipper Jim] Leyland and [manager Brad] Ausmus. They both love the guy. Those are both good baseball guys. They talk, you listen. Plus you listen to the scouts, and they say he's a good ballplayer. The big rap was his defense needs work, but he can really hit. I see him do both right now. His defense has been great. He got off to a slow start, but a lot of that is being a new guy, pressing, knowing he has a chance to make the team. But once he settled in, got that first knock, he's been one of our best players.
"Ramon Santiago, Maicer Izturis -- Santiago was playing great, he had a shot to make the team and then of course the big injury, which hurt that. Izturis came out of the game [with a groin injury], so that helped clean some things up, but we like the way that's taking shape, too. Ryan Goins has had a great camp as well. We'll see. That'll go down to the wire, too, but we're starting to get a pretty good idea."
On the loss of young right-hander Marcus Stroman but having Aaron Sanchez step into the mix ...
Gibbons: "Sanchie -- the big debate was, 'Where is he more valuable, the rotation or at the end of the bullpen?' Going into spring, we really weren't sure. It was going to come down to how it best serves the team. Stro going down, that cleared some things up, too. Most everybody wanted to see what Sanchie could do as a starter. That opened the door, and I think we're getting our wish.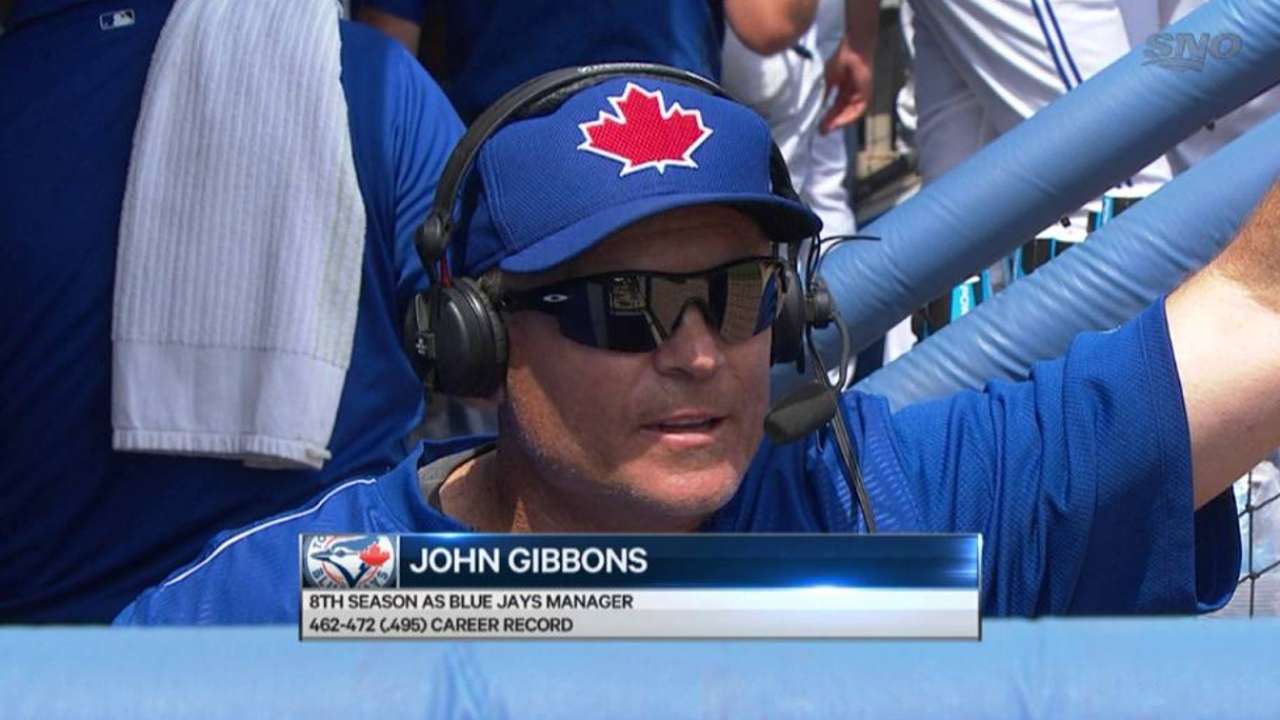 "He's got a chance to be one of the good ones. He's a youngster. I don't think people can expect him to be Cy Young right out of the gate. He's going to go through his ups and downs like anybody else. But over the long haul, he has a chance to be one of the better ones."
On the improved depth of the organization compared with previous years ...
Gibbons: "We battled back the last couple of years. We'd say, 'If this guy goes down, we may be in trouble.' We knew there were some questions on the team and we knew there were solutions. It was just going to be, 'Who are these guys?' The team in Triple-A would be loaded. Any different area of the game is something we have confidence in."
On what needs to go right for this team to contend ...
Gibbons: "I think it's up for grabs. We put ourselves in a good position last year, then we faltered, then it was a roller coaster until the very end. Baseball all revolves around pitching, and pitching starts with the rotation. We feel really good about those guys. And, of course, you can't have a great rotation if you can't close it out late in the game in the bullpen. The big key is that [closer Brett] Cecil's healthy now. It's all taken shape. We have a great offense and can give us a little breathing room. We just have to play good baseball and stay healthy."
Gregor Chisholm is a reporter for MLB.com. Read his blog, North of the Border, and follow him on Twitter @gregorMLB. This story was not subject to the approval of Major League Baseball or its clubs.