Final roster alignment a question of flexibility
Deciding between extra reliever or position player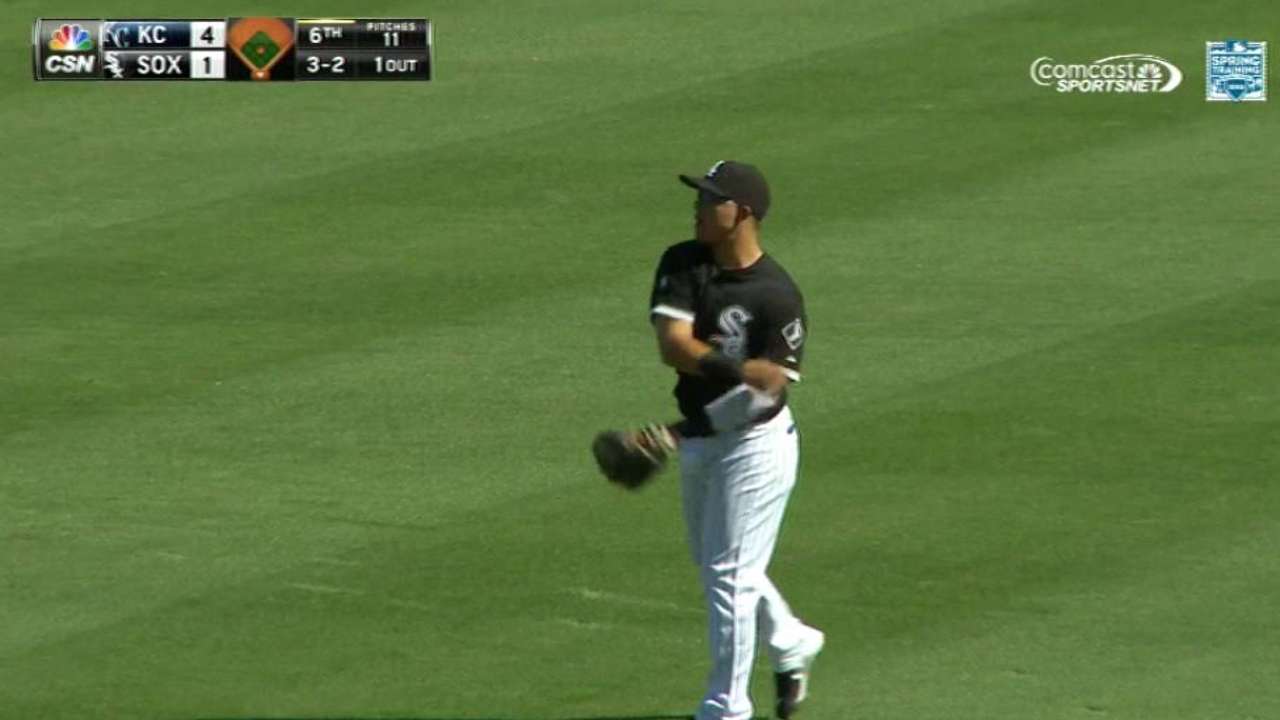 GLENDALE, Ariz. -- The chance exists that the White Sox could break camp with seven relievers and an extra position player as they travel from Arizona to Charlotte, N.C., on Thursday night. That extra position player would almost certainly be Carlos Sanchez, a switch-hitter who can play across the infield and has been battling Micah Johnson for second base.
Eight relievers would be the second option, bringing the extra arm until Chris Sale is projected to return on April 12.
"Those are both possible. If Chris continues to progress and we're able to have him make that start over the first home weekend in Chicago, we could go with four starters and eight in the 'pen," White Sox general manager Rick Hahn said. "Or we could stick with seven in the 'pen and go with the extra position player for the first few days.
"We've talked about both of those, but it's going to come down to does [manager] Robin [Ventura] and the staff feel better having additional matchup options giving the pitchers we're facing or do we feel we need to take another arm to protect guys? With the off-day, and given we're talking probably four or five days at most, the position player may make a little sense, but we're not finalized in what we're doing just yet."
This final roster spot could come down between Sanchez, Maikel Cleto and Scott Carroll.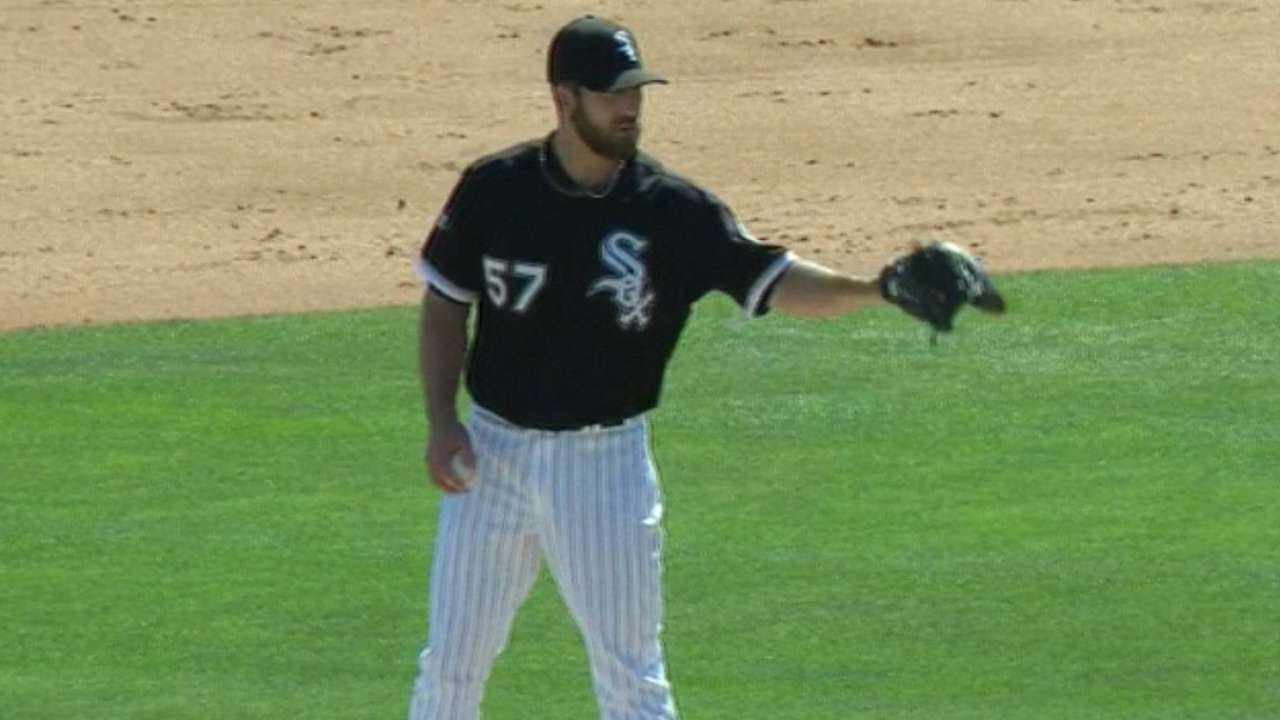 • Zach Putnam made his fourth straight scoreless appearance in Monday's 4-1 loss to the Indians, after allowing eight earned runs over 3 2/3 innings in his first four appearances. The most important factor for Putnam is that he feels comfortable with his split-finger fastball.
"I feel as if it's been there since the start of camp, but what changed was the frequency with which I was throwing it," Putnam said. "I was going into at-bats early on trying to kind of work on my fastball and polish my cutter just a little bit.
"When you are not fine with those pitches and guys are coming in taking massive hacks trying to hit homers, as they are sometime in Spring Training, I got hurt a lot. As soon as I figured it out and started throwing it more and setting up hitters the same way I set them up during the season, things fell into place for me."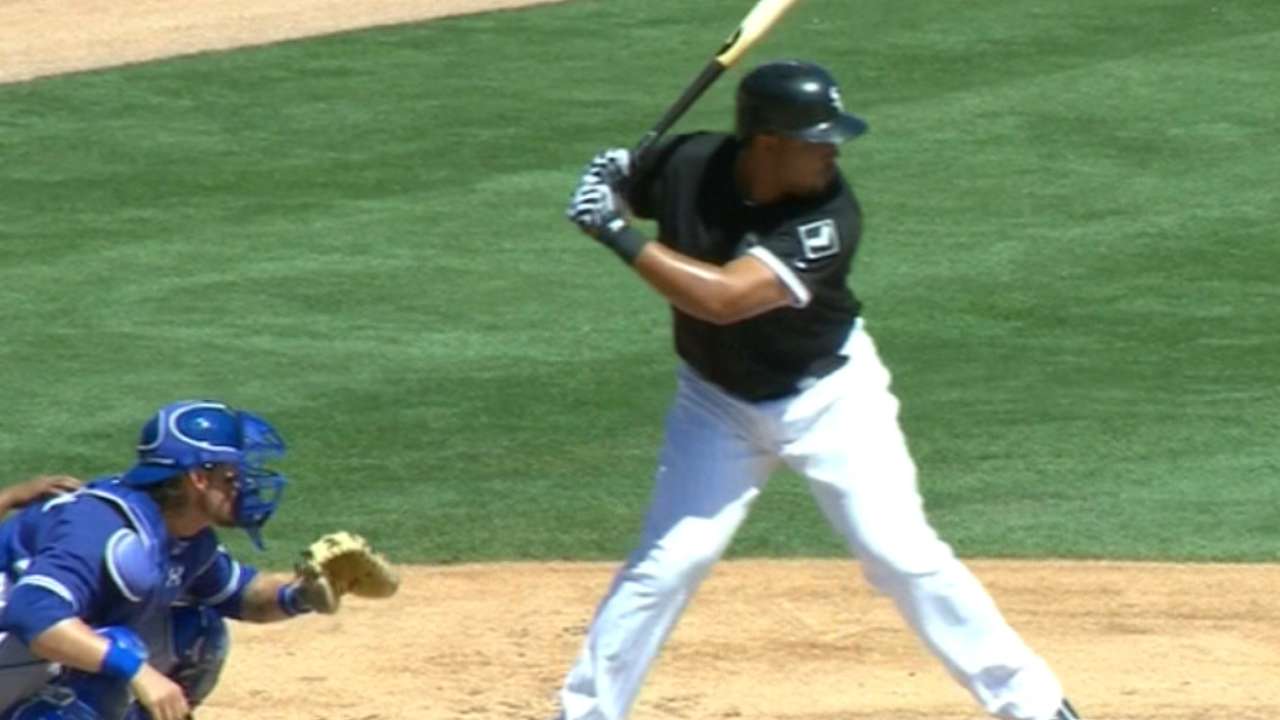 • Jose Abreu had a scheduled day off Sunday, and was absent Monday while tending to a personal matter. He should be back with the team on Tuesday.
"Everything is fine," Hahn said. "There's no health issue whatsoever."
• Right-handed pitcher J.D. Martin and left-handed pitcher Joe Savery, who were both non-roster invites in big league camp with the White Sox, have been released from the Minor League side, per a team announcement Monday. Outfielder James Baldwin III has been signed by the organization and will be going to Class A Kannapolis.
Scott Merkin is a reporter for MLB.com. Read his blog, Merk's Works, and follow him on Twitter @scottmerkin. This story was not subject to the approval of Major League Baseball or its clubs.