Redmond embracing lofty expectations in Miami
Marlins manager applauds momentum gained by signing Stanton, praises new arrivals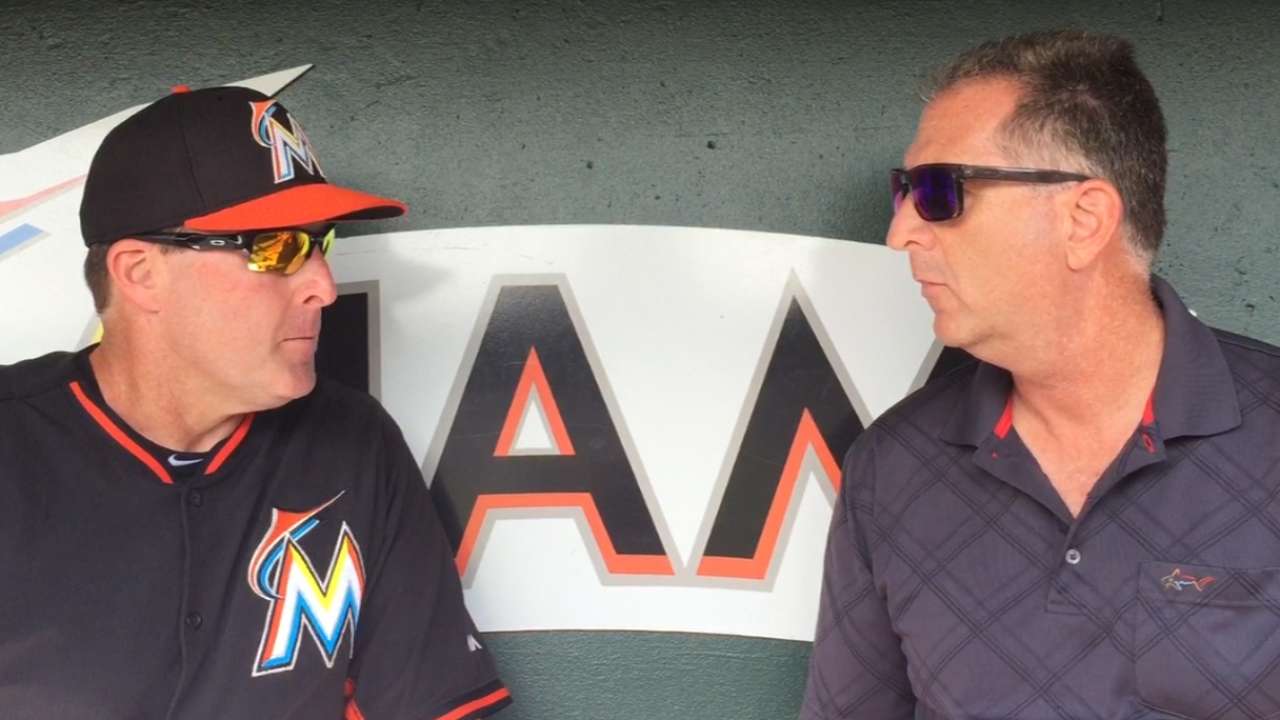 JUPITER, Fla. -- Experiencing highs and lows is nothing new for Mike Redmond. The former catcher was on the 1998 Marlins team that lost a franchise-record 108 games, and five years later he was celebrating a World Series championship in Miami.
Entering his third season as the Marlins' manager, the 43-year-old is aiming to be part of another improbable turnaround.
Redmond previewed the 2015 Marlins in a discussion with MLB.com.
MLB.com: In your first season managing, your 2013 club lost 100 games. Now, your club has playoff aspirations. Your thoughts on how far you've come?
Redmond: We're all excited about the direction that we're headed and the new guys we've brought in. It's been a work in progress. I know there is a lot of anticipation for this upcoming season. Hopefully, we'll go out and have a great year.
MLB.com: What do you think signing Giancarlo Stanton and retaining core parts has done?
Redmond: I think it sent a message, not only to our players, but to our fans and the community down in Miami. Our No. 1 goal was to sign Giancarlo. We were able to do that. I think after that there has been a tremendous amount of momentum, and we've been able to capitalize on it. Now we can't talk about it, we have to go out there and do it on the field and win ballgames.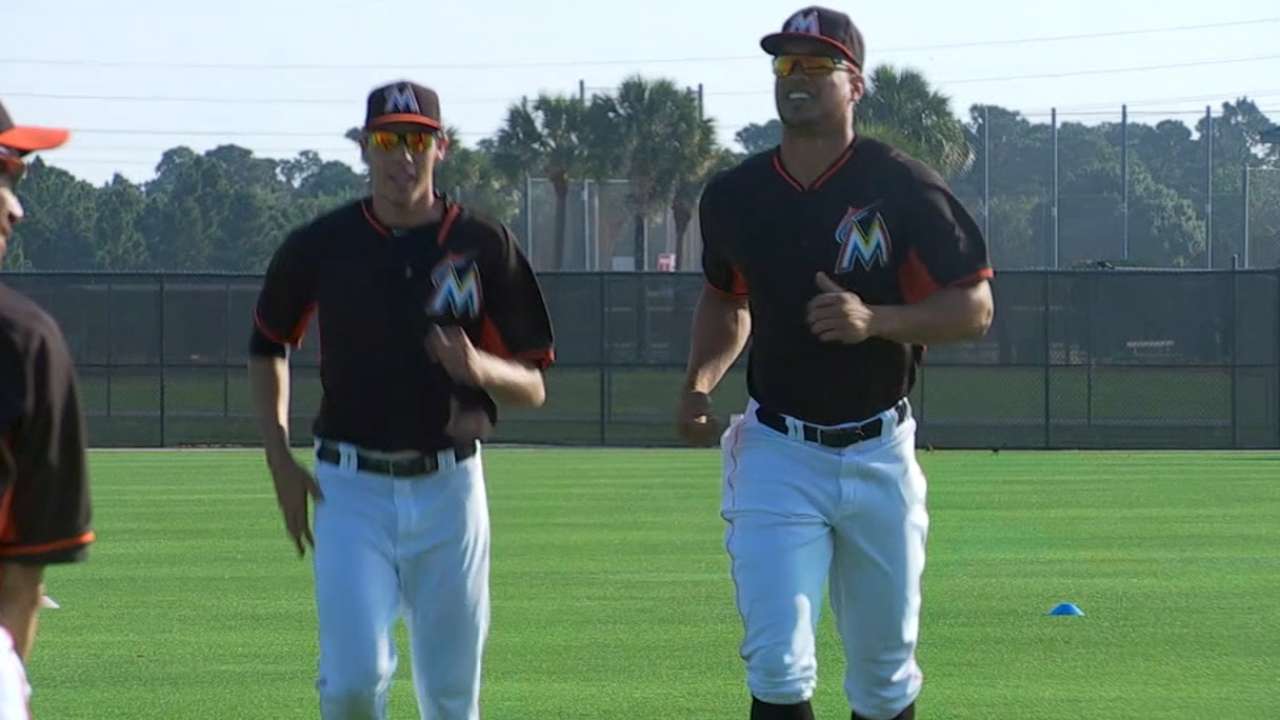 MLB.com: The new guys, Dee Gordon, Dan Haren, Mat Latos, Michael Morse, Martin Prado and Ichiro Suzuki. How have they adjusted?
Redmond: The guys we've had here really welcomed the new players, and they fit in great. We wanted a big bat to hit behind Giancarlo. I think we did that with Morse. We brought in another veteran leader with Martin Prado. Dee Gordon gives us that speed element that we haven't had. And we love the pitching, Haren and Latos.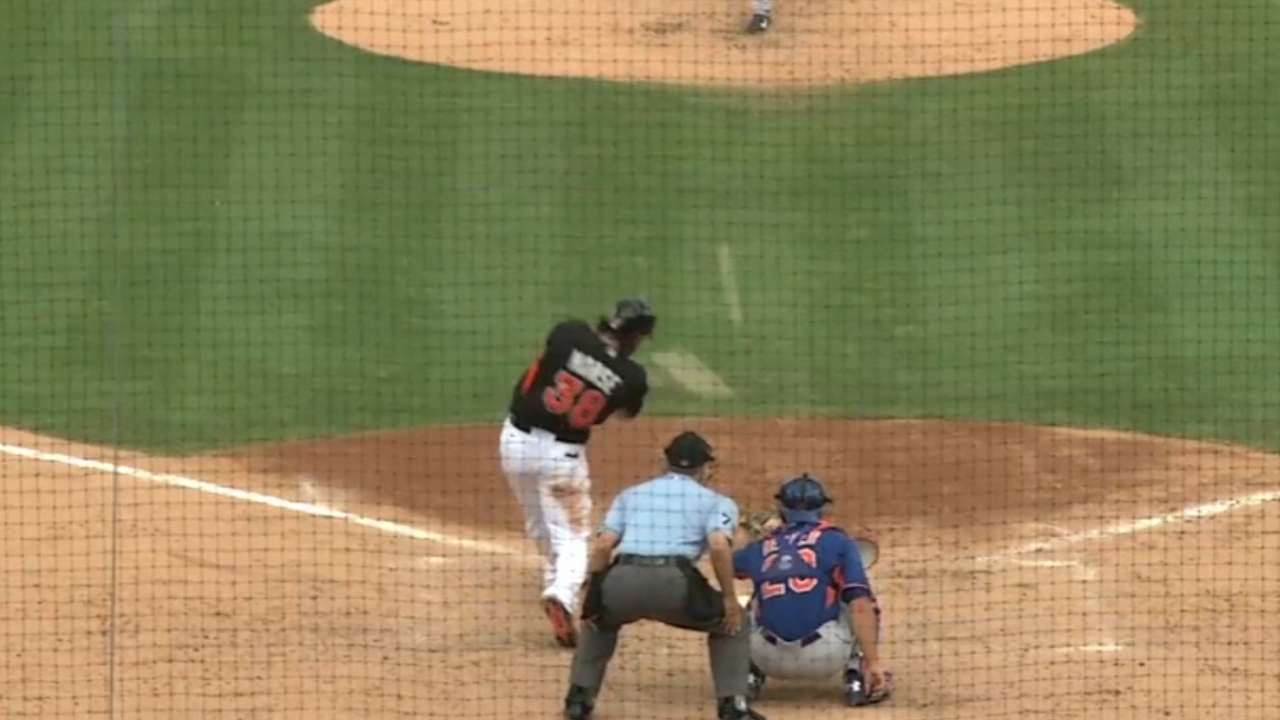 MLB.com: Stanton made great strides, and he had the terrible injury late last year. What is ahead for this guy?
Redmond: I think he's just only going to get better. Obviously, the contract is exciting, but it's fun to watch this guy go about his work every single day. He's a leader on the field and in the clubhouse. He cares a lot about, not only this ballclub, but the city of Miami. He's going to be fun to watch for a long time.
Joe Frisaro is a reporter for MLB.com. He writes a blog, called The Fish Pond. Follow him on Twitter @JoeFrisaro. This story was not subject to the approval of Major League Baseball or its clubs.