Could Montero unseat Gee in Mets' rotation?
Rookie throws six more shutout innings without walking one, remains possibility for fifth starter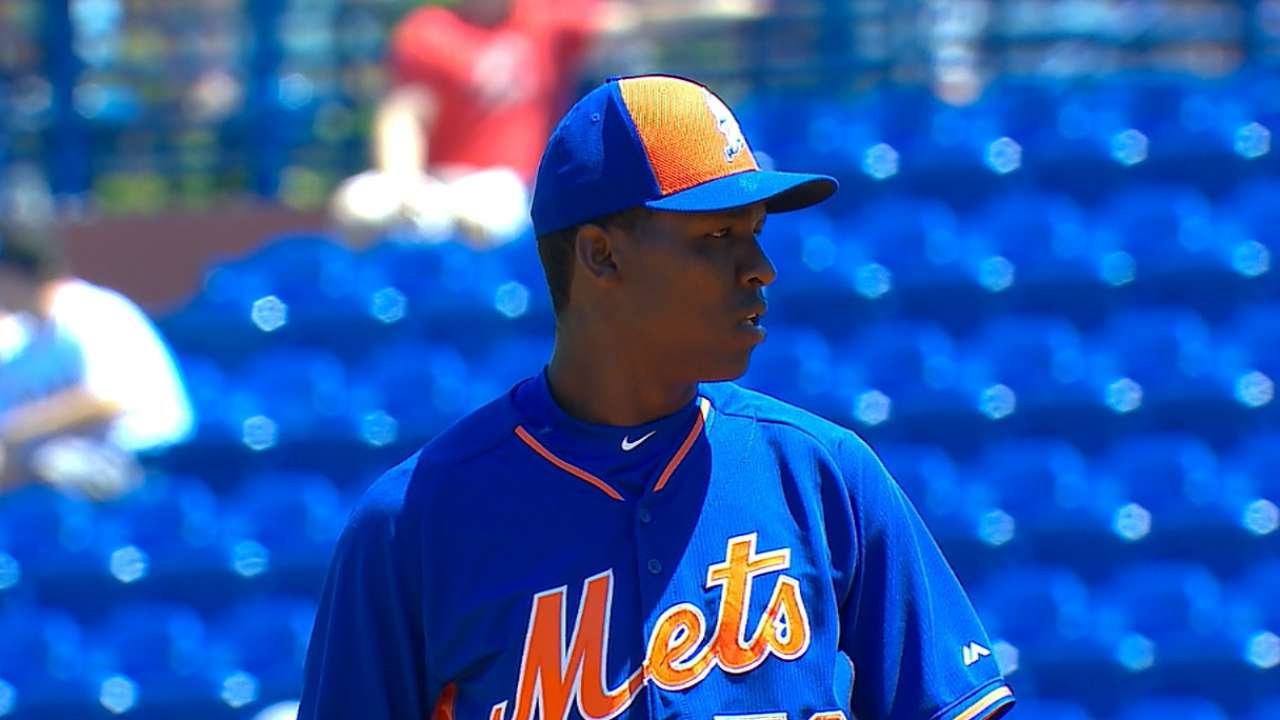 PORT ST. LUCIE, Fla. -- Because the Mets think so highly of Dillon Gee, they announced he would return to the rotation mere hours after Zack Wheeler learned about the torn ulnar collateral ligament in his right elbow earlier this month. At the time, that seemed to be the end of the discussion. Gee would be in the rotation. Rafael Montero, if he pitched well enough, would be in the bullpen.
Yet in the two weeks since, Montero has not only pitched well enough to claim a bullpen spot, but brilliantly enough to make a serious dent in Gee's job security. Though Gee remains the favorite with less than a week left in camp, Montero could still sneak into the starting five.
"There's certainly a presumption that Dillon's the guy, and I'm not sure that that's changed," general manager Sandy Alderson said. "But Montero has done everything he can to change that presumption, so we'll just have to see."
The competition could have essentially ended on Monday, a day after Gee delivered seven innings of two-run ball against the Cardinals. It didn't. Instead, Montero responded with six shutout innings, striking out six and walking none. Tacked onto the four innings of one-run, zero-walk ball Montero delivered last week against the Yankees, that performance is forcing the Mets to reevaluate their options.
"I'll tell you what I've seen the last two times from Rafael Montero, and that is what everybody's been telling me about," manager Terry Collins said. "Last year, for whatever reason, we did not see the command of his stuff that we've seen the last two times against two very good teams. I think we may have to make the best judgment we can make as we get toward the weekend of who it's going to be. I'll stand by what I said: Dillon Gee, to me, is a guy who's been over .500 on a team that hasn't been over .500, and that's got to be a huge consideration. But I'll tell you, Rafael Montero is certainly making a play for it."
In a way, as Collins indicated, the issue has less to do with on-field performance and more with fidelity. The Mets feel they owe something to Gee, their 2014 Opening Day starter who never complained after being demoted to the bullpen early this spring. They appreciate the 40 wins he has given them over the past five seasons. They feel his 2.49 Grapefruit League ERA suggests he has more to offer.
But the Mets also want to put the best possible team on the field, and they aren't sure how Montero, a rookie, will respond to bullpen work.
"That's something we'll talk about over the next two or three days," Alderson said. "But Dillon has the experience and has been successful. Montero has the upside as a young guy. He demonstrated today that when he pitches and has location and uses all of his pitches, he can be outstanding. Sometimes he gets lost in the shuffle ... but he quietly performs, and really has done so all spring."
Anthony DiComo is a reporter for MLB.com. Follow him on Twitter @AnthonyDicomo. This story was not subject to the approval of Major League Baseball or its clubs.