Showalter confident with health on O's side
Manager emphasizes importance of pitching as season approaches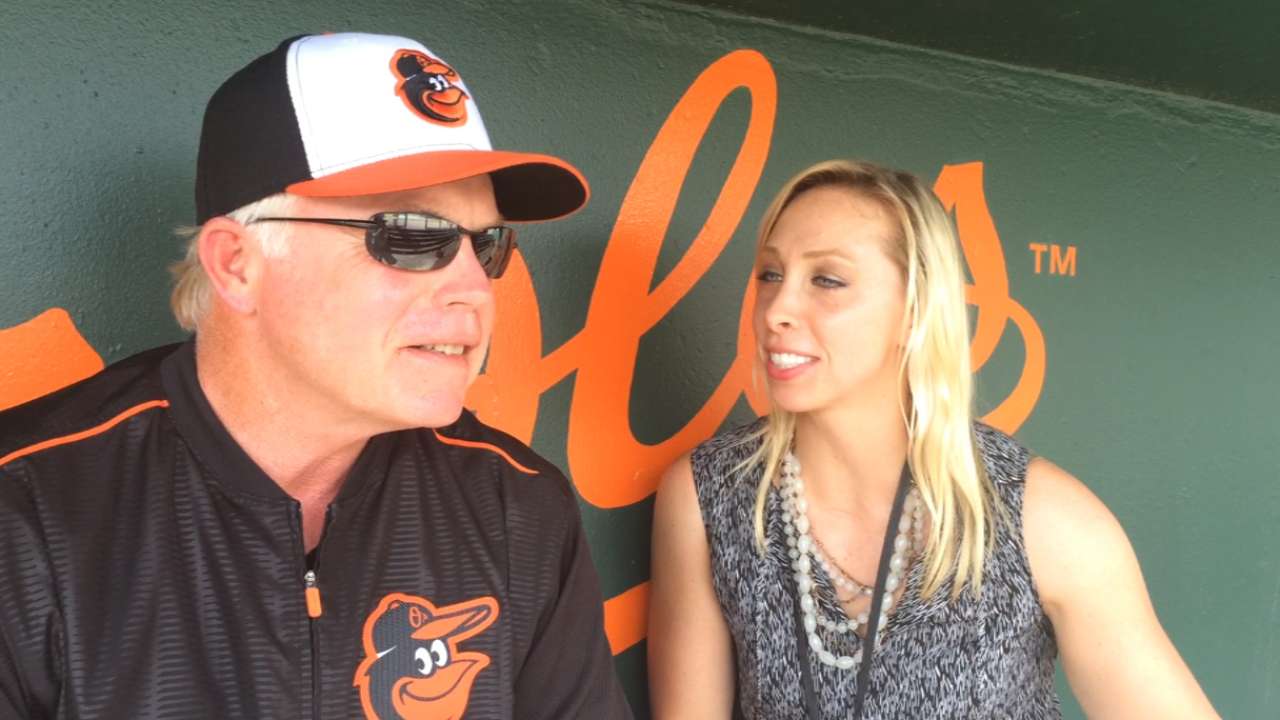 With the season rapidly approaching, the Orioles have some key decisions to make before Spring Training is over.
MLB.com's Brittany Ghiroli recently caught up with manager Buck Showalter to discuss what he's seen this spring and his thoughts on Opening Day.
MLB.com: How do you think camp has gone so far? Obviously, it's been a pretty healthy one for your club.
Showalter: A lot of that goes into the work in the offseason so you're not caught by surprise -- the minicamps, the three areas around the country our guys go to so we can keep our arms around them but still give them some space to have an offseason. So far, so good, and we've gotten a good return on it. That's the biggest thing coming out of camp -- you just want to feel like you can count on the health of your people. The good Lord didn't intend to do the things we do seven days a week for seven or eight months. I think everybody's reaching that point where we're all ready to get out of here.
MLB.com: What has to go right to repeat as American League East champs?
Showalter: We have to stay true to who we are. It's like when the agent says it's not about the money. It's about the money. It's about the pitching. The reason we've been competitive the last three years is we've pitched better. If we pitch like we did last year, we'll have some fun this summer. It's as simple as that. It's the constant that allows you to be consistent. That comes along with the defensive part of it. It's time to stay true to who we are and how we have to do it. We can spend time coveting the way someone -- whether it's the Yankees or the Red Sox or whoever -- Toronto spent a lot of money. Heck, we have money. Our ownership's been great. We know how we have to do it, and we have to stay consistent with it. It starts and just about ends with pitching and defense.
MLB.com: Is it weird now for a club that has had the underdog mindset to be picked to win the division?
Showalter: It's all in the eye of the beholder. There's a part of our society that wants to know about something before it happens. I'm OK with our curiosity being satisfied at the end of the season, end of the game. I'm OK about knowing about something when it happens, but I've got a lot of guys that are easy to trust and know what they want to get out of the season. It's going to be fun to watch. These are the best players in the world. Other teams want it, too, and they have good people, too. It makes for a real interesting thing for the fans. That's what's important here.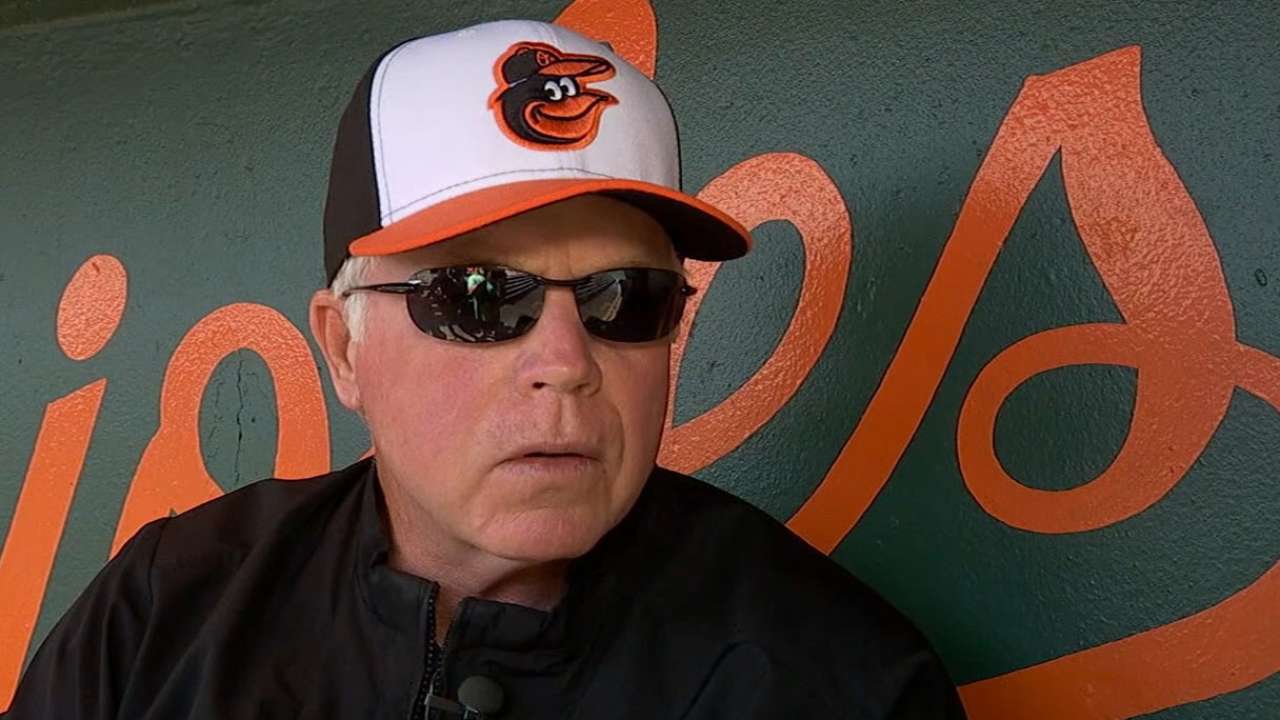 MLB.com: Who is your early pick for potential MVP?
Showalter: I always try to stay a glass-half-full guy. I just want them to be who they are and be as good as they're capable of being. I know our people are going to be as good as they're capable of being because they're not going to get in their way. They're not going to be challenged by a lot of things that challenge guys. We have a good core group and an easy club. You don't manage them; you just stay out of their way and trust them. I've been fortunate that they've allowed me to surround myself with good people.
Brittany Ghiroli is a reporter for MLB.com. Read her blog, Britt's Bird Watch, and follow her on Facebook and Twitter @britt_ghiroli. This story was not subject to the approval of Major League Baseball or its clubs.