MLB.com Columnist
Anthony Castrovince
5 keys for NL East clubs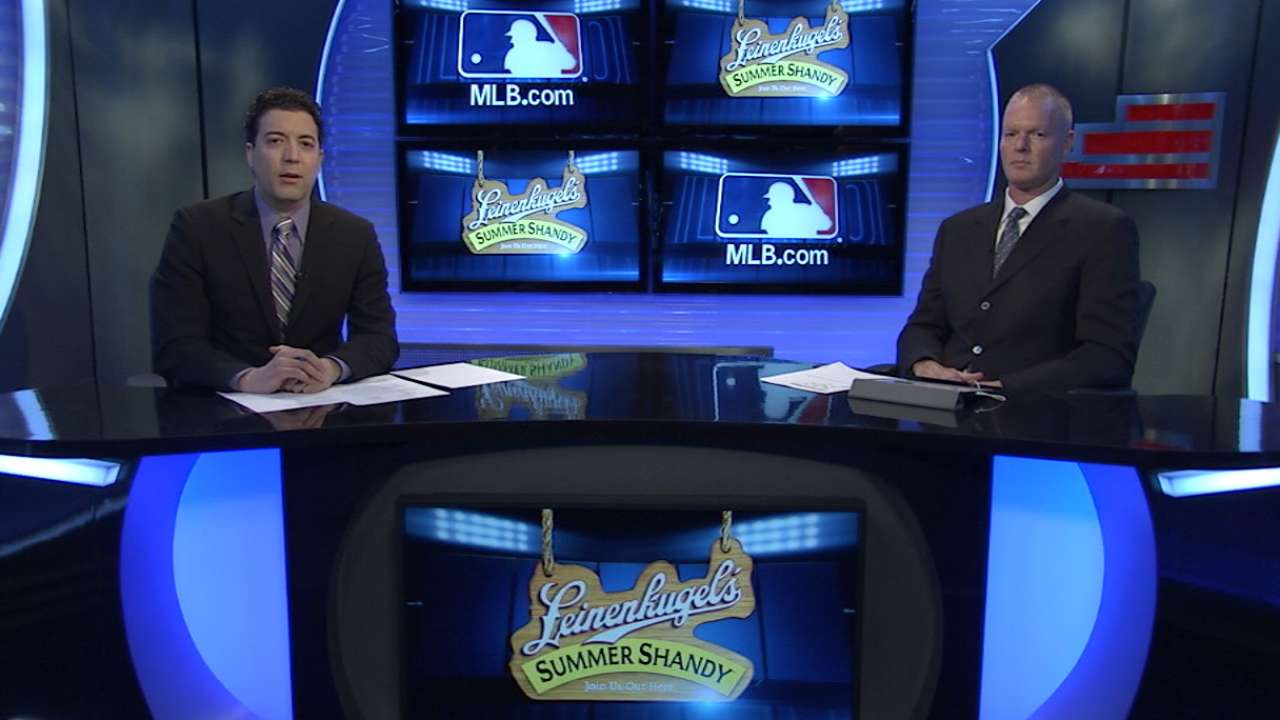 Any number of factors can conspire to decide a division. But at the dawn of a new season, these are the five factors that look like they'll loom largest in the National League East.
1. Bryce cooker
That Nationals' rotation is just silly. It's the reason Washington is many a prognosticator's World Series favorite. But there is at least a little concern about the offense, with Denard Span (core muscle surgery) and Anthony Rendon (knee sprain) both out of the Opening Day picture and Jayson Werth coming off shoulder surgery.
All of this points to some measure of pressure on Bryce Harper to be the MVP-type hitter we expect him to be. Mike Trout has raised our collective expectation level for the early-20s crowd, and asking to see that from a 22-year-old Harper is somewhat unfair, but he is nearly 1,500 plate appearances into his career and we've certainly seen a lot of flashes of his game-changing abilities.
The problem is that Harper has yet to prove he can stay healthy and play something close to the full 162 games. If he does it this year, those World Series picks might not be far off.
2. Holding on for Jose
Imagine acquiring a pitcher at the Trade Deadline who, in a 36-start sample, has posted a 2.25 ERA and 257 strikeouts in 224 1/3 innings.
It will be a different sort of transaction on the blissful summer day when the Marlins activate Jose Fernandez from the disabled list following last spring's Tommy John shutdown, but it will have the same feel to it.
Miami has the makings of a dynamic ballclub, with one of the game's great outfields (Giancarlo Stanton, Christian Yelich and Marcell Ozuna), the addition of Martin Prado, Dee Gordon and Michael Morse to the lineup and the veteran presence Mat Latos and Dan Haren bring to the rotation. So the key to the Marlins' season after a multitude of offseason makeovers is simply staying afloat, hopefully keeping the Nats within arm's length, until Fernandez is ready.
Few clubs will be able to match the amount of in-season upside that Fernandez's return presents.
3. The Mets' "corner" stones
The Matt Harvey-led rotation could become the pride of Queens, but there is a lot of run production separating the Mets, who are on a run of six straight losing seasons, from October. That production will be keyed by the corner guys, in the infield and outfield.
First baseman Lucas Duda is a big dude with a booming bat who broke out with 30 home runs last season, and the Mets would obviously love to see that again. But the bigger questions involve the veterans. Third baseman David Wright had a career-worst season in 2014 (.698 OPS). Right fielder Curtis Granderson did not exactly deliver (.714 OPS) in the first year of a four-year, $60 million contract. And while new arrival Michael Cuddyer brings a steady bat and terrific presence to the lineup and clubhouse, the 36-year-old left fielder is facing questions about how much of his .929 OPS over the past two seasons was a Coors Field concoction.
The Mets moved in the fences at Citi Field yet again and they hired a respected hitting coach in Kevin Long. That won't help the stellar starting staff, but it could boost the bats.
4. The Phillies' swap shop
We all know that the effort to contend this year is not especially earnest for a Philadelphia club that dealt Jimmy Rollins and Marlon Byrd over the winter and has made no secret that it is shopping Cole Hamels, Chase Utley, Ryan Howard and Jonathan Papelbon.
How this all pertains to the division outcome is simple: The more veteran bodies the Phillies move, the more likely they'll be viewed as an opportunity for the division's contending clubs to beef up their win totals. The only way for the Phils to fight that perception is by getting back young talent that can immediately affect the bottom line and by getting key contributions from such young and developing players as Rule 5 pickup Odubel Herrera, Freddy Galvis and, perhaps eventually, Maikel Franco.
There's no getting around the fact that trade talk will continue to dominate discussions about the Phillies.
5. A Brave undertaking
Atlanta is another club going the rebuild/remodel route, although it might make things trickier on its division foes from night to night simply because of the potential of its young starting pitchers. Losing Mike Minor until at least May hurts, but there is still a lot to like about the top-end trio of Julio Teheran, Alex Wood and trade acquisition Shelby Miller, all of whom are 24 years old.
Teheran crossed the vaunted 200-innings mark and had an adjusted ERA+ 26 points better than the league average last season. He's quickly asserting himself as an ace. The left-handed Wood appears primed for the same innings territory and could be poised for a big breakout after logging a 2.59 ERA in 24 starts last season. And though Miller took a developmental step back in St. Louis last year, we saw the year before what an asset he can be with his high velocity and big curveball.
We'd feel a lot better about the Braves if they had better lineup protection for Freddie Freeman, but the young pitchers -- a group that also includes Mike Foltynewicz, Cody Martin and perhaps Manny Banuelos later on -- can at least make them competitive.
Anthony Castrovince is a reporter for MLB.com. Read his columns and follow him on Twitter at @Castrovince. This story was not subject to the approval of Major League Baseball or its clubs.