Joba not bothered by rough Spring Training
Right-hander has allowed seven runs on 15 hits over 7 2/3 spring innings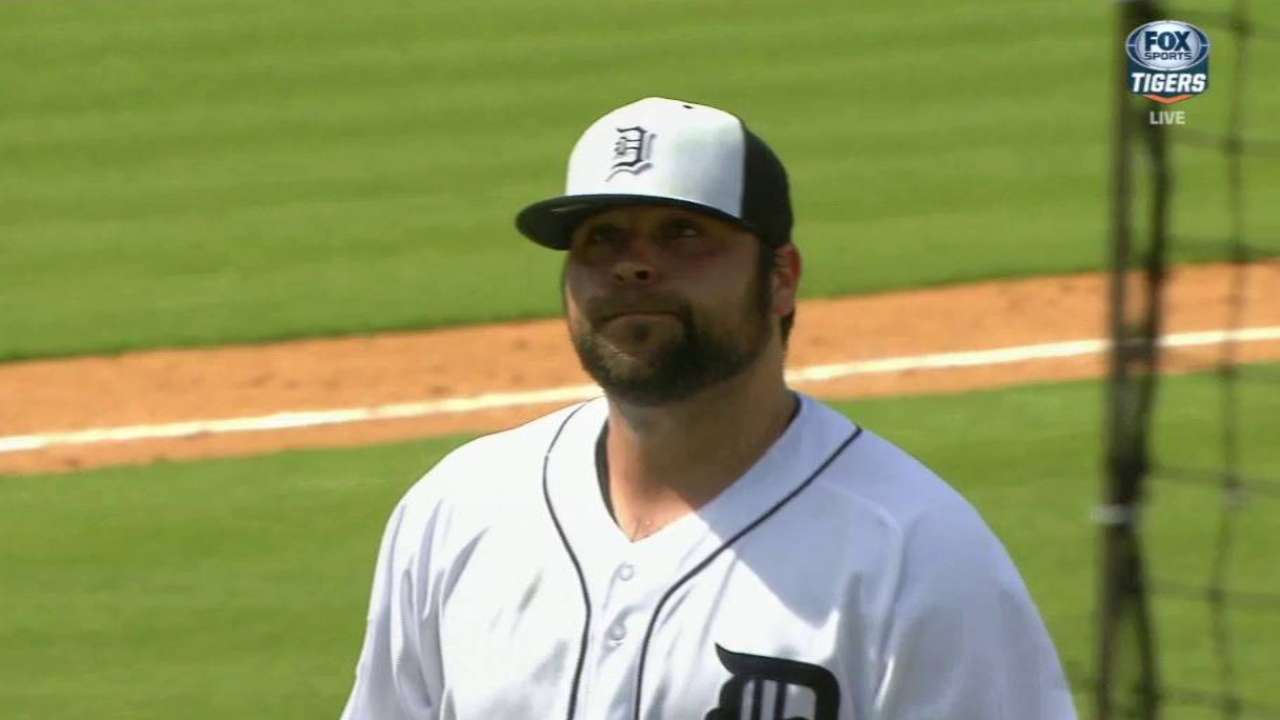 LAKELAND, Fla. -- The first thing Joba Chamberlain answered when asked a question about his Spring Training numbers was another question.
"Do these games count?" he asked.
He had a point. No matter what he does in the Grapefruit League, the numbers won't carry over into next week. And with a Major League contract, he appears to be locked into a spot in Detroit's bullpen.
"As far as I know, he is," manager Brad Ausmus said.
Still, the sense that he has been pitching from behind has lingered ever since he signed back with the Tigers a week into camp, even if the lag time wasn't that long.
"I think he's pretty well caught up physically," Ausmus said. "Just a down day."
Statistically, Chamberlain's entire spring has been down, but Monday seemed to punctuate it. Chamberlain allowed four consecutive hits to begin the eighth inning. The only extra-base hit in the quartet was a double down the right-field line from Jace Peterson, but the only out within the first four batters was a caught-stealing when Alex Avila threw out Todd Cunningham trying to swipe second after his leadoff hit.
The play at second prevented a run on Peterson's double. Alberto Callaspo drove in Peterson with a line-drive single to left, then he took third on a Phil Gosselin ground ball through the right side.
Chamberlain retired Joe Benson on a fly ball to center, but it was deep enough to score Callaspo. A wild pitch and a two-out walk to Kelly Johnson chased Chamberlain from the game.
Melvin Mercedes ended the threat from there, but the damage increased the totals on Chamberlain for the spring. The 29-year-old right-hander has allowed seven runs on 15 hits over 7 2/3 innings with five walks and two strikeouts.
"I've said all along that Spring Training, with veteran players especially, I don't put a lot of stock in it," Ausmus said. "I would go more on Joba's performance last year as an indicator than on what happens in Spring Training. I think Joba's also a guy that pitches on the adrenaline of the situation. And there's not a lot of adrenaline in Spring Training games, even moreso if you've been in the big leagues for a few years."
The saving grace for Chamberlain on Monday was that his velocity ticked up, with a fastball that averaged 91-93 mph on the Joker Marchant Stadium radar gun.
"This isn't my first rodeo. I've been in this position," Chamberlain said. "You've got to know what you have to work on. It's a neverending battle. I don't know if I've ever seen anybody with a zero-zero ERA, so there's always something to work on."
Jason Beck is a reporter for MLB.com. Read Beck's Blog and follow him on Twitter @beckjason. This story was not subject to the approval of Major League Baseball or its clubs.