den Dekker departs, but should still see plenty of Mets
Sent to Nationals in trade for Blevins, once touted prospect surprised by move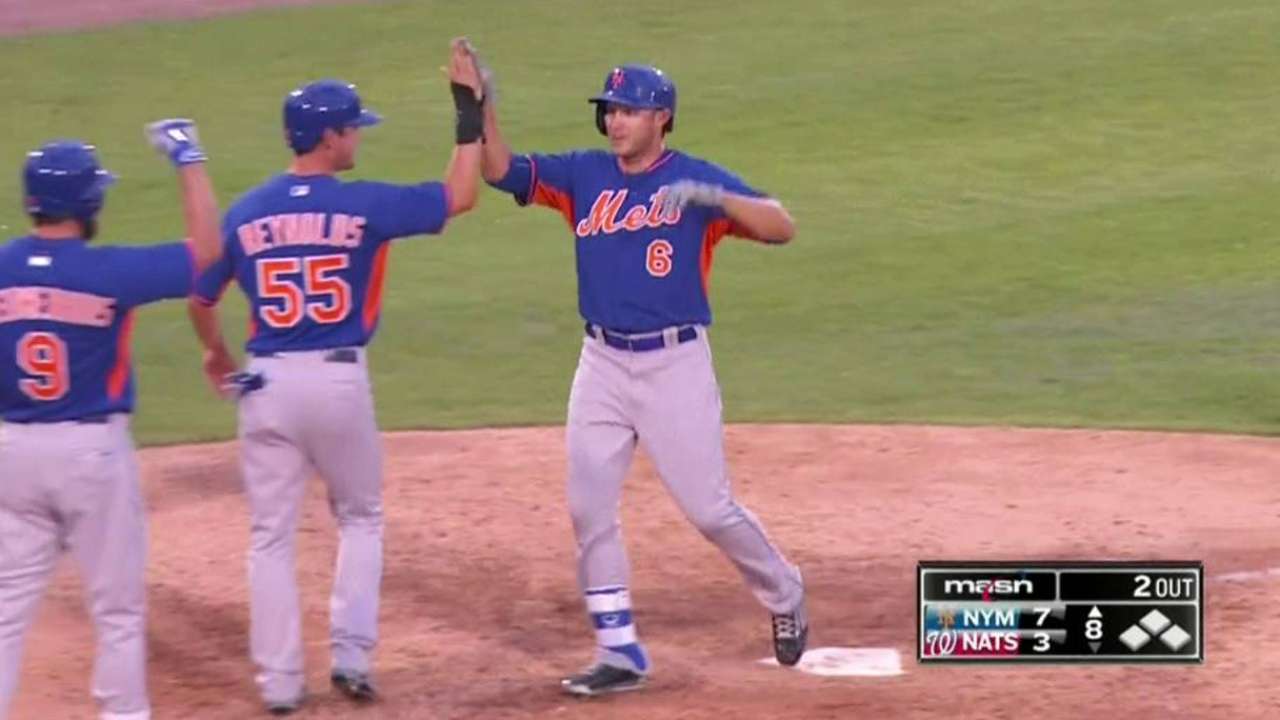 PORT ST. LUCIE, Fla. -- Matt den Dekker understood his place on a team featuring five other outfielders, all of them boasting more big league success than him. So when Mets manager Terry Collins called den Dekker into his office on Monday afternoon, the outfielder assumed he had been demoted to Minor League camp.
Instead, Collins told him he was heading to the Nationals in a trade for Jerry Blevins, with a chance to make the Opening Day roster of one of the National League's best teams.
"It's strange," den Dekker said. "It's a weird feeling. When I went in Terry's office and they told me, I honestly wasn't expecting it at all. I've been with the Mets for five years now, and they've been great. Everything was first class with the organization, so I can't thank them enough. But I'm excited for this new opportunity, and hopefully I'll get to see the Mets a lot more in the future."
"A lot" is an understatement. Den Dekker will see his old team again on Tuesday, when the Mets travel to Viera, Fla., for a Grapefruit League game against the Nats. If he makes the club, he will see the Mets next week as well for a season-opening three-game series in Washington.
"It hasn't set in yet, and it will probably take a little while to set in," den Dekker said. "I've had some great times with these guys in here, made some really good friends, but it's part of the game and part of the business. Not that I didn't think it would ever happen, but when it actually does happen, it's a weird feeling. I'm excited for it."
From Washington's perspective, den Dekker adds depth to an outfield that may be without injured starters Jayson Werth and Denard Span on Opening Day. Though the Nats have other options, den Dekker -- a strong defensive center fielder who peaked as MLB.com's No. 14 Mets prospect in 2012 -- is slugging .512 in Grapefruit League play with an .884 OPS.
"We always knew he was a great defender and we always knew he had big-time power," Collins said of den Dekker, who had little chance to make New York's roster because he had Minor League options remaining, while fellow outfielder Kirk Nieuwenhuis did not. "I can understand why the Washington Nationals would want him, especially with what's going on in their camp right now. I'm happy for him, yet we lost a player that we think certainly could have helped us this summer."
Anthony DiComo is a reporter for MLB.com. Follow him on Twitter @AnthonyDicomo. This story was not subject to the approval of Major League Baseball or its clubs.