Sandberg calls loss to Pirates 'unacceptable'
Phillies fall 18-4 to Bucs as regular season approaches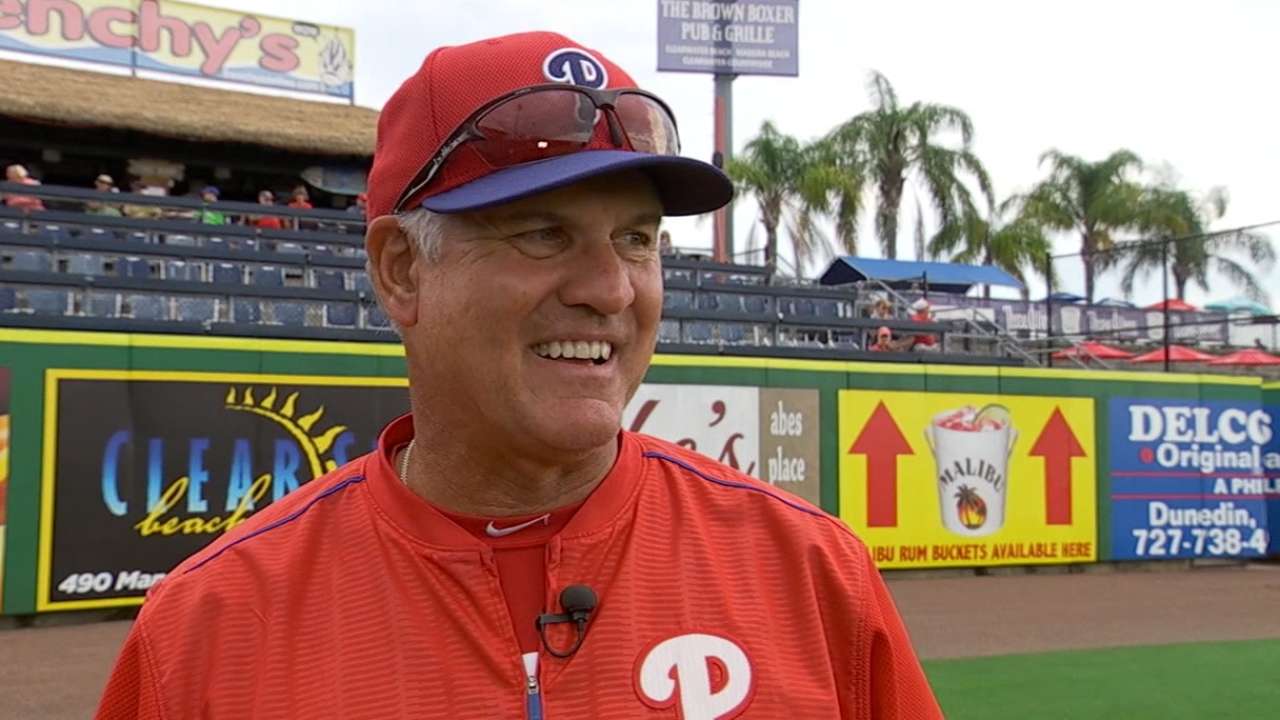 CLEARWATER, Fla. -- Ryne Sandberg's emotions are difficult to read, but he seemed relatively upset Monday afternoon at McKechnie Field.
The Phillies lost to the Pirates in ugly fashion, 18-4. But the last week is cause for greater concern. The Phillies are 0-5-1 since a victory Tuesday against the Braves. They have been outscored 50-11 in that stretch.
"Unacceptable, unacceptable game," Sandberg said. "Hitting, defense and pitching. We pitched up in the zone. Our bats didn't hit on a good day to hit. And we didn't play good defense. An unacceptable game in all phases of the game.
"This time of spring, we want to have things together. We need to get the roster together and get fine-tuned for the season, but there are still decisions to be made. It's a game to put behind us, that's for sure. It was bad in all phases."
Sandberg said he hopes to have his Opening Day lineup together for Friday's and Saturday's exhibition games against the Pirates at Citizens Bank Park.
"Maybe create some momentum for Opening Day," Sandberg said.
The Phillies do not have to finalize their 25-man roster until Sunday, and they are still looking at players, so Sandberg will be shuffling lineups until then. But that does not excuse the fact the team has played so poorly over the past week. Every other team in baseball is going through the same thing.
"It would be nice to end Spring Training on a good note with the guys together," Sandberg said.
Todd Zolecki is a reporter for MLB.com. Read his Phillies blog The Zo Zone. Follow him on Twitter. This story was not subject to the approval of Major League Baseball or its clubs.