Season beckons for first-year manager Cash
Rays skipper excited about pitching, versatility, expects to maintain communication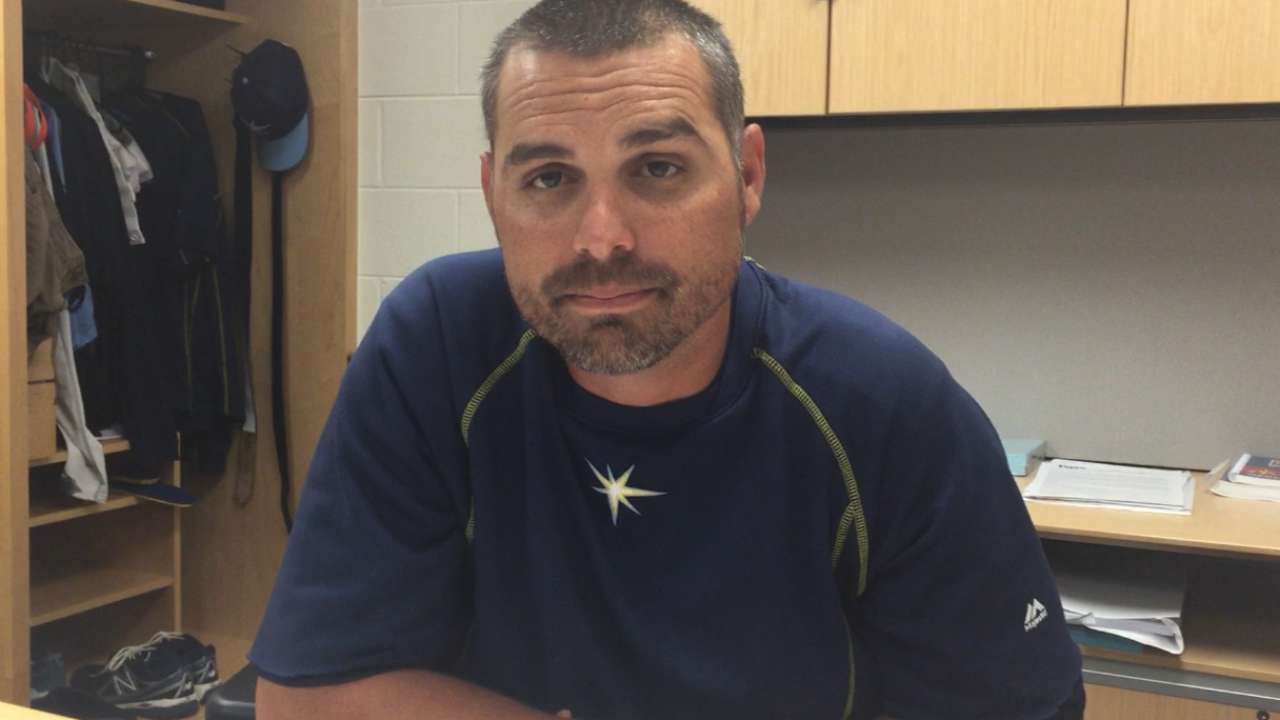 PORT CHARLOTTE, Fla. -- Kevin Cash is home. And he's in full stride as the new manager of the Rays.
In December, the Rays named the former "Devil Rays" catcher as the fifth manager in team history, succeeding Joe Maddon, who ended his nine-year tenure with the team by exercising an opt-out clause in his contract before agreeing to a five-year, $25 million deal to manage the Cubs.
When Cash was hired, Stuart Sternberg, Rays principal owner, noted that his energy and dynamic personality would fit seamlessly into the Rays' clubhouse.
"We are fortunate to have such a talented individual, and Tampa Bay native, to lead our club as we strive to achieve new heights as a team and organization," Sternberg said.
Cash, 36, attended Tampa's Gaither High School and Florida State, where he played infield when the Seminoles reached the 1999 College World Series. He becomes the youngest Major League manager since A.J. Hinch, who became the D-backs' manager at age 35 in 2009.
Cash spent eight seasons as a player in the Major Leagues, primarily as a catcher, with the Blue Jays, Devil Rays, Red Sox, Yankees and Astros. Known for his defensive skills behind the plate, Cash last played in the Major Leagues during the 2010 season. He retired after spending the '11 season with Triple-A Round Rock in the Rangers' organization. He earned two World Series rings, with the '07 Red Sox and the '09 Yankees.
Cash worked as an advance scout for the Blue Jays in 2012, and in '13 he joined the Indians' coaching staff, working as the team's bullpen coach.
Cash recently had the opportunity to sit down with MLB.com to discuss his role as the Rays' new manager and the team's upcoming season.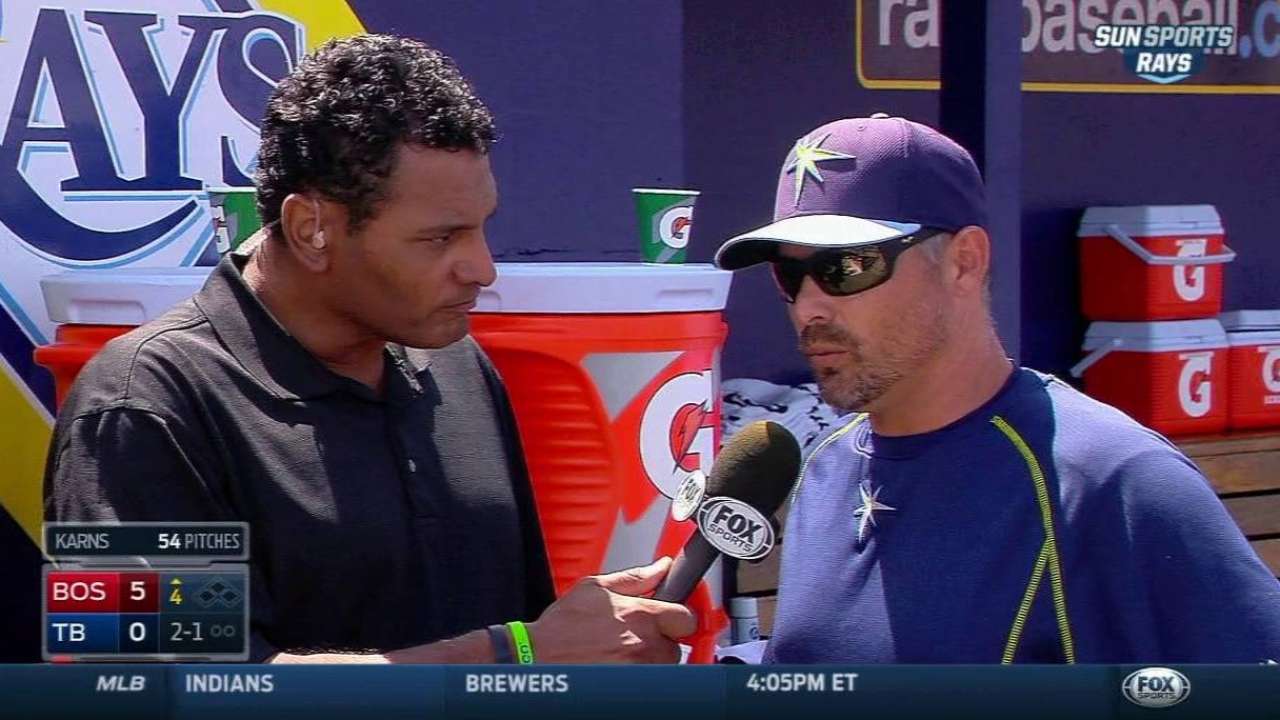 MLB.com: Looking at this year's team, you've already had some setbacks. What do you think of your squad when at full force?
Cash: Full force, we're very excited about the capabilities -- even with the setbacks. Matt [Silverman, president of baseball operations] and the front office have done a great job of bringing in guys to prepare in case we had those setbacks. We went into camp with a couple of guys competing for one spot. And we ended up having a couple of guys competing for multiple spots.
MLB.com: What do you believe the strength of this team is -- when in full force?
Cash: Our pitching -- starting and relieving. I don't like to talk about last year, I like the guys we brought in here, so the bullpen is going to help us out. Then when we get Jake [McGee] back, it's going to help us even more."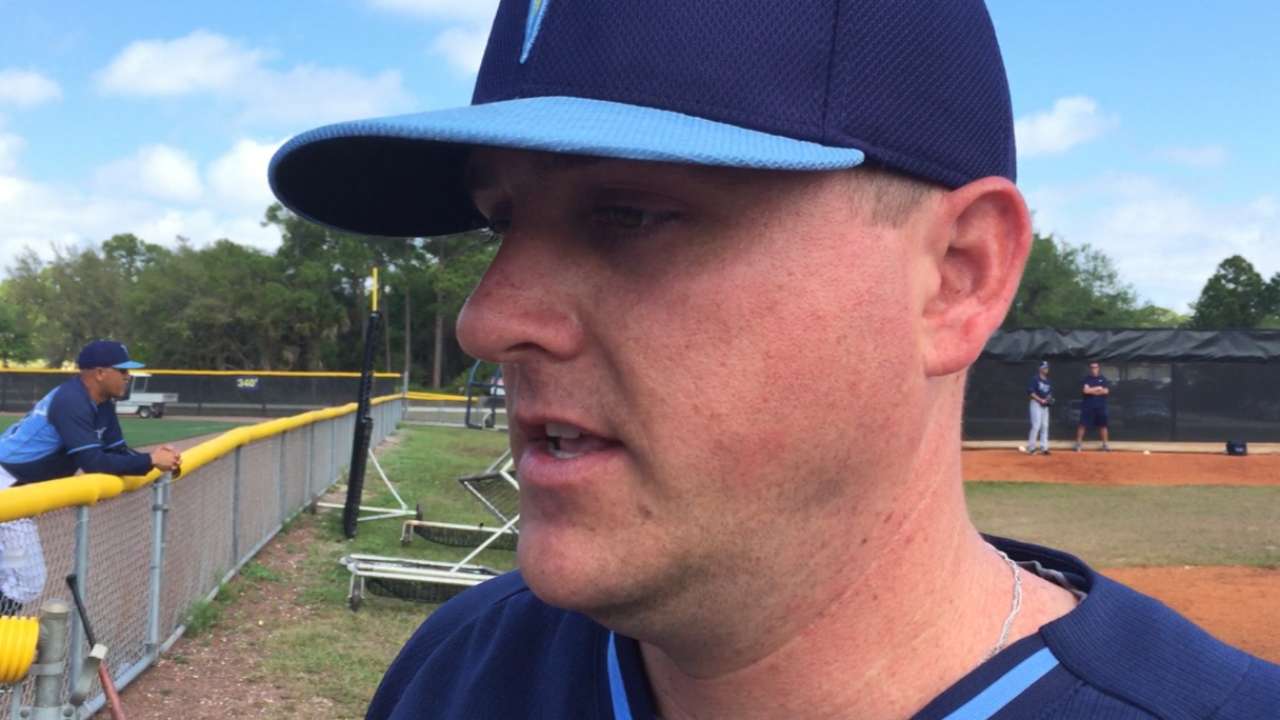 MLB.com: What makes you think this team can be competitive in American League East?
Cash: I like the pieces we have. I like the versatility. We match up well against left-handed pitching, right-handed pitching. And any time you can roll out the starters -- if they're healthy -- that we can roll out, you're going to have good nights.
MLB.com: What are your personal expectations for you as a manager this year?
Cash: Just to keep learning and communicating with the guys. I know there are going to be bumps in the road. The season is filled with ups and downs, but stay as consistent as possible with the communication, whether we're on a 10-game winning streak or a 10-game losing streak.
MLB.com: You've already dealt with major obstacles in Spring Training with all of the injuries. Were those hard to deal with or were you prepared for them already?
Cash: I'd like to say maybe I was prepared for it a little bit just watching how some of the managers I've worked for and played for have handled some things. You kind of learn on the job a little bit. And everything we've heard so far about some of our injuries have not been season-ending, or that devastating, so there's some light at the end of the tunnel there.
MLB.com: Obviously this is a new job for you. What has been the most fun aspect of your post thus far?
Cash: Just coming in here and hanging out with the guys. The first two days of games it sped up on me a little bit, just the communication and the in-game stuff. Every day I felt more comfortable -- working with [third-base coach] Charlie [Montoyo] and talking to [pitching coach Jim Hickey] and [bench coach Tom Foley] constantly. But when the game starts, that's the best time.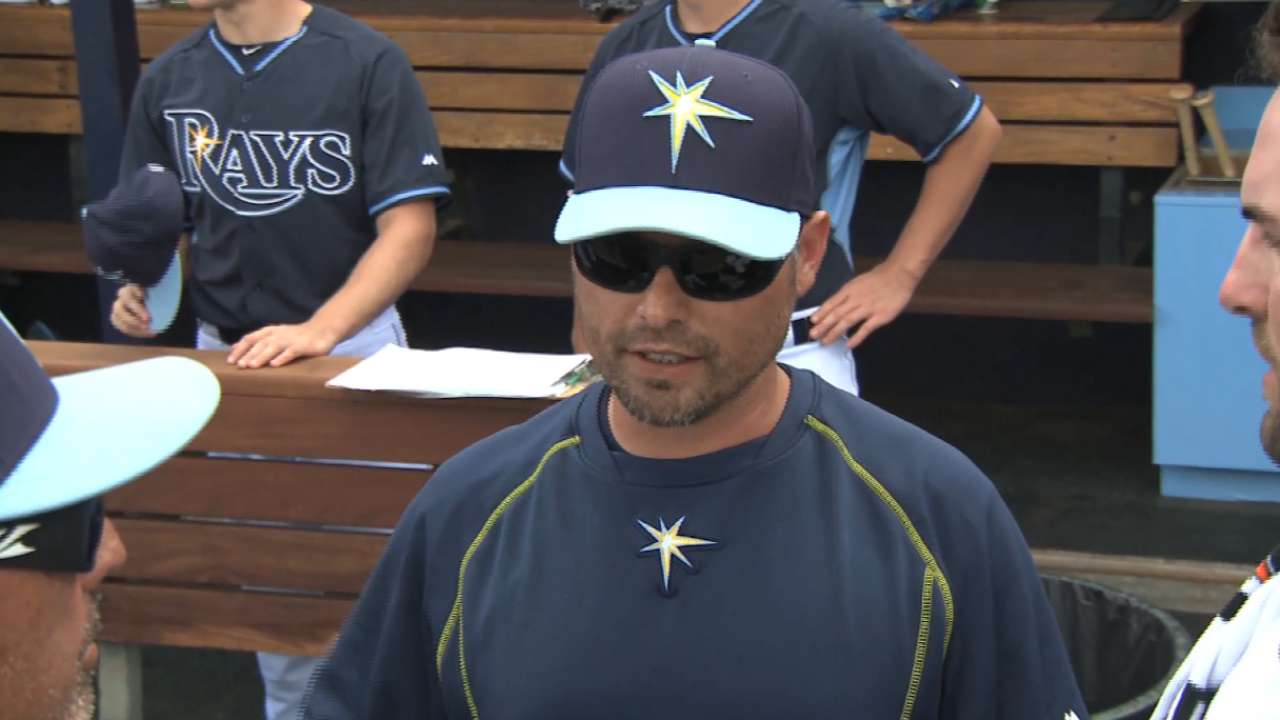 MLB.com: The buck stops with you as the manager. That's a new position for you. Are you comfortable with that?
Cash: I'm OK with that. That's fine. As a catcher, I think you come up and learn you're going to take blame a lot, because it's on you, and sometimes when it's not warranted. So I'm fine with taking blame. That's part of the role.
MLB.com: What would you say is your biggest strength as a manager heading into your first season?
Cash: I hope communication. Just keep communicating with the guys. I want all the guys to be comfortable. I think the best way we can do that as a staff is to be as honest as possible and let them go play.
MLB.com: Thus far, do you think that's worked?
Cash: I think so.
MLB.com: You've done a good job this season if ...?
KC: We win. That's it. Just win.
Bill Chastain is a reporter for MLB.com. This story was not subject to the approval of Major League Baseball or its clubs.