Wisdom serving Tulowitzki well at 30
Though compromised by injuries, star shortstop keeps sights set on full season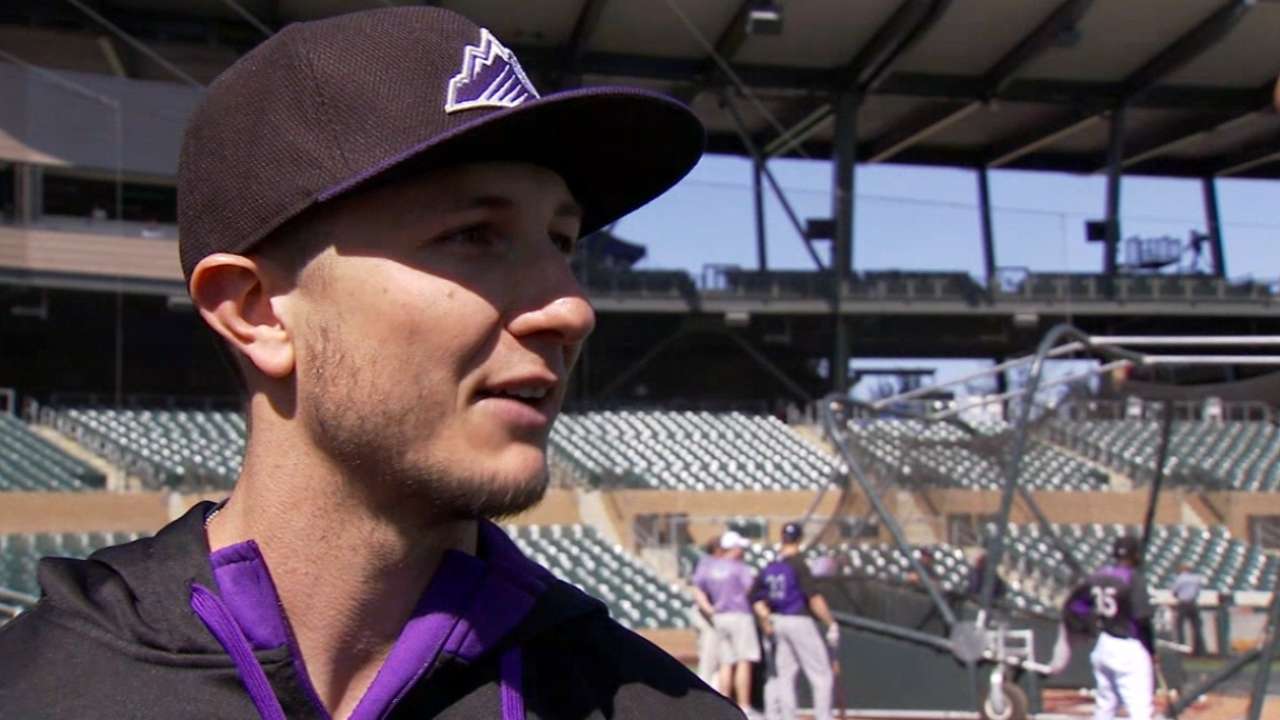 SCOTTSDALE, Ariz. -- Rockies shortstop Troy Tulowitzki will ignore the special feeling that accompanies Opening Day this year in Milwaukee.
Last season's blissful start for the four-time All-Star, which included a 1.035 on-base plus slugging percentage and golden defense, disappeared after 91 games, at which point the long-standing labrum tear in Tulowitzki's left hip became unbearable and he underwent surgery. He'll get his excitement from being around for 162 games.
"I'm going to downplay it; I don't get excited anymore," Tulowitzki said. "I love this game with everything, and put everything I have into it. But we all try to shoot for that even keel, right?"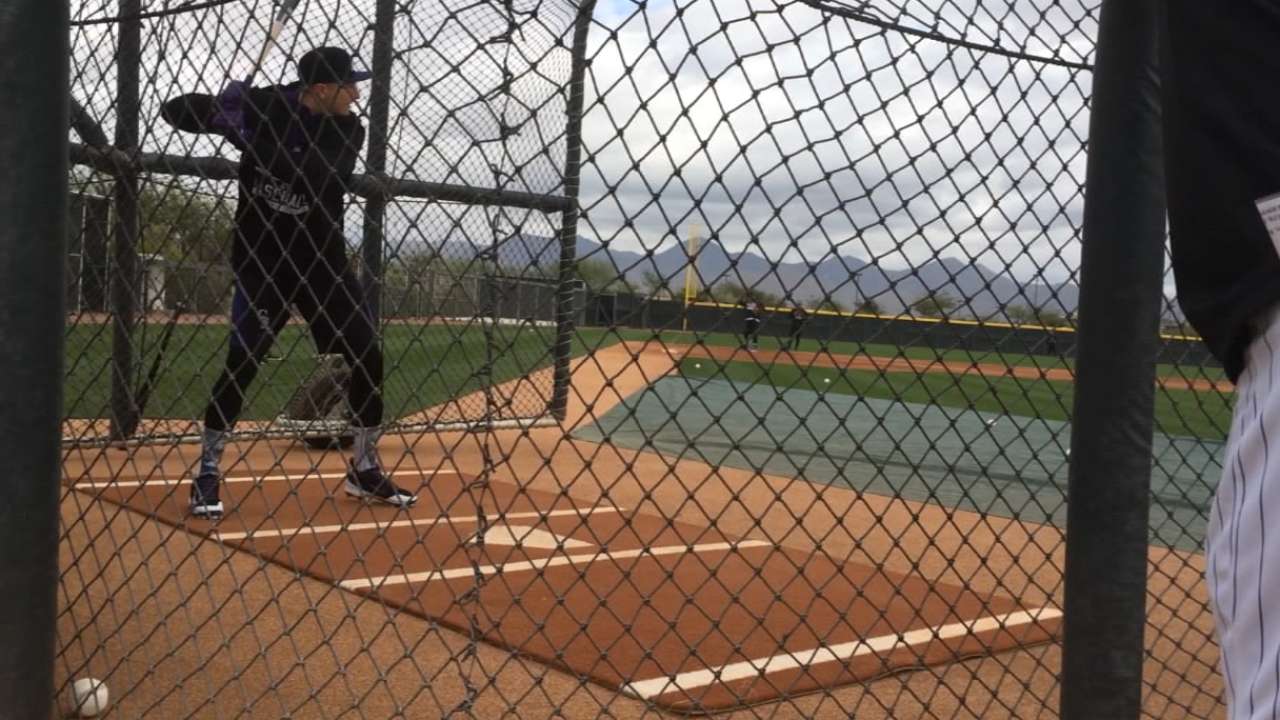 Rationing emotion like that is tough for Tulowitzki. Look at his face, the way his eye-black patches enhance expressions that tell his or the Rockies' story at the exact moment. But his career has taught him that long-range cool is a necessity.
Tulowitzki beamed as the Rockies made their surprise World Series appearance in 2007 and reached the playoffs again in '09. But in May 2008, during a series in San Francisco, Tulowitzki tore his left quadriceps, setting off a cascade of injury-related lows that has defined his career every bit as much as the highs.
The labrum tear has existed since that time, and the theory is that it's the underlying cause of Tulowitzki's frequent leg injuries since. Last year's hip surgery was designed to eliminate any future leg issues.
That's the hope, at least.
Last year, though, Tulowitzki had a rigorous pregame and postgame strength, flexibility and massage-therapy routine for his legs. The result was a season that saw him hit .340 with 21 home runs and 52 RBIs before his hip gave way on July 19.
Turns out there is only so much that sheer will can accomplish.
"It's the best way or only way to look at it and stay sane, especially for myself," Tulowitzki said. "People can say what they want: 'He always has something going on.' But I don't think they ever see the guy behind the scenes, how much he does and how much he cares."
It's too bad the hip faltered in a year when Tulowitzki worked hard without being too tough on himself.
"We've had many, many of those conversations," manager Walt Weiss said. "It's tough to change your stripes. He's one of those guys, 0-for-4, you can hear him hitting in the cage from my office at 12:30 at night. That doesn't happen as much anymore."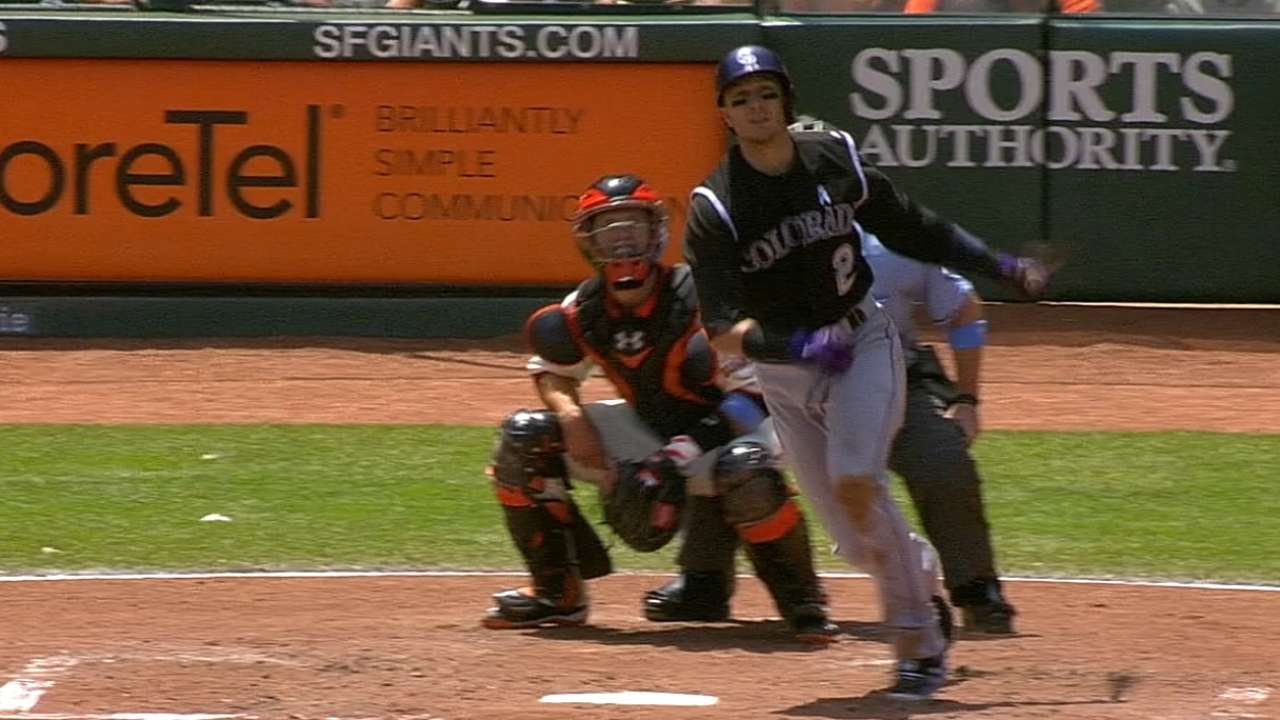 The Rockies haven't finished above .500 since 2010. At times, the club's struggles have led to frustration for Tulowitzki, who has six years and $118 million left on his contract. The cooler-headed Tulowitzki is pragmatic, saying he won't fight the Rockies if a trade becomes necessary -- and it could with him, outfielder Carlos Gonzalez or first baseman Justin Morneau if the team is languishing after the All-Star break.
"The last four to five years have been tough on me mentally, physically," Tulowitzki said. "The years we've gone to the playoffs, I've enjoyed those that much more and had that special connection to my teammates. I've said since Day 1, it would be that much more special to win here. But, bottom line, where I'm at in my career, winning is the most important thing."
Tulowitzki may be thinking practically, but he still acts from the heart.
Last July, while awaiting a decision on whether he'd have surgery, Tulowitzki visited Yankee Stadium to watch his boyhood idol, Derek Jeter, play a Sunday game during Jeter's farewell season. That it happened while the Rockies were playing raised eyebrows among fans, and even some teammates.
"Until you really see it, you don't understand," Tulowitzki said. "It's different when that guy runs out on the field. You feel it.
"The other thing is this game goes quick. I remember seeing him when I was a kid. Then I saw him in his last year. Now he's not here. I understand I'm just 30, but at any point in time, this game could be taken away from you or you can get to the point where you've had enough. I try to enjoy every single day."
Tulowitzki may not let himself feel the magic of Opening Day. But make no mistake -- he has enough love for every day his body will let him play.
Thomas Harding is a reporter for MLB.com. Read his blog, Hardball in the Rockies, follow him on Twitter @harding_at_mlb, and like his Facebook page, Thomas Harding and Friends at www.Rockies.com. This story was not subject to the approval of Major League Baseball or its clubs.