Prospect Eflin's start part of Phils' focus on future
Righty allows two homers in outing vs. Bucs, hopes to learn from it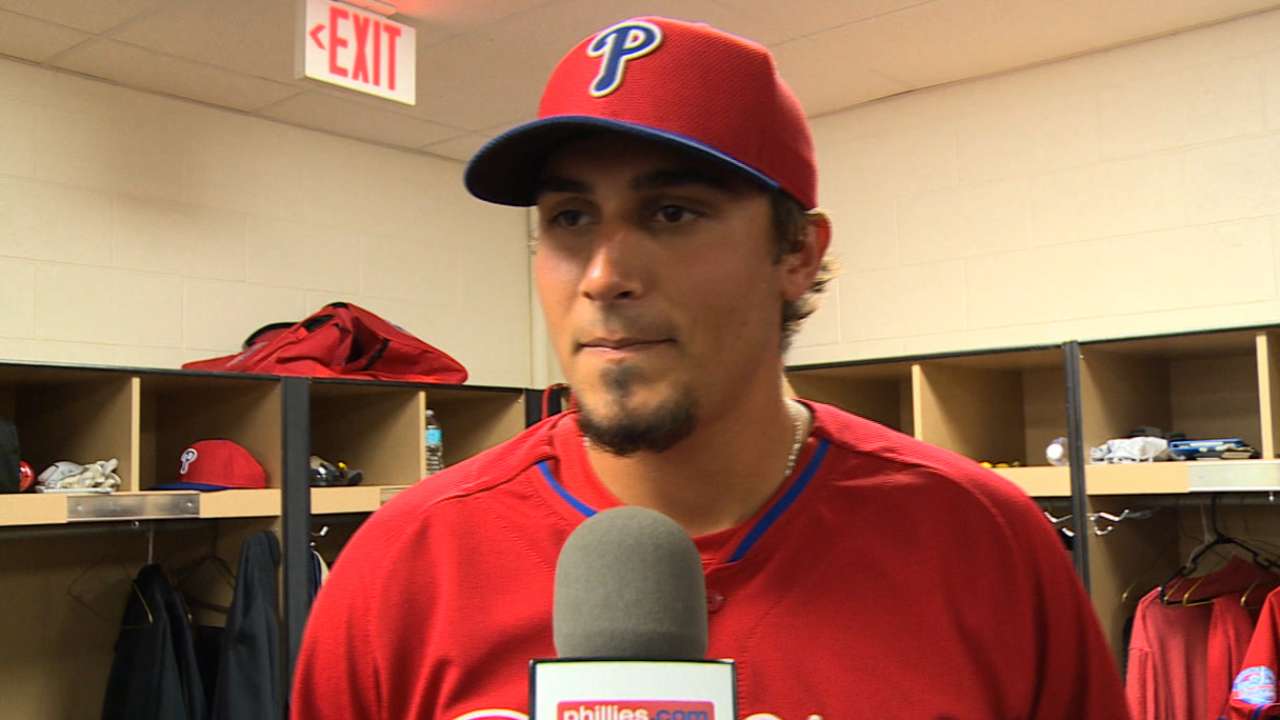 BRADENTON, Fla. -- The Phillies have highlighted three of their better pitching prospects in the past week with Aaron Nola, Severino Gonzalez and Zach Eflin each getting a start.
Eflin started Monday's 18-4 loss to the Pirates at McKechnie Field, allowing three hits, four runs (one earned), one walk and two home runs with two strikeouts in three innings. The Phillies acquired Eflin in December in the Jimmy Rollins trade.
MLBPipeline.com considers Eflin the No. 5 prospect in the organization.
"I had the jitters a little bit," Eflin said. "It was such a surreal moment."
Eflin threw a 1-1 sinker to Pirates third baseman Josh Harrison, who hit a solo home run to right field to lead off the first inning. Elfin retired seven of the next nine batters he faced, until Gregory Polanco singled and Starling Marte homered with two outs in the third.
"I had so much pumping through me," Elfin said. "My main focus was trying to keep the ball down, but you can't pitch good every day. You've just got to learn from it."
It is highly unusual for the Phillies to have three pitching prospects make spot starts this late in Spring Training. Typically these things happen the first week of March with the pitcher sent to Minor League camp soon thereafter.
Not this year.
"This year is more about our future than our present," Phillies general manager Ruben Amaro Jr. said. "This is about finding out, frankly, and this sounds strange, but I'm more interested in the development of the guys in Triple-A and Double-A and A ball than I am necessarily the guys on the [Major League] field."
Phillies third baseman Cody Asche returned to the field for the first time since Thursday, when he has scratched from the lineup because of back tightness. He said his back responded well, although he made two errors in the field.
"My glove was a little sore today," Asche said. "I'll make sure I ice that up."
Todd Zolecki is a reporter for MLB.com. Read his Phillies blog The Zo Zone. Follow him on Twitter. This story was not subject to the approval of Major League Baseball or its clubs.