Cabrera OK after taking tumble at first base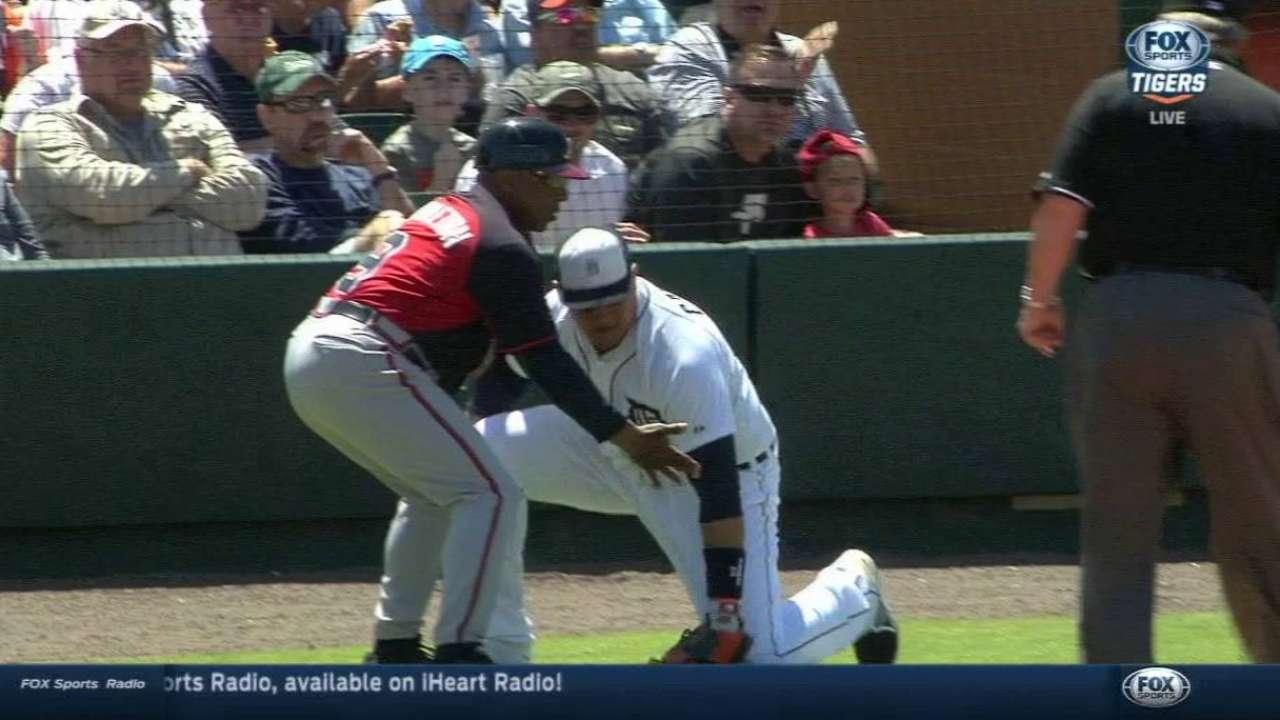 LAKELAND, Fla. -- The day Miguel Cabrera returned to first base last week, he put a scare into Tigers fans -- and likely some club officials -- when he made a diving stop on a ground-ball single. His play Monday was a little scarier when he took a tumble over Braves hitter Kelly Johnson trying to make a tag at first base.
Cabrera, who has worked his way back from offseason surgery to remove a bone spur from his right ankle and repair a stress fracture in his right foot, fielded a ground ball from Johnson with a runner on first in the second inning of Monday's 4-2 loss at Joker Marchant Stadium. Cabrera had no chance at the lead runner, so he waited to tag Johnson on his way down the line.
Johnson tried to duck and avoid the tag. Cabrera lunged and went toppling over Johnson, landing on the ground as the crowd let out an audible gasp. Cabrera got up immediately, but the nervousness was clear.
They weren't the only ones.
"You get concerned anytime you see something like that with Miggy or Victor [Martinez] this time of year," manager Brad Ausmus said. "You pause for a moment. …
"I mean, clearly Kelly's not trying to hurt Miggy in any way. He's trying to be safe at first. It's a little surprising that, as long as Kelly's been around, that he would do that in a Spring Training game, but I don't know what his situation is over with Atlanta. He may be trying to make the team, so it's certainly an understandable baseball play."
Cabrera went 1-for-3 with an RBI. He barely missed a second-inning home run on a ball he drove to the depths of left-center field, settling for a ground-rule double off Braves starter Mike Foltynewicz.
Jason Beck is a reporter for MLB.com. Read Beck's Blog and follow him on Twitter @beckjason. This story was not subject to the approval of Major League Baseball or its clubs.