Zobrist's work ethic doesn't go unnoticed
Veteran among rare breed of players who can man almost any position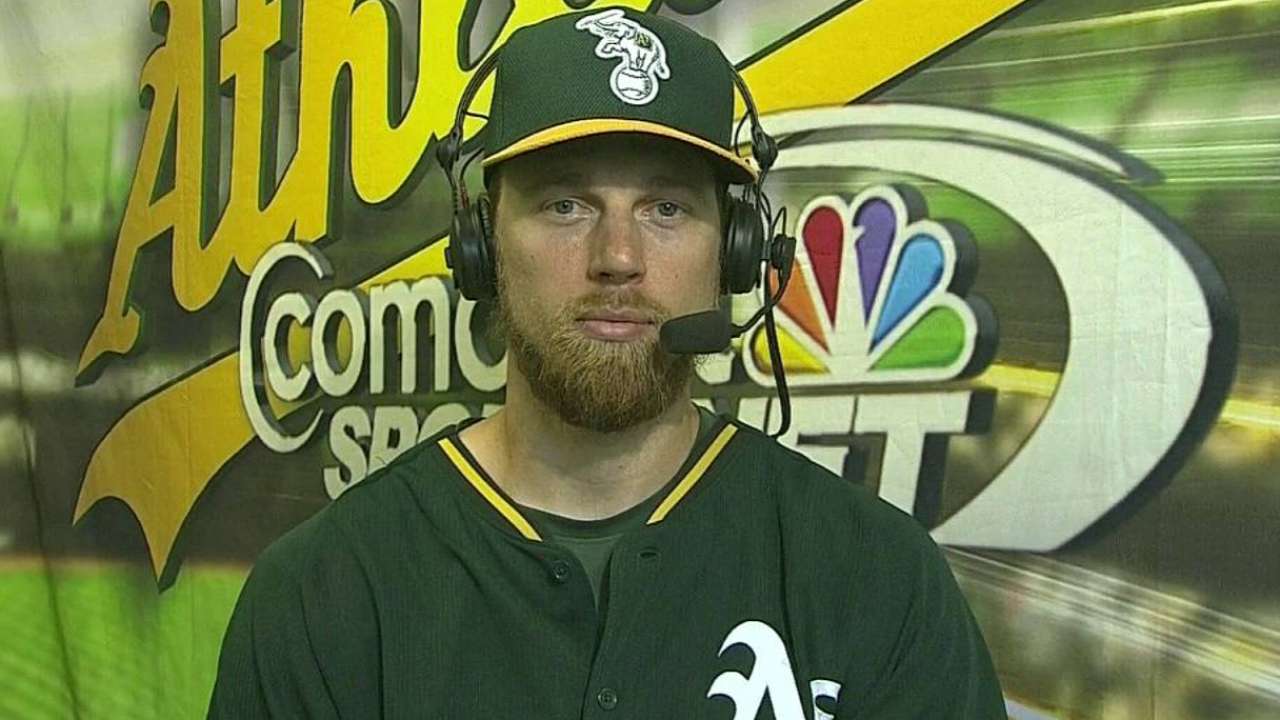 The A's not only added depth at seven positions when acquiring Ben Zobrist, the ultimate prize for a club that oozes versatility, but a No. 3 hitter to replace Josh Donaldson, leaving them abuzz over the switch-hitting Zobrist's potential impact on both sides of the ball.
"You know you're not going to lose anything, and you'll maybe even gain something, when you plug him in at each position," said infield coach Mike Gallego. "And he can hit? It's almost unfair."
And extremely rare.
Zobrist is already the first Major League player, since records were available, to play in 200 career games at second base, shortstop and right field. He's fundamentally sound in left and center, too -- and at the infield corners.
"You can't forget about his bat," said outfielder Sam Fuld. "He's certainly a tough at-bat. That's something that you want in the middle of the lineup, obviously. It's a grind to get him out. He's got power, he's got that ability to draw walks."
Zobrist will likely be in right field on Opening Day, before shifting to second base upon Josh Reddick's return. But be prepared to see him anywhere.
"He's a manager's best friend," said Scott Kazmir.
Indeed. He's the do-it-all prom king whose talent is exceeded only by his character.
The altruistic Zobrist did everything but catch and pitch in St. Petersburg, where he and his wife, Christian singer Julianna Zobrist, were adored. And when he was traded to the A's, he took out a full-page ad in the Tampa Bay Times to thank the fans and the organization.
"What a great human being he is," said catcher Stephen Vogt. "He's a leader, he's a great person, human being, individual, you name it, and that doesn't even get into the baseball side."
Fueled by a strong work ethic from a young age -- parents Tom and Cindi "expected me to give 100 percent no matter what I was doing," Zobrist says -- the nine-year veteran has never strayed from these ways.
He thrives on this diligence, even as he nears his 34th birthday.
"The first thing that comes to mind when I think of him is how professional he is," said Fuld. "It's amazing how consistent he is, how his work ethic and approach is so solid. It's almost Mariano Rivera-like. You can't put an age on him. He's just so steady."
Zobrist went undrafted out of high school in small-town Illinois and planned to attend Calvary Bible College in Kansas City, until he was convinced to pay $50 for a tryout that led to a full scholarship for Olivet Nazarene University and, eventually, a professional contract with the Astros.
The Rays acquired him from Houston ahead of the 2006 non-waiver Trade Deadline, and by 2009, he was an All-Star, a feat he accomplished again in 2014.
"You could tell he was going to be a special baseball player," said Vogt, who joined Tampa Bay's system in 2007. "You just didn't know to what extent, and then he showed that in '09. I don't think anyone was overly surprised by it."
Since 2009, Zobrist has played in 919 games -- ninth most in the Majors -- and is tied with Erick Aybar for the lead in hits (910) among switch-hitters. His power has dropped some in recent years, though so have his strikeout totals, and his plate discipline remains fantastic.
Then there's this: Zobrist, batting .326 this spring, said recently, "My swing has felt better than it's probably felt in any Spring Training."
"Maybe my approach is a little more sound; I don't know," he said, "but I hope that means good things for the season, especially the start of the season, because I generally start slow.
"I've just felt an explosion to it and a direct path with the bat that usually early in the year is hard to find."
Typically, Zobrist said, he doesn't discover that until June or July. Never in February.
In turn, Zobrist hasn't needed to spend as many hours in the batting cages, helping his body from wearing down too early. That doesn't mean his work days are any shorter.
"All this guy does is work," said Gallego. "It's so impressive. If I was a young player, I would definitely sit back and pay attention to how he goes about his business every day, because it doesn't change."
"Every day, he's working somewhere different during batting practice, doing extra work at every position," said Vogt. "You can't really argue with his success when you've seen the work he puts in."
There have been times when manager Bob Melvin has had three at-bats scheduled for him, and Zobrist will ask for a fourth, or another inning in the field.
"He's as consummate a pro as I've run across in the game," said Melvin.
The multi-position marvel consistently ranks high in WAR, which measures all-around ability, though Zobrist's overall value is largely unquantifiable.
"He's kind of a classic example of a guy who, maybe you see him one game and you don't really appreciate what he can do," said Fuld. "But over the course of a week or a month, you realize just how special of a player he is."
Jane Lee is a reporter for MLB.com. Read her blog, Major Lee-ague, and follow her on Twitter @JaneMLB. This story was not subject to the approval of Major League Baseball or its clubs.