MLB.com Columnist
Lyle Spencer
Soler's talent, temperament evoke memories of Vlad
Cubs phenom reminds Maddon of Guerrero 'with plate discipline'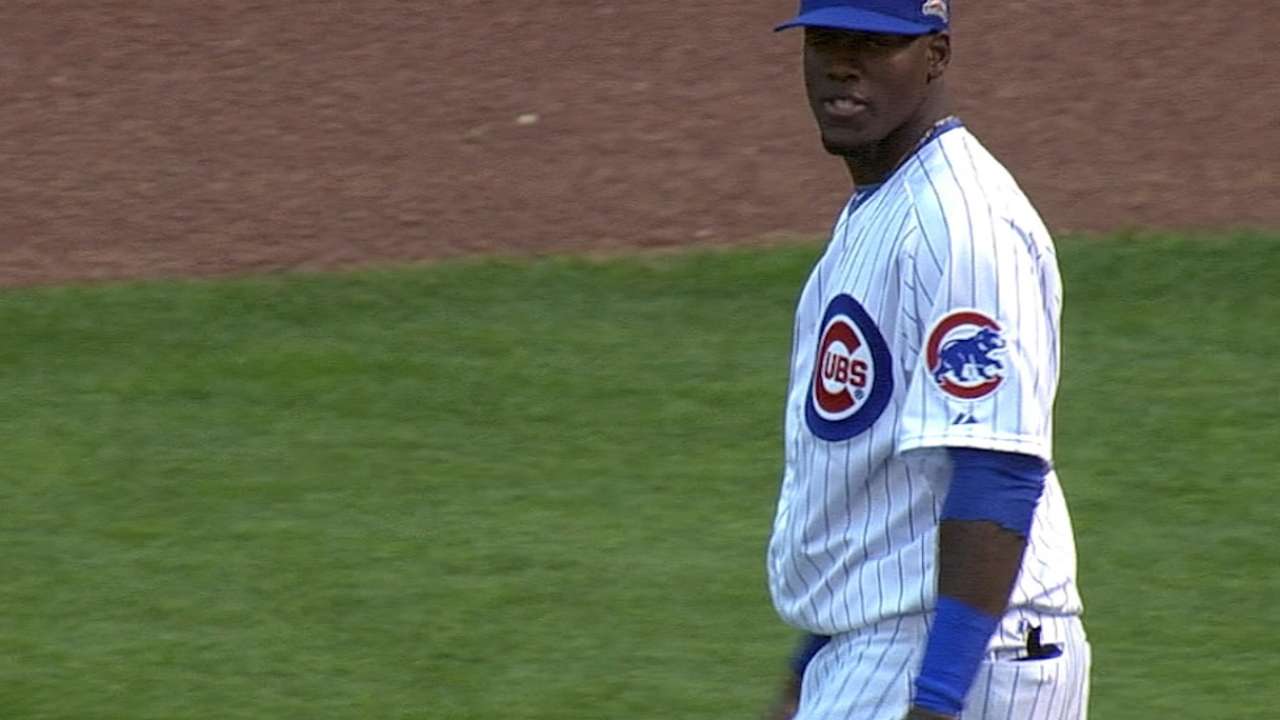 MESA, Ariz. -- In any normal camp in any normal spring, Jorge Soler would be the focus of the kind of hype associated with brilliant young talents performing phenomenal athletic acts.
It is a testament to the power of the Kris Bryant Experience that Soler has managed to fly under the Cubs' radar in spite of soaring skills calling to manager Joe Maddon's mind the great Vladimir Guerrero.
"That is a great compliment," Soler said Monday morning in Spanish as Cactus League play winds down. "I do not know him, just from television. But I know he was a great player."
Soler was pleased to learn from someone close to Guerrero that Vlad is a good-hearted, shy guy rarely seen without a smile. This description seems to fit Jorge himself like a tailored suit.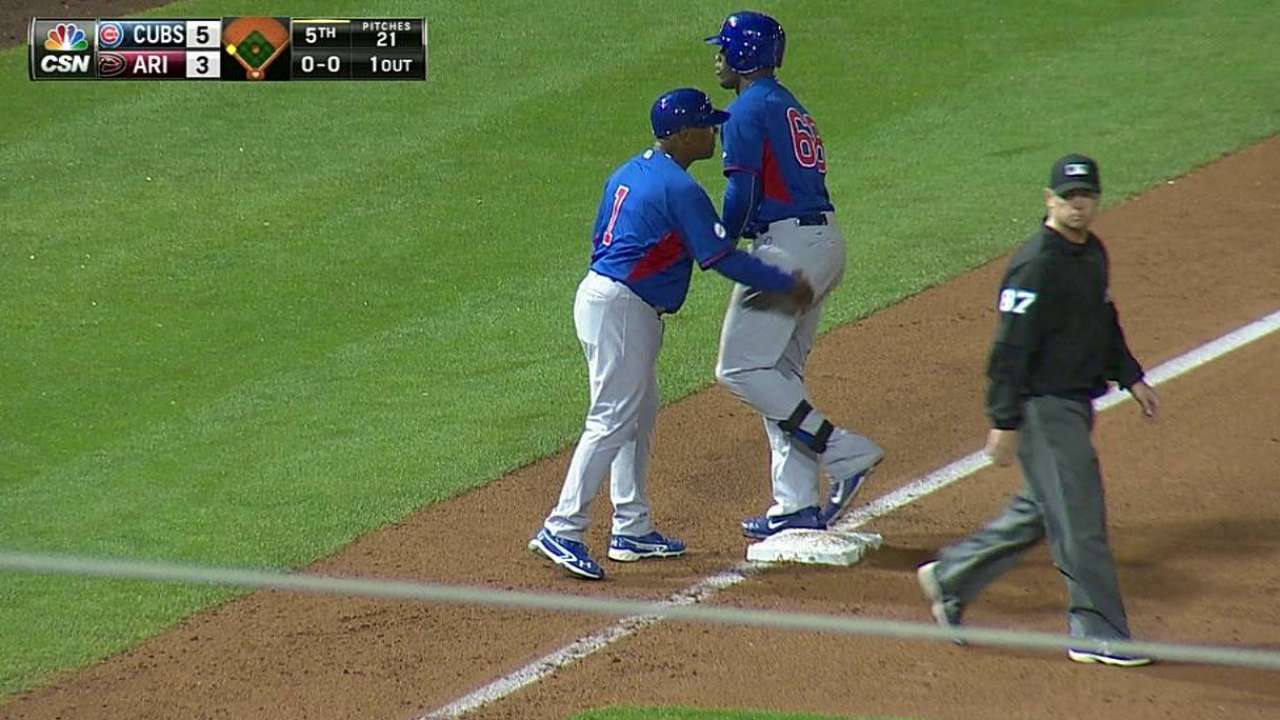 At 6-foot-5 and 245 pounds, Soler has Guerrero's physical dimensions to go with a similar skill set. Signed in 2012 for nine years and $30 million after defecting from his native Cuba, he turned 23 last month. Soler will be 28 in 2020, the final year of his contract.
The great Bryant debate having been temporarily resolved with his move Monday to the Minor League camp, there are no doubts about Soler. He'll be in the lineup when the Cubs launch the season Sunday at Wrigley Field against the Cardinals.
In 97 plate appearances with the Cubs last season, Soler hit .292 with five homers and 20 RBIs, forging an impressive .903 OPS.
"He's been great from when he was called up last year to the work he's put in when he came to camp this spring," said first baseman Anthony Rizzo, one of the game's emerging stars and bright young leaders. "He goes about his business and does everything right.
"He's going to help us. He's got a great approach at the plate, and even though I've only seen a small sample size of his defense, his arm is right up there. He plays hard and leaves it out there. It's all you can ask for."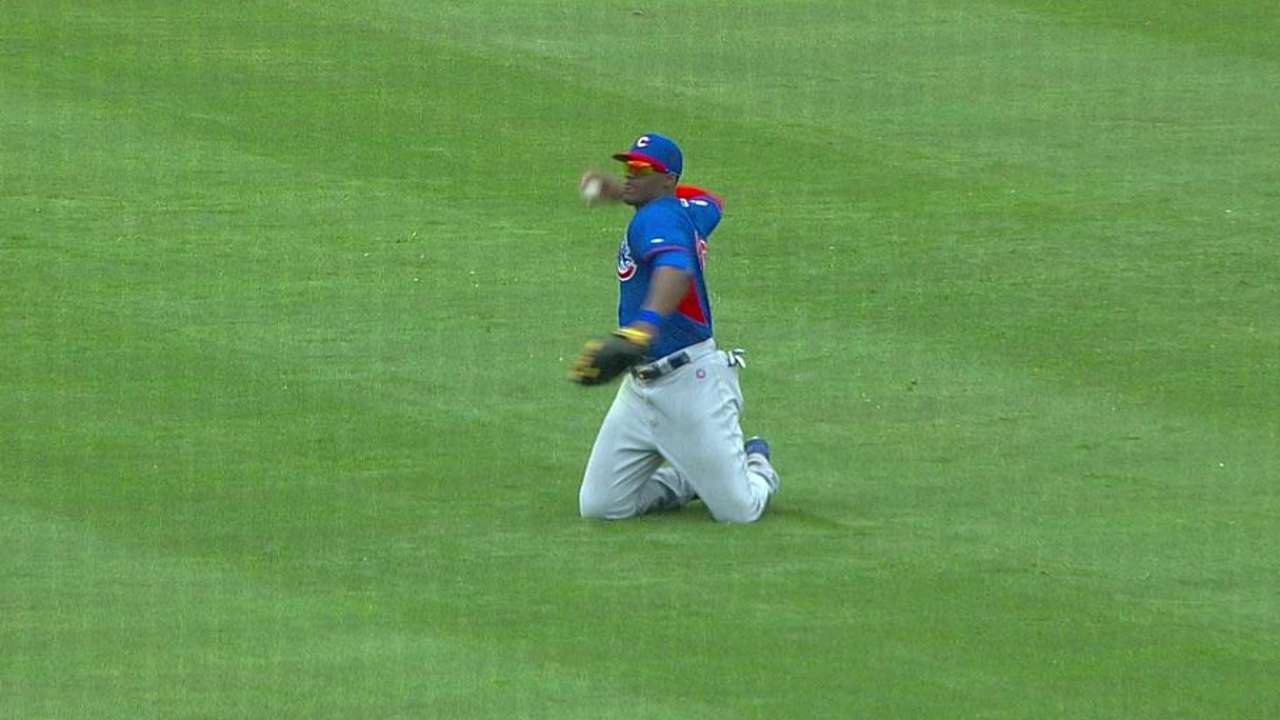 Maddon was the Angels' bench coach when Guerrero arrived in 2004 as a free agent after spending his first seven seasons with the Montreal Expos.
Guerrero won the American League Most Valuable Player Award in '04, hitting .337 with 39 homers, 126 RBIs and 124 runs scored. He stole 15 bases and gunned down baserunners with his powerful arm.
Retiring after the 2013 season with the Orioles, Guerrero left with a .318 career batting average, 449 homers and 1,496 RBIs. His .931 lifetime OPS eclipsed legends Hank Aaron, Tris Speaker, Frank Robinson, Duke Snider and Mike Schmidt.
Invoking Guerrero's name with respect to Soler is clearly a compliment of the highest order, even if Havana-born Jorge might not grasp all the details just yet as he works on his second language.
"The fact that he doesn't really understand or speak English very well could work in his favor right now," Maddon said. "He's a beautiful man. I really, really enjoy the way he is. He's like Vladimir with plate discipline."
Known for his nose-to-toes strike zone, Guerrero actually was a remarkable contact hitter. He never struck out 100 times in his 16 seasons, averaging 74 whiffs per 162 games. That's about half the norm for today's sluggers.
Showing his commitment to improvement, Soler has reduced his strikeout count significantly this spring after whiffing 24 times in 97 plate appearances in August and September. He had only nine strikeouts in 50 plate appearances before Monday's game against the reigning World Series champions, hitting .333 with a .980 OPS.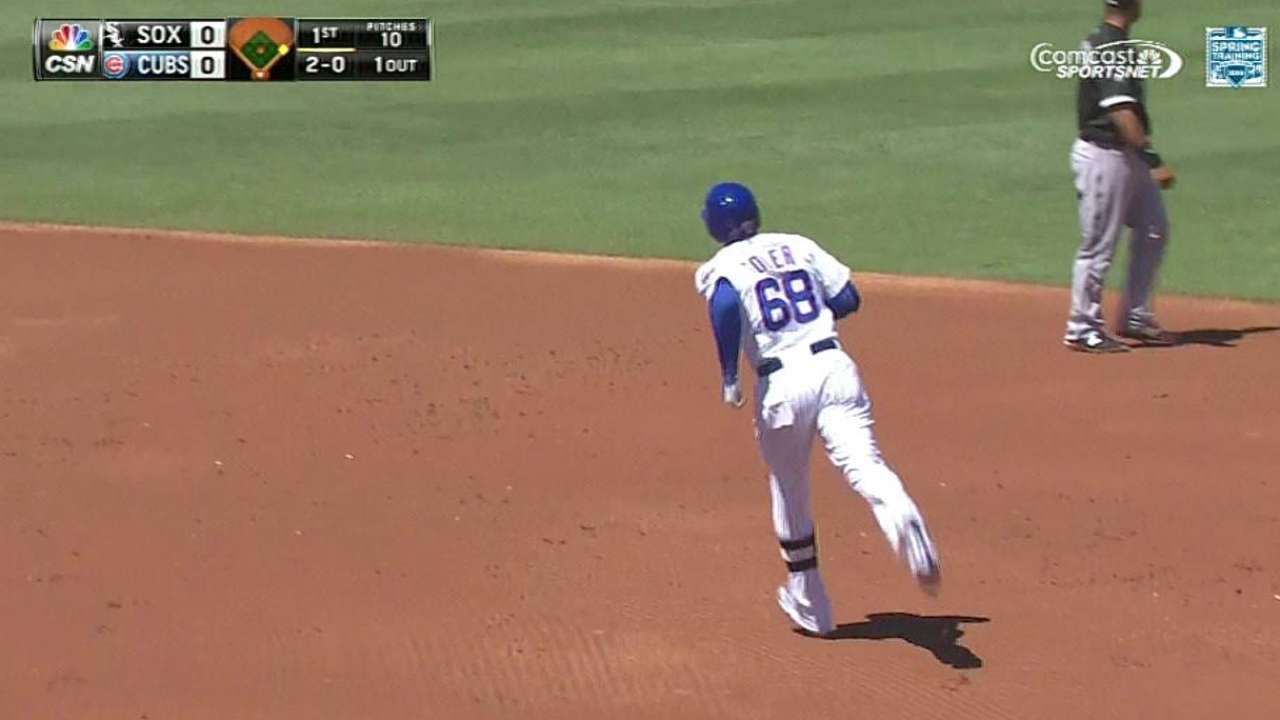 Maddon has indicated that Soler's discipline makes him a candidate for the No. 2 spot in the order even if his natural power points to the middle third.
"With him," Maddon said, "it goes beyond his power. This guy looks over a baseball now. This guy has great decision-making ability at the plate. That bleeds into either you're driving in the second leadoff hitter plus one or he's setting up somebody after him because the guy is going to take his walks.
"He's a really interesting baseball player. I'd heard good things, but his impression on me has been really strong."
Maddon is not alone. Dodgers players are still talking about an inside fastball Soler launched for a double this spring.
"It's in on his hands and he just turns and crushes it," Dodgers second baseman Howie Kendrick said. "You don't see that very often. He's really an impressive hitter."
Soler said his goals this season are to stay healthy, learn as much as he can and do whatever he's asked by his manager.
"We have a lot of young guys, and we're all trying to get better," Soler said. "It's exciting to be around all these guys."
All of a sudden, it's fashionable to be a Cub, not just a Cubs fan. That is perhaps the most remarkable part of this transformation orchestrated by club president Theo Epstein and his staff.
Lyle Spencer is a national reporter and columnist for MLB.com. Follow him on Twitter @LyleMSpencer. This story was not subject to the approval of Major League Baseball or its clubs.