MLB.com Columnist
Barry M. Bloom
Once under the radar, Middlebrooks now excelling
Padres' likely regular third baseman enjoying great spring after three seasons of injuries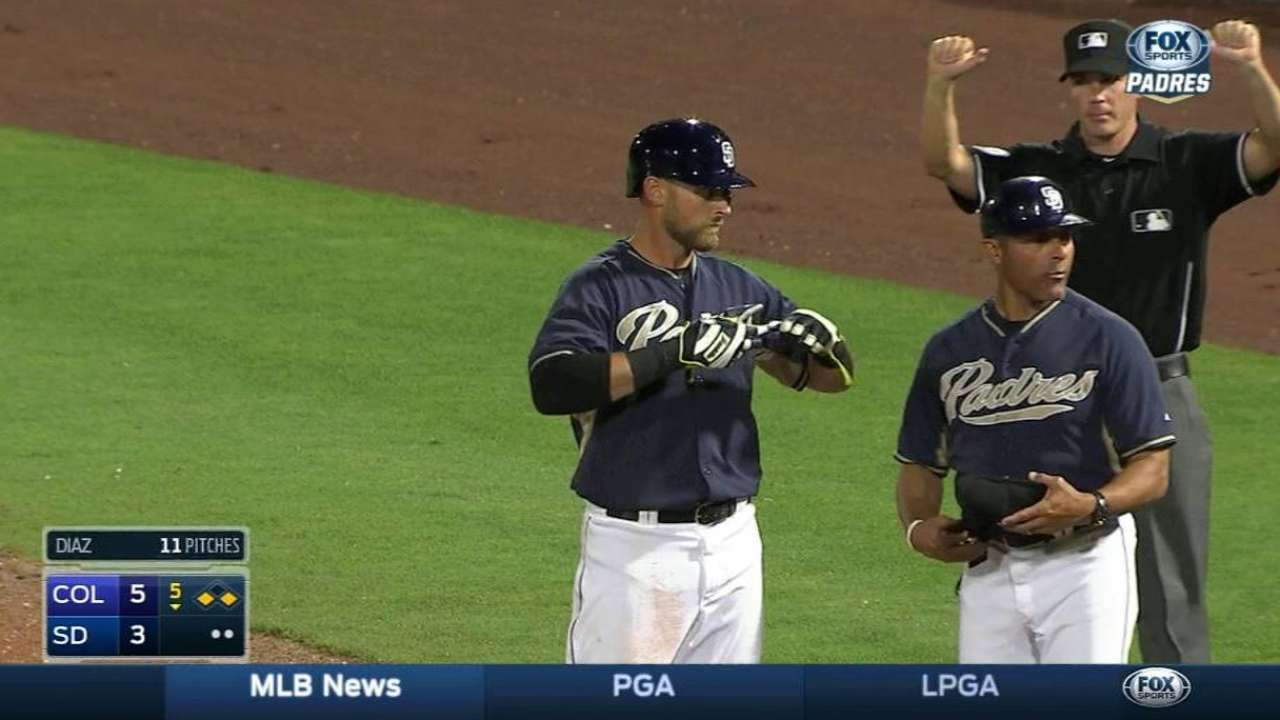 PEORIA, Ariz. -- Perhaps the biggest eye-opener in a spring full of them for the Padres has been the play of third baseman Will Middlebrooks.
Quietly and confidently, the once-top prospect in the Red Sox's organization has played himself into the Opening Day lineup. The big day is now just a week away against the Dodgers in Los Angeles.
"I plan on being our third baseman," Middlebrooks said in the clubhouse on Monday, hours before the Padres played the Reds across the West Valley at Goodyear Ballpark. "Nobody has told me that directly, and I don't want to put any words into anyone's mouth, especially at this point of the spring, but I'm hoping they're thinking the same thing. I'm excited about L.A."
No worries, Will. San Diego manager Bud Black and his coaching staff have been watching closely as Middlebrooks has hit .333 (15-for-45) with two early spring homers, two doubles and eight RBIs. He's made only one error and has been a carpet sweeper, sucking up everything hit toward him at third base.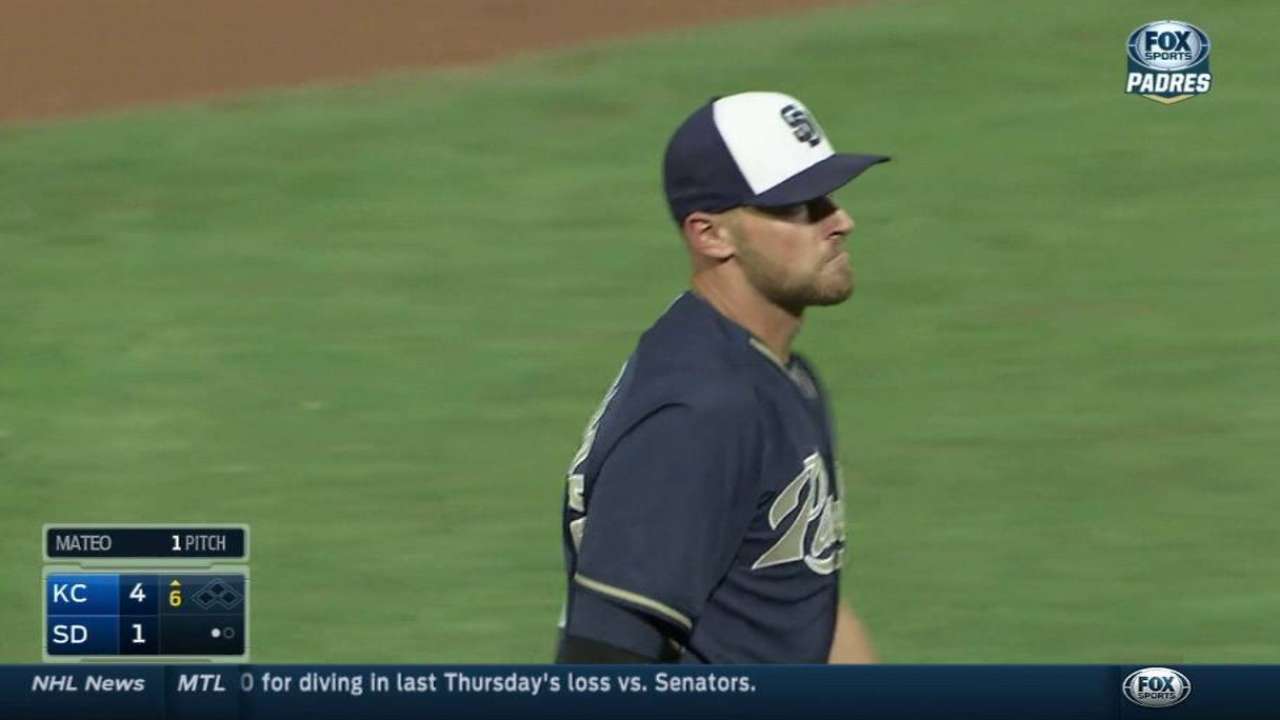 Black always plays those lineup decisions close to the vest, but he was pretty explicit on Monday about Middlebrooks.
"We've seen overall very good play from Will on offense and defense," Black said. "You know, we start a week from today, but he's put himself in a good position to be the starting third baseman. I don't want to announce a starting lineup seven days away, but he's done a pretty good job to solidify himself on the roster."
Should Middlebrooks make the Opening Day start, it will be his third in a row, after two in Boston.
Of all the deals made by A.J. Preller during his first offseason as the Padres' general manager, the Middlebrooks trade went almost unnoticed. In a period of two days this past Dec. 18-19, Preller plucked Matt Kemp from the Dodgers, Justin Upton from the Braves, Wil Myers from the Rays and Middlebrooks from the Red Sox. And that's the offensive core of the recast team.
Myers was obtained in a three-way deal that also included the Nationals. He came with veteran backup catcher Ryan Hanigan and a couple of Minor Leaguers from the Rays. Preller almost immediately flipped Hanigan to Boston for Middlebrooks.
"Hey, under-the-radar is fine with me," Middlebrooks said. "I just want to come in here and play baseball and help us win games. That's the most important thing here. With this group of guys we have and with this pitching, I think we're going to be pretty dangerous."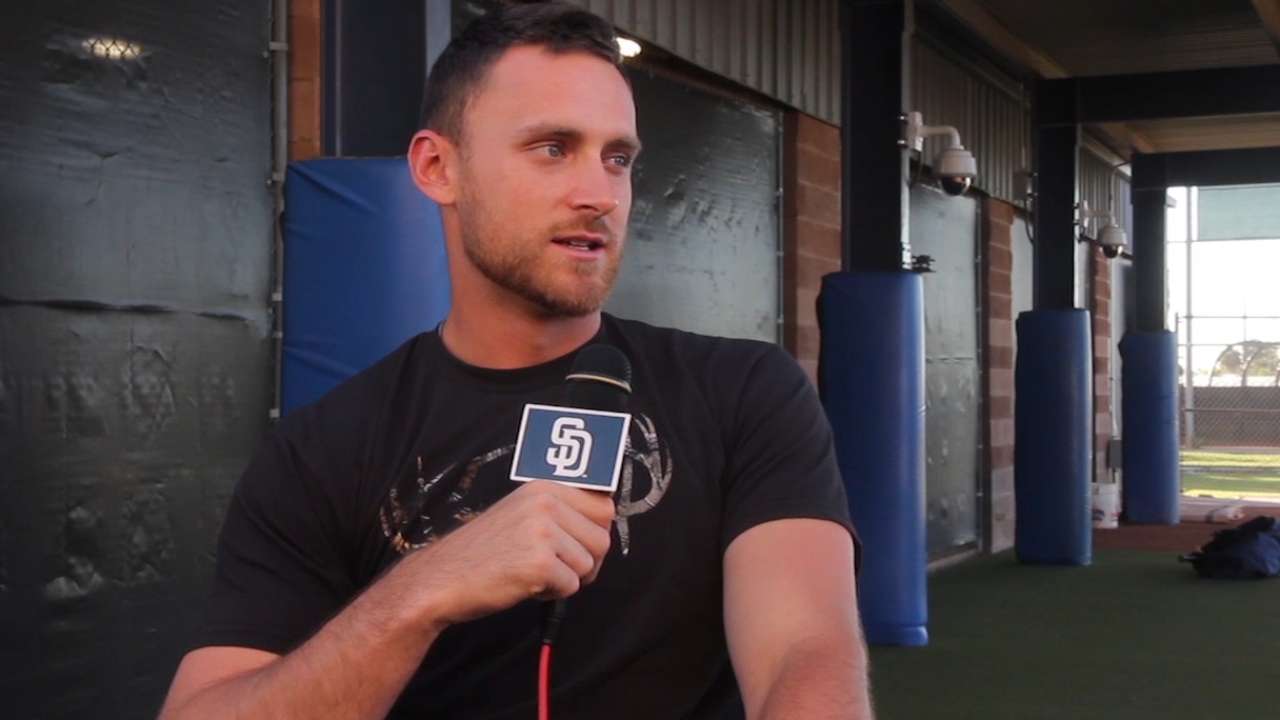 All of the players obtained by Preller on those two December days of destiny have postseason experience, and Middlebrooks certainly has the pedigree as a member of a Red Sox team that defeated the Cardinals to win the 2013 World Series in six games.
Middlebrooks, drafted by the Red Sox out of high school in the fifth round of the 2007 First-Year Player Draft, was supposed to be their third baseman of the future. But his three seasons in Boston were beset by injuries. He broke in by May of the tumultuous 2012 season, and he hit .288 with 15 homers and 54 RBIs in 75 games.
That was the year the Red Sox finished last under Bobby Valentine.
"He was good to me," Middlebrooks said about Valentine, his first big league manager. "He's a very cerebral guy who loves the game. The bottom line is, we didn't win many games that season. That's on the players, not on the manager and the coaches."
That season, a 95-mph fastball broke Middlebrooks' right wrist, ending his rookie year in mid-August. When he returned under new manager John Farrell, Middlebrooks wasn't ready. He struggled at the plate and hit .227, shuttling back and forth between Boston and Triple-A Pawtucket. By the postseason, rookie Xander Bogaerts had replaced Middlebrooks at third base.
Last season was even worse, as Middlebrooks spent two stints on the disabled list with a strained right calf and fractured right index finger, again courtesy of a pitch. He also said he had some back issues "the last few years." Bogaerts was moved to short, but Middlebrooks batted .191 and played only 62 games at third base.
All this and more is why Middlebrooks' stock plummeted so dramatically that he was swapped for Hanigan, a journeyman backstop, who is vying to come out of camp this spring as Boston's starting catcher.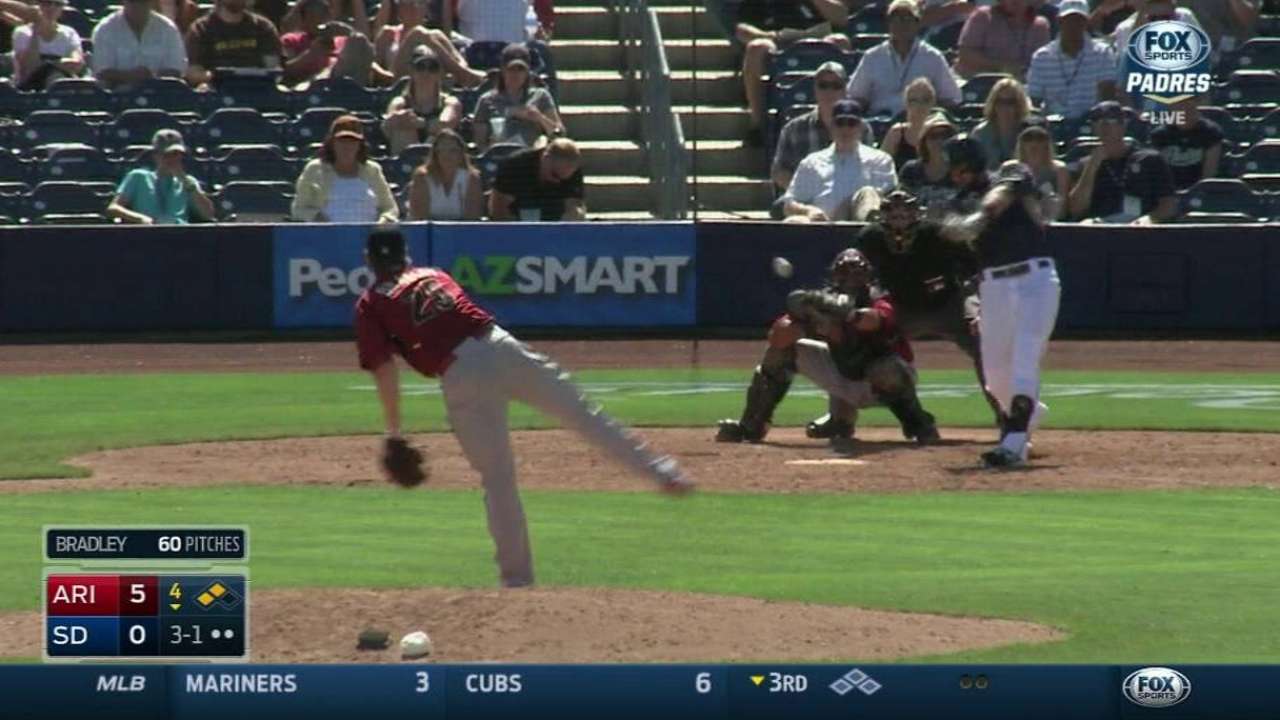 "It was a tough couple of years," Middlebrooks said. "I felt like injuries were the biggest downfall for me. I made the mistake of being hurt and trying to play through some things that I probably shouldn't have. I'm not making any excuses. Either way, that was my decision. If I made that decision, I needed to produce. It was a learning process and part of me developing as a player, figuring what I can play through and what I can't."
Middlebrooks is 26 now and about to be married to sportscaster Jenny Dell. The couple is moving to San Diego to start their life together. And Middlebrooks' professional life couldn't be any better. He's with a new club, in new a new uniform and has made it through camp so far without incident.
Preller knew well the potential Middlebrooks harbored the day he made the trade. Expectations coming into camp were modest.
"To stay healthy," Black said. "That was going to be a key to [Middlebrooks] to show what he could do."
Five weeks later, Middlebrooks has not only done that, but excelled. He's the starting third baseman, formal announcement from Black pending.
Barry M. Bloom is a national reporter for MLB.com and writes an MLBlog, Boomskie on Baseball. Follow @boomskie on Twitter. This story was not subject to the approval of Major League Baseball or its clubs.