Intangibles major reason for Posey's success
Giants pitchers widely credit catcher for their excellence on mound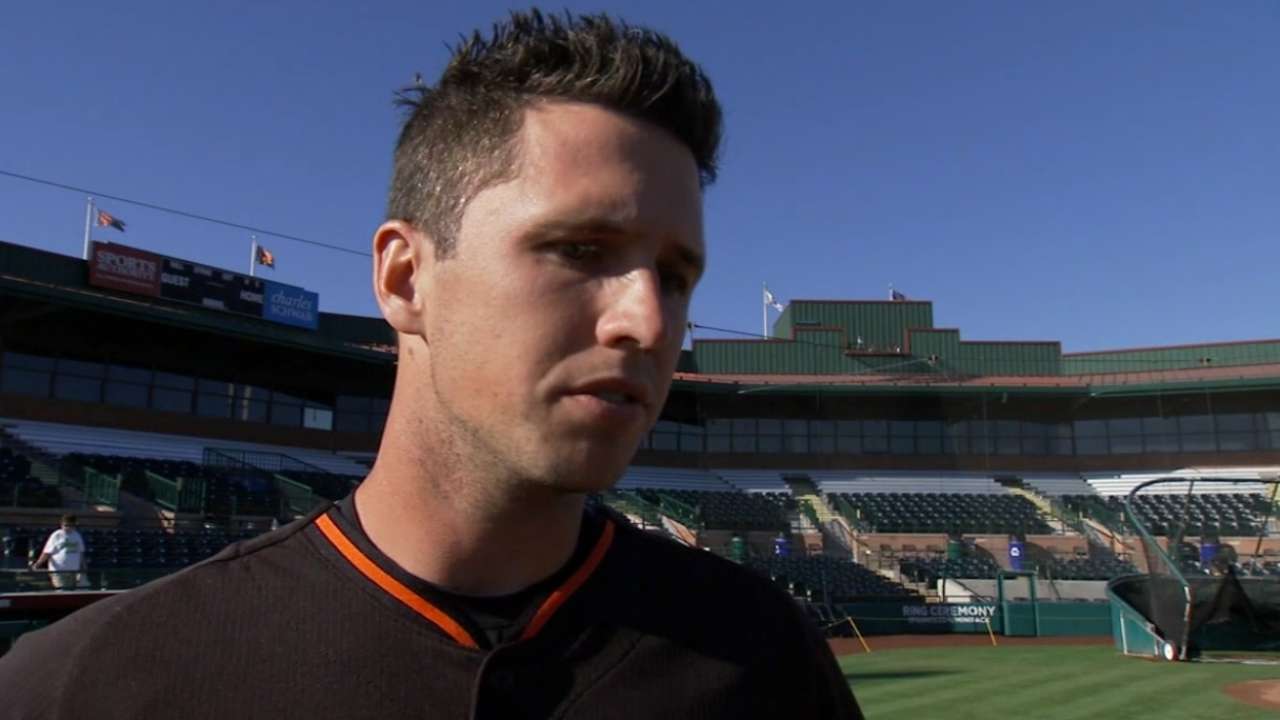 SCOTTSDALE, Ariz. -- Statistics cannot measure the core of Buster Posey's excellence. It consists of intangibles, manifested in behavioral and motivational tools that benefit the Giants' accomplished pitchers.
Pitching is baseball's currency, and the Giants have enjoyed a wealth of it while winning three of the past five World Series. Madison Bumgarner, Tim Lincecum, Matt Cain, Sergio Romo and their brethren created much of their own success during the seasons and postseasons when the Giants loomed over the game. But in many ways, Posey surveyed and supervised San Francisco's pitching ensemble from his director's chair behind home plate, a catcher who gives perhaps more than he receives.
Giants pitchers readily acknowledged the guidance Posey provides.
"He's kind of our quiet, calm leader who has a rapport with everybody," left-hander Javier Lopez said.
"Even if it's a huge situation, you would never know by the way he acts behind the plate," right-hander Ryan Vogelsong said. "He has a very good knack for knowing when to slow the game down and slow you down, or when to come out and [agitate you] a little bit -- to tell you, 'Come on, let's go.'"
But Posey soothes batterymates more than he jabs them.
"Everything's always positive," Vogelsong said. "Even if he thinks that you're done and your stuff's not that good, he would never let you know that. Everything is always reassuring."
The Giants' ascent to the sport's throne is easy to trace. They rely on their superlative pitching and defense to limit opponents to three or fewer runs each game, while striving to average at least four runs with an offense that typically lacks power. Posey is the sole performer who's at the heart of both efforts.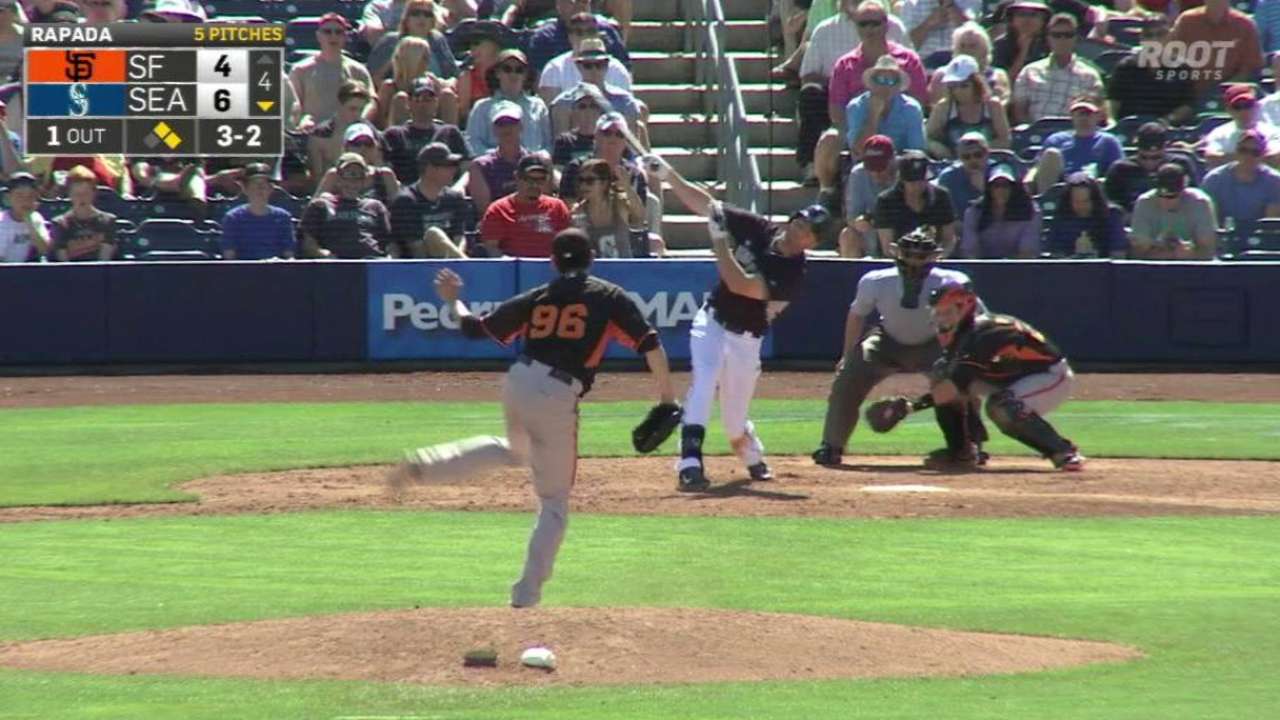 "He's a special talent," said right-hander Jake Peavy, a 13-year Major League veteran. "It's not hard to figure out the success around here. He's a huge staple of what makes this team go and why he's so valuable behind the plate and not at other positions."
None of this is especially remarkable to Posey, 28. For example, he described himself as naturally placid.
"It's part of my demeanor, the way I am," he recently said. "But also, I don't really like the alternative. You know? So I'd rather be calm."
He neatly summarized the flaw in being hyper-intense: "I don't feel like that would work for my position."
As for the rapport Lopez mentioned, Posey said, "I don't know if I make a conscious effort to try and get to know each guy. I think it has to happen on its own. You're probably going to get the best out of each other when it's that way, rather than try to force it."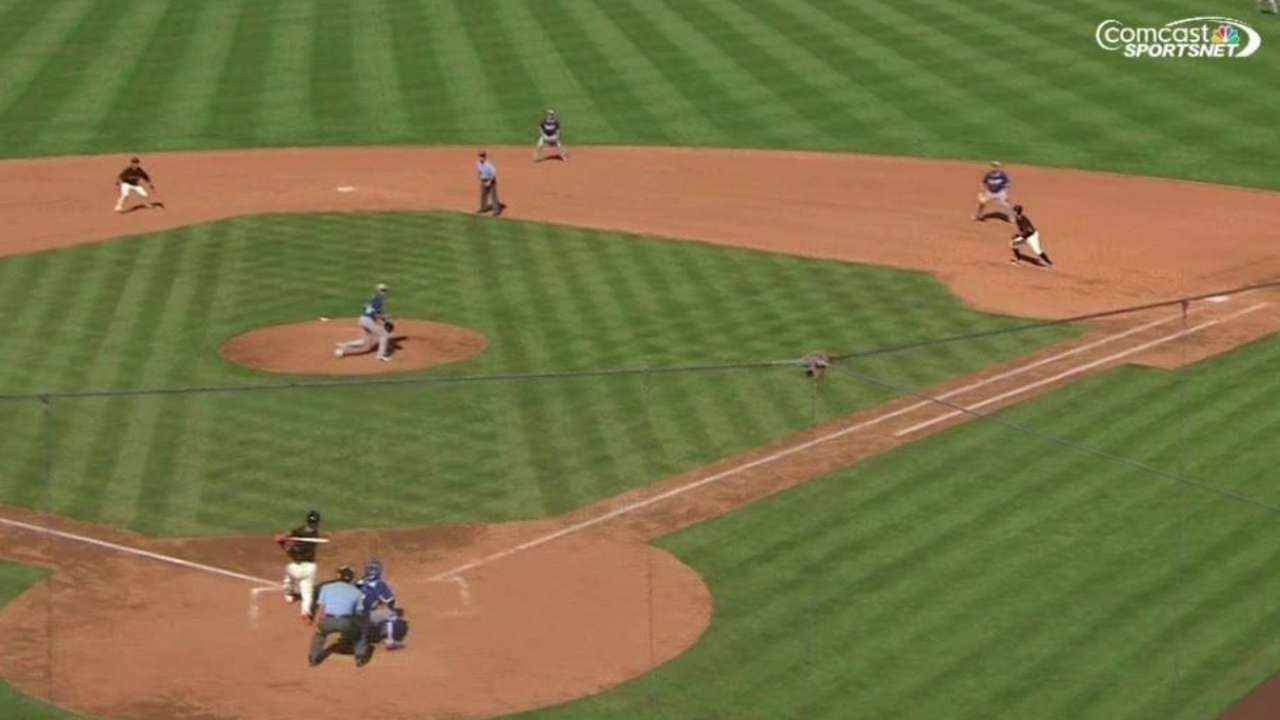 Posey summarized the positive attitude he conveys to pitchers in three words: Try your best.
"I'm not as good as [right fielder] Hunter [Pence] at positive vibe constantly," said Posey. "But definitely, I think you're going to get more out of your day if you look at things on the up and up."
An interrogator suggested to Posey that he seemed to regard catching as an intellectual pursuit, given the considerable decision-making that occurs regarding pitch selection, among other duties, and the need to understand each pitcher as thoroughly as possible.
"I don't think I've ever heard it mentioned that way," Posey politely said, though he admitted, "I think I enjoy the thinking aspect of it."
He quickly added that pitching coach Dave Righetti and bullpen coach Mark Gardner regularly supplement his knowledge.
"I don't know if Rags and Gardy get enough credit," Posey said. "I really enjoy talking with them about hitters. As removed from the game as they are as players, they still have a great eye for guys' swings and mechanics on the mound."
Posey didn't get elected by fans as "the face of baseball" for his defensive skill. In five big league seasons, his offensive numbers compare favorably with those assembled by several Hall of Famers at the same stage in their careers. His batting average (.310), on-base percentage (.376) and OPS+ (144) eclipse those recorded over the same span by any catcher, including Johnny Bench, Roy Campanella and Yogi Berra. Posey's five-year WAR (22.4) and OPS (.866) are second to Bench's (26.4) and Campanella's (.880), respectively. And Posey's slugging percentage (.490) closely trails Campanella's (.510), Berra's (.496) and Bench's (.495).
Asked whether Posey's most productive years await him, manager Bruce Bochy replied, "It's hard to say that with what he's accomplished."
Citing Posey's achievements, such as his 2012 National League Most Valuable Player Award, his 2010 NL Rookie of the Year distinction and his central role on all three of San Francisco's World Series-winning clubs, Bochy said, "He's checked off about every box that he can check off. He's just getting smarter as a hitter. He's in his prime right now."
But, Bochy said, "The thing you love about great players is how they keep working and they want to keep getting better. They don't have everything figured out, or as I say a lot, they haven't 'arrived.' They want to become an even better player. Buster's certainly that case."
Chris Haft is a reporter for MLB.com. Read his blog, Haft-Baked Ideas, and follow him on Twitter at @sfgiantsbeat. This story was not subject to the approval of Major League Baseball or its clubs.